Bath time in our house is George's time to flick between becoming a super-hero Shark hunter saving lives by selflessly pulling screaming children from the depths of the ocean to Finding Nemo as he swims around the bath desperately searching for his parents.
As with most things when you are a parent of a toddler, there does of course tend to be a negative side to anything you do and the negative side of bath time in our house is the tears and tantrums that come along when he has his hair washed. We have tried numerous methods when it comes to washing George's hair including the pre- warning countdown with a jug "3,2,1", the zero countdown when we think a countdown won't go down well and the singing cheery bath songs as we try to wash him down with a smile on our face – none work and every time we try, it results in tears followed by us reassuring him he isn't actually blind!!!
Eco-Friendly Bath Sponge
Recently, after reading some scary articles about what is in our bath products, I swiftly changed Georges bath wash to ensure we are using more natural products. The next job on my list was to start looking for toddler sustainable bath fun sponges that we can use. I bought a few sponges that are a little "different" but sadly I quickly noticed that they were a little harsh on George's skin, so I decided to go back to the usual sponge, jug and dreaded countdown routine. That was until I recently tried Koha Kids!
Koha Kid's is a collection of eco-friendly, cruelty free and ethical items to help make caring for your children fun and sustainable. Koha Kids have gone above and beyond when it comes to caring for your family with both the present moment as we use the product and the future, ensuring we protect the earth for our children's future.
Koha kids offers a range of products including their bamboo toothbrushes. The bamboo toothbrushes have been carefully made using naturally antibacterial Moso bamboo. Moso Bamboo is panda-friendly, sustainable and biodegradable. These easy to grip toothbrushes are a positive change from a regular plastic toothbrush with soft bristles to ensure your child's teeth and gums are looked after in the cleaning process. The toothbrushes are only £2.50, which is not dissimilar to the price of a regular toothbrush but allows you to make positive changes to the world in which we live in whilst educating your child on the importance of being environmentally friendly.
About Koha Beauty
The KOHA Beauty Company began as a simple idea with a view to simplify cleansing naturally, without compromising on quality. KOHA Beauty stands for cleansing simplified.
Koha Beauty recognised that skin care doesn't need to be complicated, but it has to be right for your skins needs. Koha Beauty have created something incredible based on their passion for simplicity and their respect for nature to ensure your skin stays beautifully nourished using their incredible range.
Koha Beauty pride themselves on creating ethical high quality beauty products. It is refreshing to see a company keen to contribute towards a cruelty free world.
The Koha Collection – The Konjac Sponges
Today I am excited to share my experience of the new Konjac sponges especially designed for children. Koha Kids recognises the importance of gentle bathing when it comes to washing children's delicate skin. The Konjac sponges are specially designed for the most sensitive skin, in fact the first Konjac sponge was actually created for baby's skin.
The KOHA Kids Konjac sponges are entirely free from chemicals, additives and preservatives, as well as being PH balanced, non-toxic and 100% natural ensuring they are the ideal partner for babies at bath time.
There are 2 different Konjac sponges available, one is the "Pure White" sponge which is designed specifically for skin that is easily irritated. The alkaline in the "pure white" sponge helps rebalance the skins PH whilst gently cleaning the skin without causing irritation.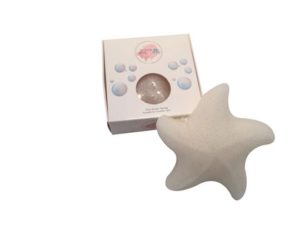 The 'Blue Konjac' sponge is cleverly infused with blueberry, which works to calm and soothe the skin, the "Blue Konjac" is the ideal partner for a little one who loves exploring and using their imagination at bath time.
Our Experience of the Blue Konjac Sponge
The initial feel of the blue Konjac sponge had a very unique feel to it, it was hard and very lightweight.
I held the sponge under the tap for around 15 seconds and the sponge became soft and supple. The sponge swelled up but still kept its starfish appearance.
George's thoughts on the Konjac Sponge
When we eventually threw the sponge in to the bath George was mesmerised, he loves anything to do with fish and sea creatures so he was in his element and he quickly became Nemo in search of his parents once again.
Washing George with the Konjac Sponge, George seemed to be more accepting with us squeezing the starfish over his head as we played with him. We managed to wash his hair with a lot less fuss as we played with the starfish.
George's skin was beautifully soft as it usually is but I was impressed to see that this particular sponge didn't irritate his skin.
We love this product and would definitely recommend it to other parents who are looking for an eco-friendly fun sponge for bath time.
Where Can I purchase Koha Kid's Sponge
You can purchase the blue Konjac Sponge directly from Koha Beauty's website for £7.50.
 We awarded Koha Kid's with our recommended on badge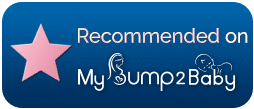 You can check out Koha Beauty on their fabulous website
 Follow them on social media
https://www.mybump2baby.com/wp-content/uploads/2019/03/Baby-Toddler-Sustainable-Bath-Sponge-–-Koha-Kids.png
2470
2560
Carla Lett
https://www.mybump2baby.com/wp-content/uploads/2016/10/Logo-MyBump2Baby_transparent-bg-1-1.png
Carla Lett
2019-03-20 21:12:32
2019-03-27 20:01:46
Baby/Toddler Sustainable Bath Sponge – Koha Kids