Does Progesterone Cause Weight Gain?
Hormones can often be the culprit behind things happening to our bodies that don't make sense including sudden food cravings, mood swings, and weight fluctuations. While it's perfectly normal and healthy for your weight to fluctuate, unexplained weight gain or loss can be a sign of a hormonal imbalance and our body's cry for help.
Progesterone, especially, is a hormone that plays an interesting part in regulating weight. If you want to maintain a healthy weight, it can help to understand how exactly progesterone affects our body.
What Is Progesterone?
Progesterone is one of two major menstrual cycle sex hormones. It's produced in the ovaries right at the luteal phase of your menstrual cycle, which occurs just after ovulation and right before your period starts.
It's mainly responsible for preparing the body for the possibility of a pregnancy and helping maintain a healthy pregnancy throughout gestation. Although it's mostly known for its role in sex and fertility, an imbalance of progesterone can have an effect on your overall health and well-being.
How Hormones Affect Our Weight
Hormones are responsible for enacting the changes that young girls go through to become women.
For instance, estrogen deposits body fat to the chests, hips, thighs, and butts during puberty, which is why it's common for girls to end up gaining around 15 pounds during that stage, through hormonal weight gain.
After puberty, it's important for your hormones to stay balanced to ensure a healthy cycle every month.
Otherwise, this could lead to other problems outside of the reproductive system. This includes unexplained weight gain.
Progesterone And Weight – What is the Link Between Progesterone and Weight Gain?
Progesterone typically affects body weight through its interaction with estrogen. When a person's hormones are at an ideal level, estrogen and progesterone are able to regulate each other's effects, forming a natural balance in the body.
Progesterone also limits the function of estrogen receptors in some tissues, controlling estrogen's impact on those cells.
If estrogen's role is storing energy as fat, especially in the hips and breasts, then progesterone's role is to metabolize the fat, burning it for energy.
An important distinction to make between the two hormones is that estrogen helps retain salt and water while progesterone allows water loss and decreases swelling.
Progesterone isn't responsible for any weight loss in each of these balances. In fact, progesterone can help reduce other hormones' effects on weight gain.
It is when estrogen and progesterone work together that the body is able to achieve healthy, fertile weight regulation.
Weight gain typically occurs when progesterone levels drop too low. With barely any progesterone to rein it in, estrogen starts to dominate causing the PMS to hit hard and the body to become bloated and crampy.
How Progesterone Causes Weight Gain
These are some cases where progesterone can cause your body to gain weight.
Progesterone and Insulin Resistance
Both too low and too high levels of progesterone can negatively affect your body's ability to regulate blood sugar.
During a healthy pregnancy, the mother's sensitivity to insulin is lessened by progesterone and other hormone changes. This insulin resistance is what elevates the blood sugar levels in the body and makes sure that enough nutrients are delivered to the growing fetus in the womb.
When the body doesn't have a fetus to feed, high progesterone levels can cause 'hyperinsulinemia' or an increase in the amount of insulin found in the blood. This could result in your body storing even more blood sugar as fat.
When this happens during the luteal phase of your menstrual cycle, you'll often experience food cravings, feel hungry a lot more often, and have trouble losing weight.
But low progesterone can also impair your body's insulin response. This is linked to Polycystic Ovary Syndrome, which is associated with insulin resistance.
PCOS is a bit complicated but one thing you should keep in mind is that weight loss isn't the cure for it just as gaining weight isn't what causes it.
In fact, weight gain is an effect of PCOS.
Hormone Imbalance and Increased Appetite
It should come as no surprise that hormones have such a huge impact on your appetite.
Estrogen and progesterone both affect hunger differently.
Excess estrogen levels not only reduce appetite, but also reduce the amount of ghrelin, or the hunger hormone, that is received by the brain.
Meanwhile, excess progesterone levels stimulate appetite and can then cause weight gain.
Hormone imbalances can be responsible for weight gain.
Thyroid Hormone and Body Composition
One critical factor in metabolism is the thyroid hormone, particularly when burning fat.
When estrogen levels start overtaking the progesterone levels by a huge margin, the body ends up producing too much Thyroid Binding Globulin, a protein that prevents the thyroid hormones from functioning normally.
This is often a confusing source of weight gain, since thyroid tests may appear normal because of the thyroid gland still producing the right amount of thyroid hormones.
However, with low progesterone levels, the body won't be able to benefit from those thyroid hormones resulting in weight gain.
Other Concerns About Progesterone and Weight
What Can Cause Progesterone Levels to Decrease?
Since progesterone is created after the ovaries release an egg, if you are not ovulating then you are more likely to experience progesterone deficiency symptoms.
Low progesterone levels can also be a direct result of menopause, hypothyroidism, overproduction of prolactin, stress, and PCOS.
However, even when you have enough progesterone, having too high estrogen levels can still throw off that balance and impair your body.
These are the symptoms to look out for if you're worried about potentially having too low progesterone levels:
Low libido
Breast tenderness
Birth control pills
Weight gain
Short cycles
Insomnia or sleep deprivation
Frequent mood changes, particularly irritability and anxiety
Headaches and migraines
Irregular menstrual cycle
Mid-cycle spotting
How Does Progesterone Cause Weight Gain During Menopause?
Weight gain is often a symptom of perimenopause and menopause for most women. That is usually when hormone levels start to change drastically, resulting in the body reacting differently to the same routines and diets that you've maintained for years.
There are also cases when weight gain during menopause is linked to the estrogen levels in the body dominating.
Although it can be confusing for estrogen dominance to occur after menopause, keep in mind that progesterone production also drops off a lot faster than estrogen levels which explain its dominance.
There are a lot of factors that can impact your hormones, especially during perimenopause and menopause.
This is why it's important to communicate with your healthcare provider for the best course of action that you should take.
Can Progesterone Help You Lose Weight?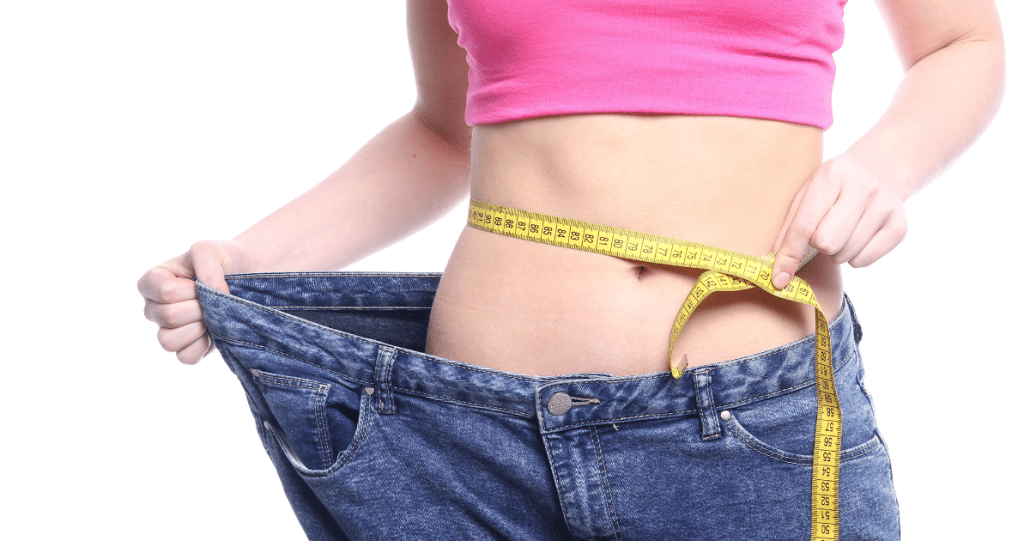 If your progesterone levels are unbalanced, then progesterone therapy can help you lose weight.
But it's also a lot more complex than that. It's extremely tricky to figure out the direct triggers for the body's weight fluctuations which is why working with a professional is important.
Keep in mind that progesterone doesn't directly cause weight gain or loss. Instead, all it does is reduce the effects of the other hormones in the body responsible for weight gain.
How Do You Test And Monitor Your Progesterone?
You can test for your progesterone levels through a blood sample. Although blood tests are generally done in a lab or at a doctor's office, it's possible to do them at home too.
These blood tests show a specific numeric value at the time the test is taken. However, it only shows a snapshot and not exactly the bigger picture.
Progesterone levels are known to vary drastically and can even change hour by hour.
There are different progesterone tests online that you can purchase to allow you to perform the test at home. Keep in mind that the day you take the test is also important.
Usually, progesterone levels are checked six to eight days after ovulation, which is day 21 of a 28-day cycle.
Your blood progesterone levels will start to fall after the mid-luteal period if the egg hasn't been fertilized.
If you have elevated progesterone levels at some time during the luteal phase of your cycle, then it means that you are ovulating. Meanwhile, non-elevated progesterone levels can signify an absence of ovulation.
For those with irregular menstrual cycles, it's usually common to do several blood tests until your period begins.
This way, it's easier to pinpoint when exactly the ovulation started occurring and can help get an accurate test result.
It's also important to remember that your progesterone levels are constantly elevated when you are pregnant.
Hi, I'm Louise- mum of one to a little boy called Mason.
I am the Digital Marketing and Admin Assistant for MyBump2Baby.
I enjoy working to provide excellent service to MyBump2Baby's growing families.
Nice to meet you!
https://www.mybump2baby.com/wp-content/uploads/2022/09/does-progesterone-cause-weight-gain.png
630
1200
Louise McCamily
https://www.mybump2baby.com/wp-content/uploads/2016/10/Logo-MyBump2Baby_transparent-bg-1-1.png
Louise McCamily
2022-09-05 11:57:22
2022-09-07 12:53:06
Does Progesterone Cause Weight Gain?