Drinks for Pregnant Women
Pregnancy is an amazing change that comes with a list of dos and don'ts. Pregnant women are usually incredibly attentive to what they eat and drink.
You always hear that you need to be hydrated during pregnancy, but does this mean only water? Fortunately, no! There are plenty of safe drinks for pregnant women.
So, what to drink during pregnancy besides water? More specifically, what to drink while pregnant first trimester?
Read on for a list of 12 drinks that are safe during pregnancy and 5 drinks that are especially good during the first trimester.
The article also discusses the safety of fizzy drinks during the different stages of pregnancy.
12 Safe Drinks During Pregnancy Besides Water
Water is the safest and most recommended drink for pregnant women. However, sometimes you need a change.
Wondering what else you can drink other than water? Here's a list of 12 amazing drinks guaranteed to quench your thirst:
1. Pasteurized Milk
Pasteurized milk is one of the best options you can have due to its nutritional value. It contains the protein and calcium required for the proper growth of your baby.
Drinking milk can be particularly important toward the third trimester. It's vital for the development of your baby's bones.
We recommend that you drink milk right before bedtime. It can be relieving if you suffer from insomnia.
2. Non-Dairy Milk
Soy milk is a healthy non-dairy option in case you're lactose intolerant. It provides you and your baby with the same nutritional value.
Almond milk is another non-dairy alternative to try. It's rich in iron, magnesium, and calcium. In addition, you may opt for rice milk, cashew milk, and coconut milk.
The catch here is to make sure you get an unsweetened variety of fortified non-dairy milk to avoid the added sugar intake.
3. Kefir
Kefir is a fermented form of pasteurized milk. It's rich in probiotics that are much needed for the health of your baby. It helps prevent many pregnancy complications, including Preeclampsia.
This drink won't keep your body hydrated, however, because of its thick texture. In fact, it can be thicker than a smoothie. We recommend Kefir as a highly beneficial element in your healthy diet.
4. Milk-Based Drinks
Some pregnant women can't tolerate the smell or taste of milk alone. There's still a way for them to enjoy the benefits of milk without dealing with its taste or smell.
Simply, insert milk as a main ingredient in your drinks. Add milk to fruit smoothies or make milkshakes for a cool refreshing drink.
It's important to note here that you should only consume pasteurized milk while pregnant. This way, you avoid potentially harmful bacteria.
Take these rich drinks as snacks between your meals. This way, your drink is refreshing, tasty, and nutritional.
5. Fruit Juices and Smoothies
Smoothies and juices can be a rich source of hydration. Try to add healthy ingredients into your juice too, such as citrus fruits. This way, they can be a good vitamin C source.
That being said, there are some factors to consider when choosing juices or smoothies. For starters, homemade is always better than store-bought.
When you make your juices at home, you can avoid adding sugar and use the best ingredients.
6. Vegetable Juices and Smoothies
You may also drink vegetable smoothies and juices, or mix vegetables with fruits to make a super healthy snack.
Vegetable juices and smoothies don't include the high-sugar content of fruit juice. That makes them an even healthier choice.
Generally speaking, veggie juices can be great with pregnancy constipation. Besides, they can have some additional benefits. For example, beets help decrease blood pressure.
7. Flavored Water (Infusions)
Perhaps adding some flavor to plain water is the most basic alternative drink you can have. As a bonus though, you'll obtain extra benefits from the added ingredients.
To create great infusions, add some of these ingredients to your water:
Watermelon
Cucumber
Berries
Lemons
Mint
Oranges
Rosemary
In addition, you can find infusion tea bags in stores. You can leave these bags in water overnight or boil them for a stronger taste. Boiling also makes them extra safe as it removes any bacteria or microbes.
8. Coconut water
Coconut water is a natural isotonic beverage. It can hydrate your body and relieve fatigue by supplying you with the natural salts you lose throughout the day.
This type of water is a healthy choice to quench your thirst and give you the necessary nutrition. It can even help you overcome nausea.
On the flip side, coconut water has a significantly high sodium content. Therefore, pregnant women should consume it in moderation.
9. Non-Alcoholic Wine
Who said you have to skip wine altogether when you're pregnant? Pregnant women can have non-alcoholic wine substitutes.
Drinking real wine during pregnancy is a controversial issue. There has been no agreement on the safe amount of alcohol for pregnant ladies.
Non-alcoholic beer and wine can be tasty, but don't overuse them. Remember that some of these beverages still contain some trace of alcohol.
10. Decaf Coffee
So, do I have to totally drop my morning coffee while pregnant? Not really!
You can still enjoy a cup or two of decaf coffee. It tastes pretty much the same minus the extra caffeine.
However, decaf coffee still has some caffeine. Doctors recommend a daily caffeine intake that's no more than 200 milligrams.
Generally speaking, excess caffeine can pass through the placenta. It harms your baby's heart rate. Therefore, you should stick to 200 milligrams.
11. Broth
Soup is one of the most soothing drinks, especially in the cold of winter. For this matter, you can drink broth for its nutritional and comforting benefits.
On top of that, you can add to the nutritional value of this drink by adding herbs, such as ginger or rosemary.
We recommend that you choose low-sodium miso or chicken broth. These varieties are far more hydrating and a lot easier to digest than creamy soups.
12. Chia Fresca
Chia Fresca is a combination of different ingredients that make drinking regular water a lot more fun. Moreover, it's highly nutritious due to the great benefits of Chia seeds.
Chia seeds are highly rich in omega-3, antioxidants, and fibers. Such rich content makes chia a great energy booster and an effective remedy for pregnancy constipation.
To prepare this super refreshing drink, mix the following recipe:
Add ¼ a cup of Chia seeds with 4 cups of water, lemonade, herbal tea, or coconut water.
Stir the mixture.
Give the Chia seeds 10 minutes to absorb the liquid.
Keep stirring whenever necessary since the Chia seeds usually fall to the bottom.
5 Drinks For the First Trimester of Pregnancy
The first trimester of pregnancy is the scariest. Pregnant women usually fear the most for their health and their babies.
So, what's safe to drink during that first trimester of pregnancy? Here's a list of five safe drinks that are especially beneficial during the first few months of pregnancy:
1. Apple Cider Vinegar Drinks
Otherwise called Switchels, these refreshing drinks are rich in electrolytes. They boost your hydration level to relieve your morning sickness.
Apple cider vinegar drinks can be amazingly helpful during your first trimester. They remedy inflammation and ingestion. Above all, they help balance your blood sugar.
These drinks can be a healthy alternative to sugary sports drinks. They're a mixture of various ingredients such as:
Lemon
Water
Lime
Apple cider vinegar
Fresh ginger
Honey, molasses, or maple syrup
Fresh fruit
2. Dandelion Root Coffee
Dandelion root coffee is another healthy substitute for regular coffee. It cleanses your liver, which translates into a healthier pregnancy.
You can add some taste to your coffee with a bit of cream or sugar. You can also drop some honey in it for a richer flavor.
You can make dandelion root just as you would instant coffee—it's simply much healthier. If you're anything like me, you'll even find it better tasting.
3. Green Tea
Replacing your morning coffee with a cup of green tea can significantly reduce your caffeine intake. As opposed to coffee, green tea will still boost your energy despite its low caffeine content.
Green tea comes in various flavors such as:
Mint
Strawberry
Honey
Lemon
Orange
Earl Grey
4. Herbal Tea
Herbal tea, in general, is a great addition to your healthy diet. It's not real tea, but rather herbs that are ideal for the symptoms of the first trimester.
Even better, you can get herbal tea in a variety of flavors. You can safely enjoy a steaming cup of peppermint, lemon, ginger, or raspberry tea.
Ginger-lemon tea, in particular, can go miles curbing your morning nausea and vomiting. This drink is a healthy choice since it has no caffeine, unlike real tea or coffee.
5. Fruit Mocktails
Mocktails are non-alcoholic cocktails. They're a great option if you wish to enjoy an occasional drink without harming your baby.
They give you the same refreshing feeling without risking your health. In addition, they come in a variety of tastes.
During pregnancy, it's always safer to drink homemade mocktails. Doing it yourself helps you pick the best ingredients and clean them thoroughly.
Is Bubbly Sparkling Water Safe During Pregnancy?
Every pregnant woman wonders whether sparkling water is safe to drink during pregnancy. The short answer is yes. In fact, it's beneficial to relieve nausea during the first trimester.
You can find it in the market under different names including:
Carbonated water
Seltzer
Sparkling Water
Soda Water
It's basically water that goes through pasteurization to get this bubbly fizz. This new form makes sparkling water a safe addition to mocktails that can replace wine and beer.
However, we don't recommend drinking sweetened carbonated water because it has plenty of sugar, caffeine, and artificial flavors. Alternatively, you can add some flavor by throwing in slices of your preferred fruits.
Can I Drink Soda During Pregnancy?
If you're talking about Coke or Pepsi. They're not particularly the ideal drinks for pregnant women.
For starters, they don't have any nutritional value. This is on top of all the extra sugar, artificial colors, and caffeine. During pregnancy, you're not supposed to drink much caffeine or sugar.
Believe it or not, even artificial sweeteners aren't OK in excess. That's why it's important to monitor your intake of diet soda as well.
Can I Drink Sprite During Pregnancy?
Yes, you can. However, this should be in addition to your daily water intake. Some women find Sprite to be good for nausea.
The bottom line is that you should consume Sprite in moderation. True, it doesn't contain caffeine, but it still has sugar. Here's a list of the ingredients in every can of lemon-lime:
Carbonated water
High-fructose corn syrup
Citric acid
Natural flavors
Sodium citrate
Sodium benzoate
Based on these ingredients, Sprite isn't rich in vitamins or minerals, so it doesn't quite add anything to your diet.
In addition, with 140 calories and 35 grams of sugar, pregnant women should consume Sprite in moderation.
Can I Drink Fanta While Pregnant?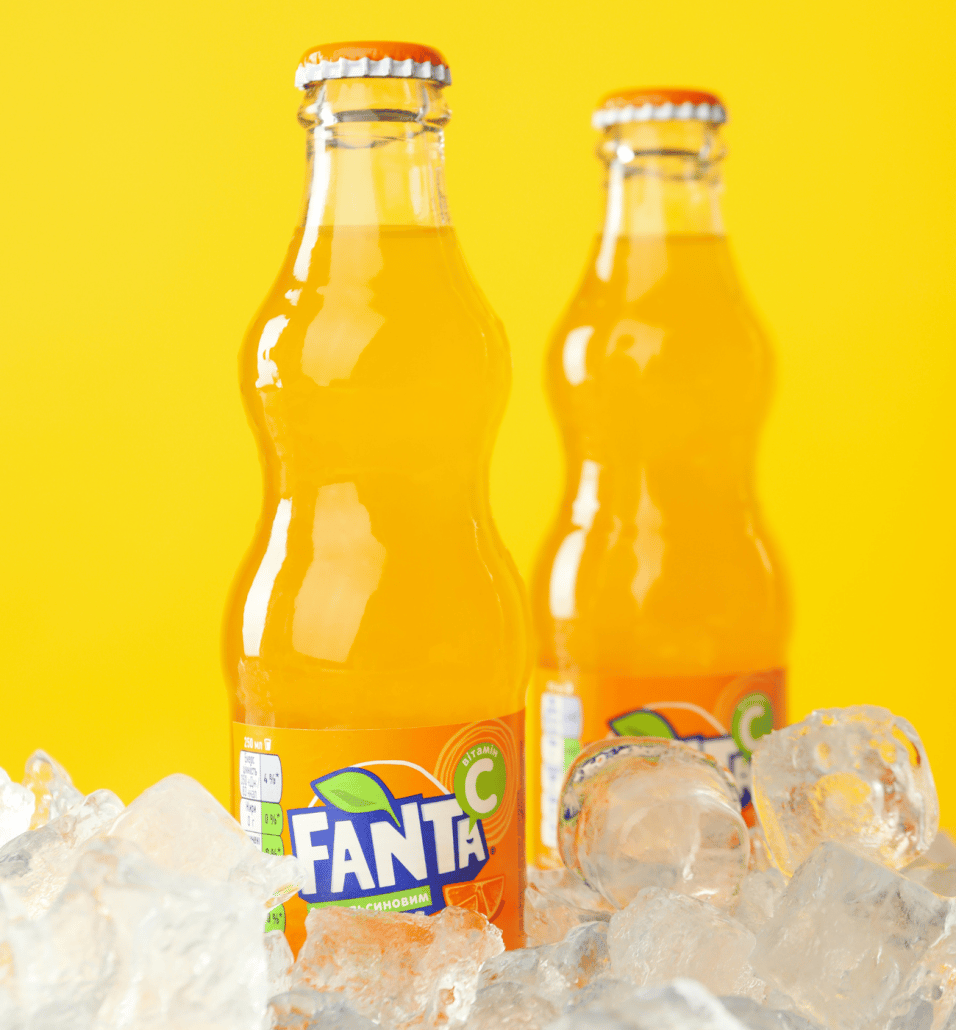 Fanta is another soft drink you can have during pregnancy. It's even safer than Sprite as it has less sugar and still no caffeine.
Here are the ingredients of every Fanta can:
Carbonated Water
Sugar
Sweeteners (Acesulfame K, Sucralose)
Citrus Fruit from Concentrate (1.3%)
Citric Acid
Acidity Regulator (Sodium Citrate)
Orange Juice from Concentrate (3.7%)
Natural Orange Flavourings with Other Natural Flavorings
Stabilizer (Guar Gum)
Vegetable Extracts (Carrot, Pumpkin)
Antioxidant (Ascorbic Acid)
Preservative (Potassium Sorbate)
Malic Acid
Given the ingredients, a can of Fanta contains several elements that can be potentially harmful.
For instance, you shouldn't consume much sugar, preservatives, and sweeteners during pregnancy.
Therefore, you can still drink Fanta for a change, but always do it in moderation so that you don't harm yourself or your baby.
Conclusion
Pregnancy is such a magical time, but it comes with its rules and confines. Fortunately, there are safe drinks for pregnant women.
Contrary to popular belief, pregnant women can have sparkling water, Fanta, and Sprite. However, we recommend that you have these drinks in moderation.
No matter what you choose to drink, the bottom line is to keep your caffeine and sugar intake in check during pregnancy.
Hi, I'm Louise- mum of one to a little boy called Mason.
I am the Digital Marketing and Admin Assistant for MyBump2Baby.
I enjoy working to provide excellent service to MyBump2Baby's growing families.
Nice to meet you!
You can email me at [email protected]
https://www.mybump2baby.com/wp-content/uploads/2023/02/drinks-for-pregnant-women.png
630
1200
Louise McCamily
https://www.mybump2baby.com/wp-content/uploads/2016/10/Logo-MyBump2Baby_transparent-bg-1-1.png
Louise McCamily
2023-02-08 11:59:02
2023-02-08 13:17:38
Drinks for Pregnant Women