How to Stop My Toddler Spilling Juice? Our EZ-Sip Review
At MyBump2Baby we pride ourselves on finding helpful products and services to support growing families throughout the UK. Today we share a review from Lauren on the fabulous brand Ez-Sip. The Ez-sip is great for little ones that are learning to drink from an open cup, and is proven to benefit toddler development and confidence.
How to stop my toddler spilling juice? Our EZ-Sip Review
One of my greatest challenges I have come across on my parenting journey has to be finding a cup that the kids can both use.  We have tried everything from beakers to straw cups, and no matter what I have used, they always seem to find a way to spill their juice everywhere, they especially like spilling their juice on our new carpets and new sofa!  We found that using a normal beaker made snack times and meal times very… wet and very messy!!!  I have often Googled "How to Stop my toddler spilling juice?" but have never had much luck in finding anything that would help.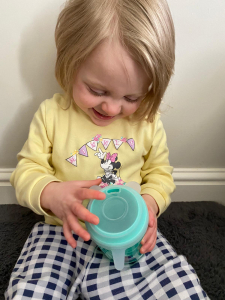 When I heard MyBump2Baby were going to review Ez-Sip – I jumped at the opportunity to share my thoughts on the product. I must admit, I hadn't heard of this brand before but after reading the amazing reviews I was keen to give it a try.
Our Experience of Ez-Sip
Ez-sip has helped us to battle the juice stained carpets, juice stained clothes and made my life a whole lot easier. Not only has it stopped me numerous clothes changes every day but it has also helped us to teach the girls how to drink out of an open cup.
Having two toddlers means double the mess, so any way I can limit the splashes and spills – I am all ears!!!
I am so happy I made the change to Ez-sip and I wouldn't go back to cups again.
I can't speak highly enough of this product and will be telling all parents to make the move to Ez-Sip, my only regret is that I didn't know about this brand sooner.
Ez-sip is a spout free, reusable lid and because it stretches, it is able to comfortably fit over a range of different cups, glasses and beakers.
Ez-sip also has tabs which, once you have the lid on your chosen cup or beaker, help you to adjust the fit of the lid and the position of the drinking hole easily if you need to.
The Ez-sip lid fits cup sizes with a diameter from 6cm to 9cm so is the perfect fit for a lot of cups!
Ez-sip come in a handy resealable pack allowing you to easily take the lids out with you when you are out and about, all you have to do is pack them in your bag and you are ready to go! Perfect to keep in a changing bag when out and about and on holiday.
Learning to Drink from an Open Cup with Ez-Sip
The Ez-sip is great for little ones that are learning to drink from an open cup, and is proven to benefit toddler development and confidence.  It is also perfect for busy toddlers who are always on the go, or for anyone who may need a helping hand.  The Ez-sip has no spouts, no straws, and no valves, which not only makes it super easy to clean, it also means it's better for our little ones oral development too and helps to support them sipping and not gulping their drinks.  With the Ez-sip lid our little ones get the real feeling of drinking out of an open cup without the splashes or spills that may come with it.  Let's face it – there is nothing worse than getting your child all dressed up for the day/evening then within an instant their outfit it ruined due to a spilt drink.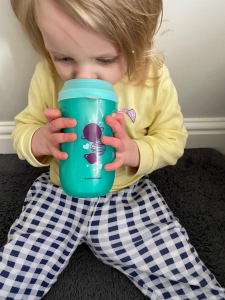 Looks and Style of the Ez-sip
The Ez-sip lid are almost clear, and this is because most kids cups are a solid colour, and the only way to see how much is in your cup is to look in it.  With the Ez-sip lid being semi-transparent, the lid allows you to see how much you have left of your drink.  This is also a great way to teach your little ones how to get the hang of how far they need to lift their cup up each time they want a drink. There is no air hole as this creates a faster flow, and this is not what you want when teaching your little ones to drink out of an open cup, it also minimises any spillages.
 Ez-sip is made from 100% food grade silicone and is BPA free. They are also plastic free, so better for the environment and planet.  Dishwasher proof and easy to clean.
(I moved this line further up in the text – The lid is also better for our little ones oral care and development.)
You can purchase your Ez-sip, or find your nearest stockist, from the website, for £5.95 for a pack of two.
I think this is a fantastic purchase for any parent.
Recommended on MyBump2Baby
We have awarded Ez-sip with the recommended on MyBump2Baby badge.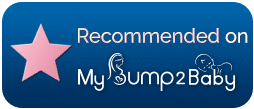 Ez-sip formerly known as "silasip" have some fantastic reviews on their website and Facebook
Mummy in Devon – "ez-sip -I am over the moon with this product"
BLOG: Story Sense – "ez-sip…It really is that easy"
Kerrys 2 Cents "silasip lids- making the step to the big cup simple."
The Simple Mum "silasip – An ingenious cup lid for toddlers!"
Dirt, Diggers & Dinosaurs "Banishing The Bottle With silasip"
Find out more about EZ-Sip;
Carla is the founder of MyBump2Baby. Carla has a huge passion for linking together small businesses and growing families. Carla's humorous, non-filtered honesty has won the hearts of thousands of parents throughout the UK.
She has previously written for the Metro and made appearances on BBC News, BBC 5 live, LBC etc. Carla is a finalist for Blogger of the Year award with Simply Ladies inc. Carla is also the host of the popular Fifty Shades of Motherhood podcast and The MyBump2Baby Expert podcast.
https://www.mybump2baby.com/wp-content/uploads/2020/03/how-to-stop-a-toddler-spilling-juice-feat.jpg
1600
1200
Carla Lett
https://www.mybump2baby.com/wp-content/uploads/2016/10/Logo-MyBump2Baby_transparent-bg-1-1.png
Carla Lett
2020-03-04 14:10:41
2020-03-22 18:16:35
How to Stop My Toddler Spilling Juice? Our EZ-Sip Review