Postnatal Exercise Tips Every New Mum Needs To Know

Disclosure: this article may contain affiliate links which means, at no cost to you we may earn a small commission if something is purchased through a link.
Busylizzy share workout tips for new mums in todays article.
By Busylizzy (www.busylizzy.co.uk) with contributions from Busylizzy postnatal fitness instructors Lucy Howlett and Magda Pearson
Tips for Postnatal Exercise
If you've recently had a baby and are keen to get back to some form of postnatal exercise then there is lots you need to know to make sure you're doing it in away that helps with your postnatal recovery rather than hindering it.
Pregnancy and having a baby changes our bodies in so many ways that unfortunately it's not just a matter of jumping back into your gym kit and getting stuck into a workout. Even if that's what you feel like doing (and many of us don't), there are a few key things to bear in mind when considering postnatal exercise.
When can I start exercising after giving birth?
Sadly, there is no one size fits all approach to starting postnatal exercise. We all have different experiences giving birth and recover at different speeds, so there can't be a blanket answer. However, if you've had a natural birth and are feeling well in yourself then six weeks is a good benchmark to aim for – after getting sign off from your GP.
Caesarean Section
If you've had a caesarean section (c-section) childbirth or experienced any interventions such as an episiotomy then you will need to wait a little longer. We would advise around 10 weeks after a caesarean, but some fitness instructors will want you to be at least 12 weeks before joining a class.
The important thing after a surgical birth is to seek medical advice before starting any form of exercise, and to really listen to your body to make an informed decision about whether you're ready. Ideally you'll find a form of exercise that is tailored to new mums. And if your c-section scar hasn't yet healed or you are in any kind of pain then wait a little longer rather than risk further complications.
Checking for Diastasis Recti
It's really important that you check for diastasis recti, or abdominal separation, at around six weeks postpartum – and / or before starting any kind of exercise.
During pregnancy the two halves of the abdominal muscles separate to allow your bump to grow, creating a gap. After delivering your baby this gap can take anywhere from six weeks to nine months to reduce. When commencing postnatal exercise we need to check this gap and be ever mindful of how we work our abdominal muscles according to how our gap is closing up.
Your GP (doctor) might be able to check for diastasis recti, or you can consult a women's health physio, personal trainer or specialist for advice. Your health visitor might be able to point you in the right direction if you need a recommendation.
It is possible to check your own abdominal gap, as demonstrated in this You Tube Video by one of our postnatal Pilates instructors, Magda Pearson.
From six to eight weeks it is normal to have a gap of about 2cm (approximately 2 fingers' width). Anything more than that after eight weeks is considered problematic and you should seek further medical advice.
While any abdominal separation caused by pregnancy is still in the process of closing, it's really important that you don't work too powerfully into the abdominal muscles, and modify common exercises to work safely until you have managed to close the gap. The key thing to remember is: no planks, crunches, sit ups, roll ups, excessive and fast twist movements or strong back bends until that gap is closed. If you don't then you may scupper your chances of getting back to anything like a flat stomach!
Core focus
It's fair to say that no-one should expect their tummies to go back to how they were pre-pregnancy anytime soon after giving birth (sorry)! It's not uncommon for women to still look like they are pregnant for a little while after giving birth, so don't be alarmed!
It takes 9 months to grow your baby and for your body to change and adapt to carrying them, so longer term you should expect it to take around 9-12 months to start to get back to where you were before your bump started to grow.
Your abdominal muscles and pelvic floor in particular have been put through a lot by pregnancy and birth, and need time and patience to recover. If you can, try not to think so much about body shape or weight within that first year, and focus more on your health and recovery process.
It's also not just about your stomach muscles. You need to work on your core as a whole – and by that we mean your back, pelvic floor and abdominals (tummy muscles). They are all connected and work together so it's important to take that into consideration, and not just focus on your stomach area. If your pelvic floor isn't working correctly, or your back is not supporting you properly, then your tummy muscles won't tighten up as you would like it to.
Breathe and engage with Core Muscles
Breath work is fundamental to allowing you to mentally connect with your core as a whole and understand how it works. Try lying on your back with your hands on your tummy and feel how your exhalation pulls your centre in. Connect that with the feeling of stopping yourself from having a wee.
Simple Core Exercises
Another simple exercise to try is a pelvic rock, or tilt. Lie on your back, bend your knees and keep your feet flat on the floor. Press your lower back into the floor, then zip in your lower belly area as if you were trying to get into a tight pair of jeans.
As you get stronger you can build this tilt into a shoulder bridge. This can be great for lower back pain, and also adapted for pelvic floor work by using a yoga block or small pilates ball between the knees (see below for a simple 'how to' on this exercise). A simple Hundred Peddle exercise can be a good way of starting to identify and "power-up" the core without overloading it.
(Follow the steps set out below)
Day to day, try to be aware of engaging your abdominal and pelvic floor muscles lightly just when you're walking around, pushing the buggy, and in everyday movements.
Work from the inside out
Pre-pregnancy abdominals and body shape are never going to be achieved by exercise alone. Nutrition and hydration are equally important. If you're working out like crazy but fuelling your body with too much processed food and sugar then you're not going to get the benefit. Eat plenty of veg, try to cut down on sugar intake and drink lots of water to flush out toxins.
What can I do after having a baby?
Gentle walking should be fine for most new mums right from the early days after giving birth, so it's a good place to start! Whether or not you've had a natural, straightforward birth or a c-section (but especially if you've had a caesarean), the key thing initially is to not overly exert yourself. And remember – listen to your body.
Relaxin, the hormone that you create in pregnancy that allows the ligaments in the pelvis to relax and accommodate your growing baby, and softens and widens the cervix in preparation for giving birth, can still be present in your body for some time after childbirth. If you breastfeed it may even stay in the system for a few months after you stop. The presence of relaxin can make it easy to overstretch and strain your muscles and ligaments if you overdo it. It also creates a looseness in joints such as your knees, ankles and hips that high impact exercises such as running can put too much pressure on. So start with something low impact.
Postnatal Pilates and Yoga
Postnatal Pilates and Yoga can be a lovely way to start to rebuild your pelvic floor and core strength before you start other types of exercise. As you feel stronger then functional movements that support your entire frame are also really important – squats and lunges are great, as are rowing exercises topull the shoulders back and strengthen the back muscles which are so important for all the baby cradling and carrying, but also to help improve and maintain good posture. You can do a standing or seated row, or a bent over row with a resistance band is good.
Simple Walking
Simple walking is also great for cardio exercise – as well as being good for strengthening and toning your legs and bum!
Even when you get to the stage of being able to return to strength and cardio training, it's really important to still make time to stretch out your body. Pay particular attention to your neck and shoulders. These are often the areas that new parental anxiety creeps into – not to mention the strain of the extra weight of holding, nursing and cradling your baby (as lovely as that can be).
Ideally whatever you do, find a class with an instructor that's postnatally qualified and who can keepan eye on your abdominal gap and recovery and tailor exercises to you.
Whatever you do – find something you enjoy
Most importantly in your journey through postnatal exercise – find something that you love, and that makes you feel good. Maybe it's more about finding a way to connect with other mums for you than it is about the exercise, or maybe fitness is the thing that keeps you energised and sane when you're not getting much sleep. Maybe it's a break from being a mum for an hour or so, or maybe a dance or aerobics class is the closest thing to a night out with friends that you'll get for a little while!
But done in the right way the end result of postnatal exercise is the same – a strong and healthy body that's ready to carry our little ones even as they get heavier, and to chase after them as they start to become mobile. Because they will still want cuddles and they won't wait for you!
Exercise How To – Pelvic Tilts to Shoulder Bridge
Use a Yoga Block or Pilates Ball (or something similar) for extra Pelvic Floor work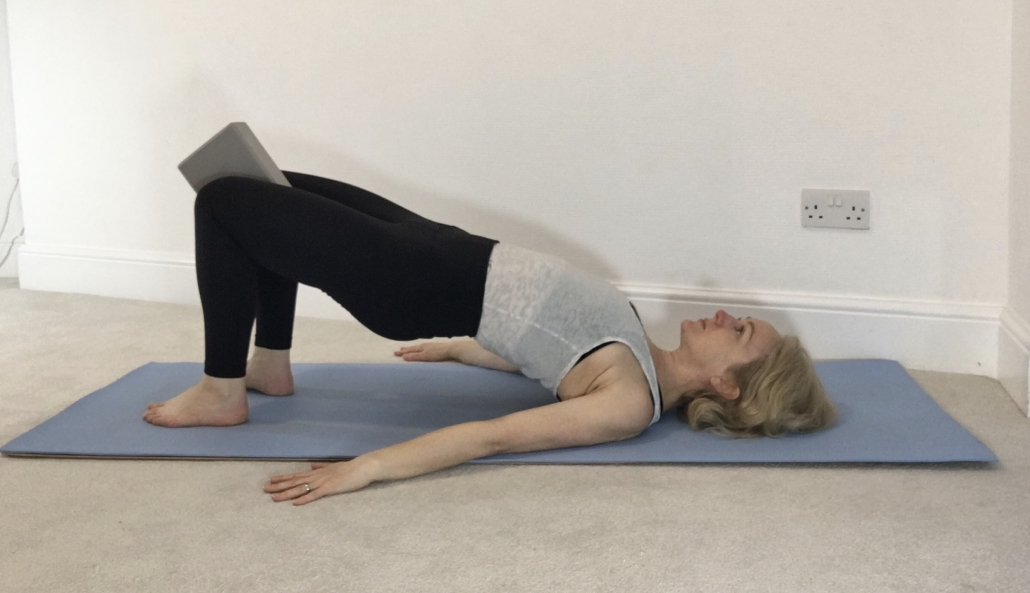 ●      Start by focusing on the block and taking a gentle squeeze in the knees.
●      Try not to over squeeze your bottom cheeks but focus on drawing the pelvic floor into the body.
●      Gently tilt your pelvis up and down, creating a very small arch in the back as you tilt your pelvis forward and then a small lift in the bottom as you tilt back, move through this a few times to create mobility in your lower spine.
●      Providing you are not working with any pain at this point you can start to build slowly into a fuller bridge by gradually peeling a few extra vertebrae from the mat and deepening the pelvic tilt. Don't go straight into a full bridge, build up to it.
●      This is your full bridge (see pic), keep the gentle squeeze on the block as you lift up and down, ensuring you work through the vertebra and try to find your c-curve spine and not a flat back.
●      You can hold the bridge at the top of the movement for a count of 5 and try to strengthen the pelvic floor engagement at the same time.
Exercise How To – The Hundred Peddle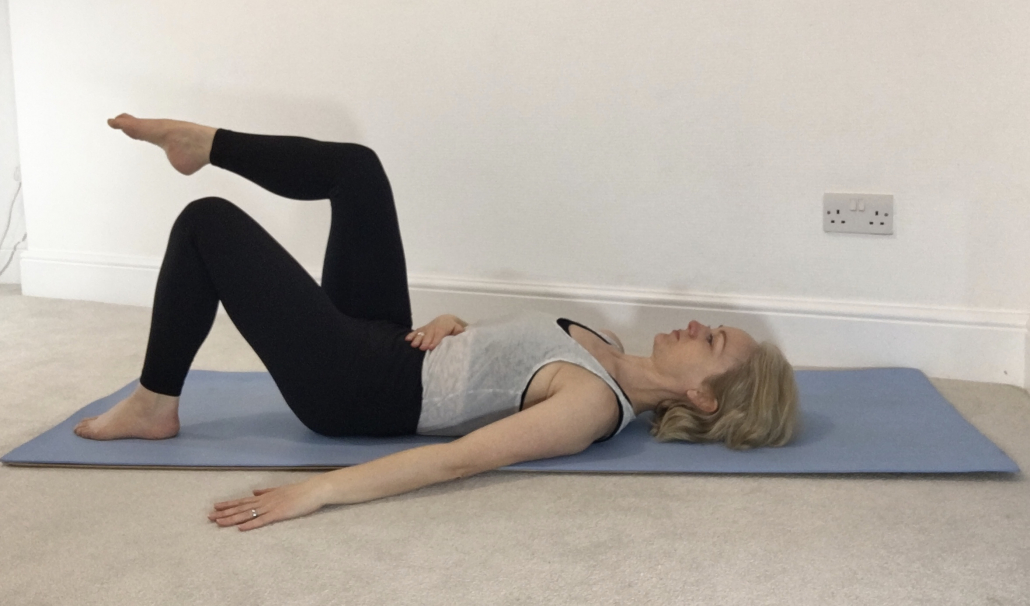 ●      Make sure you have imprinted your spine. This means finding a gentle connection of all your vertebra on the mat, not forcing it down but gently placing it so there are no arches and everything is aligned.
●      Place one hand on your tummy, over your belly button.
●      Visualise the back of your belly button being pulled towards your spine, feel your hand being pulled inwards. This is a very simple way to safely start to think about core engagement. We want to be aiming for about 50% engagement so don't over engage and restrict your breathing.
●      On your in-breath, prepare your core (as above) and on your out-breath raise one leg to a tabletop position (see photo). Notice whether your tummy tries to "dome" and push up to the ceiling, we need to work against this and keep our focus on drawing the belly button to thespine. Breath in and then out to return the foot to the floor. Repeat on the other side and do up to 10 reps on each side.
Mum of two Jen Hibberd purchased her Busylizzy Family Club franchise in December 2016.
A self-confessed fitness- fanatic and mum to two young boys Daniel and Arthur
website https://busylizzy.co.uk/
https://www.mybump2baby.com/wp-content/uploads/2020/12/Postnatal-Exercise-Tips-Every-New-Mum-Needs-To-Know.png
630
1200
Jen Hibberd
https://www.mybump2baby.com/wp-content/uploads/2016/10/Logo-MyBump2Baby_transparent-bg-1-1.png
Jen Hibberd
2020-12-27 17:36:54
2020-12-31 12:33:49
Postnatal Exercise Tips Every New Mum Needs To Know