Sensory Box Play with My Little Goody Box
Why engage in Sensory Play?
Google the benefits of sensory play and you will find thousands of articles around the importance of sensory play for babies. In a nutshell, sensory play is play which involves any of the five senses which are touch, smell, sight, hearing and taste.
There are hundreds of scientific research articles around why sensory play is so important but, in very basic terms, brain development occurs though neurone pathways developing in the brain. Every day, your baby will learn through experiences they have and sensory play aids this process by building the following skills;
Gross and Fine Motor
Cognitive
Social
Problem Solving
When you consider that your baby's brain will DOUBLE in size in the first 12 months, you get a sense of just how much learning and development occurs during those early months where they "don't seem to do much".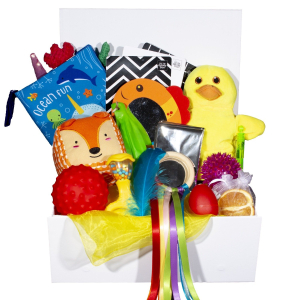 What are Sensory Boxes?
A fab way to include sensory play into your daily routine is to treat the baby in your life to a fantastic sensory box by My Little Goody Box.  Created by two mums who wanted to provide a selection of hand-picked sensory toys to delight babies and their parents, My Little Goody Box has a range of sensory boxes to choose from. Options range from starter boxes with a few items to packed Deluxe boxes, monochrome boxes and even seasonal themed boxes such as a lovely Spring box with Easter themed items.
I was thrilled to receive a Mega Sensory Box to review and, as my own son is a toddler now, I sent the box to my seven-week-old niece for her to test out the toys.
My Little Goody Box pride themselves on quality, hand-picked items which was their absolute priority after their own struggles with finding the right sensory toys for their babies.  They set themselves apart from the competition by providing a large number of quality, well thought out toys with a huge number of options to choose from.
If you're unsure what kind of activities to do with the sensory toys then you don't need to worry as each My Little Goody Box comes with a Play Guide detailing ideas for activities to try with each of the toys inside the box. The guides include activity ideas from new-born to crawling and, as your baby gets bigger, he or she can start to explore the toys themselves and create their own fun!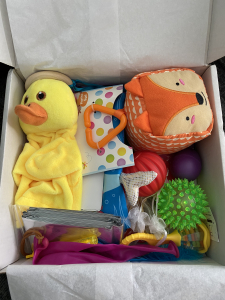 Below is a list of the toys included in the Mega Sensory Box which includes a whopping 17 sensory options!
1x Play guide

1x Rainbow Ribbon Ring 

1x Foil blanket

1x Light up spikey ball

1x Feather

1x Organza scarf

2x Organza bag with dried orange, cinnamon or lemon inside

1x Punching balloon

1x Tube of bubbles

1x Egg shaker 

1x Duck puppet

1x Ocean animals cloth book with textured tails and crinkly front page.

1x Foam mirror

1x Cube rattle

1x Baby maraca

1x Textured ball

3x Flashcards (6 images printed front and back of each card)
The Toys
The mums who founded My Little Goody Box knew from experience what sensory toys their babies loved to play with. Their own struggles finding the right toys gave them the drive and motivation to create the perfect sensory box which was affordable, packed with quality products and would last babies well into their first year.
The toys inside are well thought out and perfect for your babies developmental stages. For example, until 3-6 months of age, new-borns can only see between 12-15 inches in front of them and can only really see in black, white and grey tones. Therefore, it made complete sense that my 7-week-old niece absolutely loved the black and white Flashcards which, as you can see from the photo, she was entranced by.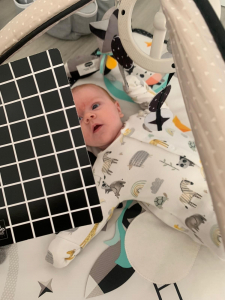 Another thoughtful and lovely thing about the toys inside the sensory box is that many of them can be used for multiple senses. The rainbow ribbon ring, for example, is a wooden ring with brightly coloured ribbons tied to the ring and hanging down loosely. This is a fantastic item to move side to side for baby to track with their gaze but can also be used to trail across their skin lightly for a touch sensation.
My own son was fascinated with bubbles in his early months and would stare mesmerised as they floated in the air. Again, not only does this well thought out product invoke their sight senses but any bubble landing on the skin or making a gentle "pop" sound in the air will arouse the other senses too.
My Little Goody Box hand select items which will last long into your babies first year. They choose toys which they know are popular with babies and parents such as the crinkly cloth book with textures. As babies get older, they can start to explore using their own hands to enjoy the sense of touch and textured toys such balls and books can be grasped and squeezed in tiny fists. Hand-held instruments or crinkly materials allow babies to experience touch as well as sound and start learning about cause and effect.
My Little Goody Box also listen to what parents want. They listen to their customers ideas and feedback on what their babies love and continuously evolve their products.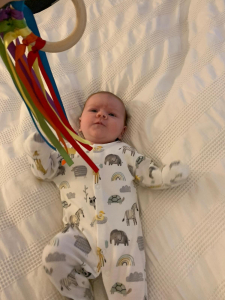 Toys to grow with
One of the best things about sensory toys is that they grow with your baby. A sensory box given to a new-born will last for months as they start to use the toys in different ways and obtain new experiences.  Balls which were used for texture will start to be used to roll or throw and textured books will start being used to look at the pictures and read.
My Little Goody Box have even designed a box specifically for those very early months with all black and white toys which new-borns will adore! A fantastic idea for a baby shower gift.
In the Mega Sensory Box which we received is a foil blanket. When my son was a few months old we came across a foil blanket at a baby sensory class and he loved it. I was amazed that something so simple could provide so much entertainment. We got one for at home and would get the blanket out and lay him on it for tummy time and he would be fascinated by the light bouncing off the foil and the sound beneath him. As he got older and could sit and crawl, he would crawl across it and scoop it up in his hands, finding the sounds and sensations hilarious, belly laughing the whole time.  My son is two and half now and he still loves the foil blanket, only now he puts it on the sofa and dives on top of it. The cat is also a huge fan.
The sensory boxes from My Little Goody Box will provide hours of fun for years to come. With ideas for play activities included and the knowledge that the experiences are helping to develop your baby's brain, I would recommend sensory boxes to any parent.
The toys are fantastic quality and would make a fantastic gift for new parents or for a baby shower as well as a fun, educational treat for your own child.
My Little Goody Box also stock individual toys for all ages which can be filtered by brand or age range which makes online shopping even faster.  The prices for individual boxes vary but are fantastic value and can all be found on the website which you can visit by clicking here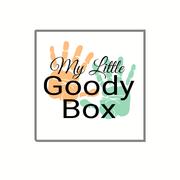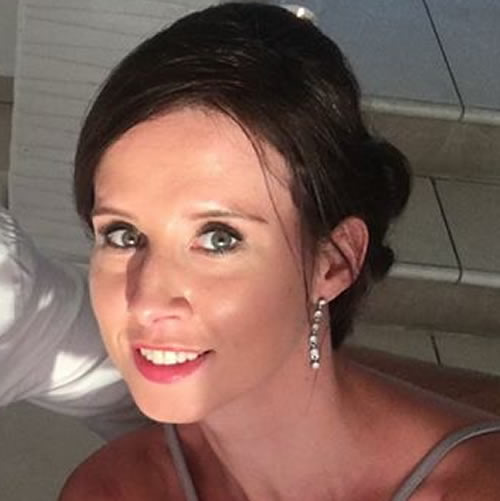 Tracey is a mum of 1 & passionate about supporting small businesses and growing families in North Kent & Bexley and throughout the UK.
https://www.mybump2baby.com/wp-content/uploads/2021/05/sensory-box-play.png
630
1200
Tracey Isom
https://www.mybump2baby.com/wp-content/uploads/2016/10/Logo-MyBump2Baby_transparent-bg-1-1.png
Tracey Isom
2021-05-07 15:41:10
2021-10-18 15:38:58
Sensory Box Play with My Little Goody Box