Baby Swimming Tips – The Adventures of Baby Swimming
Taking your little one swimming and baby swimming lessons especially; are so much fun!
It's an opportunity for babies and toddlers to explore the adventures water can bring, helping them to broaden their imagination whilst learning an important life skill in a level playing field.
There are so many benefits to taking your little one baby swimming and helping them to learn a skill for life. Not only does it teach them key water safety skills, but it helps to build your baby's confidence, in and out of the water.
As your little one is going through key developmental stages, the physical, emotional, psychological, and cognitive benefits of baby swimming can also support them as they continue to grow.
The fun and enjoyment of the water can also be enjoyed outside of lessons as well, whether that's at bath time, on holiday, in the paddling pool, or even in the kitchen sink!
We've shared some tips for helping little ones water confidence grow in a fun, adventurous and exciting way.
Sing-Alongs
At Water Babies, our teachers love a sing-along. And the programme is designed with songs to support the learning of key water skills for little ones (and carers!) to sing at the top of their lungs.
This helps them remember swimming actions as they progress and to have some fun! If you're swimming outside of lessons on holiday for example, encourage your little one to sing (or babble!) their favourite songs which they sing at home.
Get Creative
For toddlers especially, being creative in the water is a great way to get little ones using their imagination, combined with learning key swimming and safety skills. There are endless creative ideas your little one can link to the water.
Looking for treasure at the bottom of the pool for example, can help little ones to get used to having their face in the water, whilst also telling you what their imagination sees in the water.
Play Games
Playing games and making water play interactive can help little ones to be adventurous and to grow their water confidence simultaneously.
Whether that's with toys such as woggles, to help support them in the water, to swim balls, which helps them to reach out and grab them, supporting their finer motor skills.
Swimming Friends
In Water Babies classes, you'll meet lots of characters which will help your little one to learn how to swim.
The main one being Bubba the whale. Bubba is always on hand to support babies and toddlers as they grow their water confidence and learn water skills.
Having characters and friends to help little ones in their swimming journey will make it fun and relatable for them
And they can go on adventures with their friends in the water!
To find out more about Water Babies classes in your area, head over to the Water Babies Scotland East & West webpage and submit an enquiry – https://www.waterbabies.co.uk/lp/baby-swimming/scotland-east-and-west
Baby Swimming FAQs | Frequently Asked Questions
What is the Best Age to Start Swimming Lessons?
It is all about the temperature of the water rather than the age of the child. In Edinburgh we have some hydrotherapy pools that run at 32 degrees or more- making them suitable for young babies.
Little ones can literally start swimming in these pools from birth.
We have had a 1 week old baby starting lessons recently! All of our other pools across Edinburgh, Glasgow and Ayrshire run at 30 degrees or more and little ones need to be 12lb in weight or more to swim in these pools.
When Can You Take Your Baby Swimming?
As soon as you are ready! For most baby swimming classes, you don't need to wait for your little ones vaccinations before starting swimming with your little one.
The temperature of the water is the only thing you need to check before venturing along to the pool yourself. More information on this can be found on the NHS website www.nhs.uk/common-health-questions/childrens-health/can-my-baby-go-swimming-before-or-after-vaccinations
Do Babies Need A Warm Pool?
Yes. Babies are not able to regulate their own body temperature in the same way us grown-ups do, so it is vital the pool you swim at is warm enough for your little one.
Even 1-degree difference in temperature can make a big difference to your little one.
Try and make sure the pool you are going to is a minimum of 30 degrees Celsius so your little one doesn't get chilly.
You don't have to be there long (15-20mins is a great start), but getting them used to the atmosphere; the sights, sounds and smells will put them at ease.
If I have had a c section do I have to wait longer to go in the pool with my baby?
Yes, we advise following health guidelines set out by the NHS before going swimming after a C-Section, and to have the all-clear from your health specialist first.
What Do You Recommend Bringing to a Baby Swimming Class?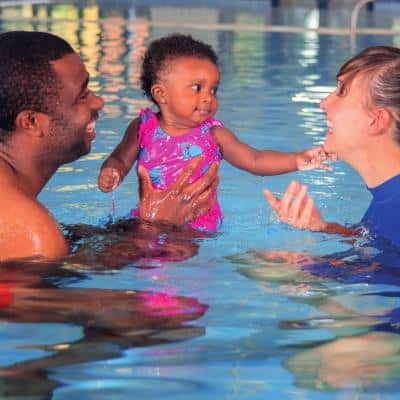 If you are taking your baby on their first swimming trip, you may wonder, "What do you need to bring when taking your baby swimming?". Below is a list of items which we recommend you bring!
Happy Nappy – for our lessons we require every baby to wear a double nappy system at their lessons, which means a paper or reusable swim nappy with an approved neoprene Happy Nappy over the top. You don't want to be the party pooper at the pool (literally).
Changing mat – a small roll-up one so you can safely change your little one on the floor.
Towel – for you and your little one
Baby Wetsuit – to help keep your baby warm if they are sensitive to the cold.
Warm hat – Babies lose heat quickly through their heads and a baby's head gets cold easily after swimming. A hat helps keep your baby cosy on the way home.
How Can I Keep My Baby Safe in Water?
Babies love familiarity, so getting them used to the water before going to a swimming pool will help them prepare for swimming.
Having a bath or shower together is the perfect place to start. Laugh, play, splash and natter with your baby to reassure them that being in the water is a fun, safe place to be.
Water babies lessons have a big focus on water safety to ensure your little one is safe in and around the pool.
Any Tips For Taking My Baby Swimming On My Own?
Call the pool you are going to in advance to check the water temperature and to ask what you may need to secure your locker (£1.00 coin etc).
Be prepared to only be in the water for 15-20 minutes when you start.
It may not seem a long time to you but all that happy splashing will make your little one tired and hungry!
What Happens at Baby Swimming Classes?
We'll teach you to teach your baby to swim.
From lesson one, we'll get your little one used to the sensation of the water, developing their natural instincts and transforming these into core aquatic skills.
By the end of our programme, your little one will be swimming freely using different strokes and be able to keep themselves safe in and around the water.
We work closely with Swim England, the national governing body for swimming and we've woven their learn-to-swim framework through our programme.
So you'll be amazed at the progress they make. Not only will they be able to swim independently, but they will also learn a skill for life – and they will grow in confidence too.
Can I Take My Baby Swimming if I Can't Swim?
Absolutely! If you are happy supporting your baby in the water and walking through water with them that is all you need. You will find your own confidence in the water will grow as well, along with your little one's!
Contact Water Babies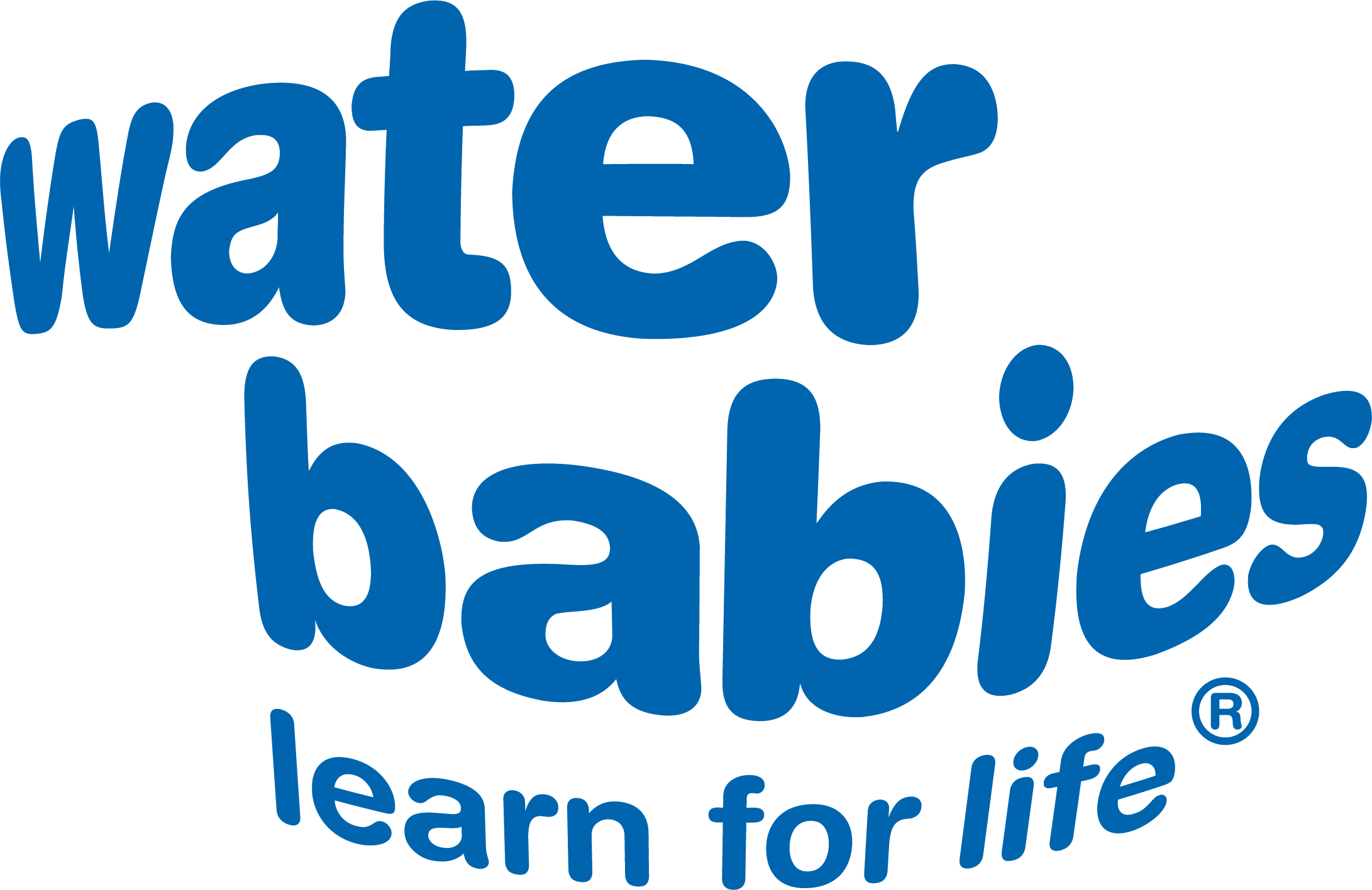 Are you looking for baby swimming lessons in Glasgow?
Water Babies, MyBump2Baby's exclusive swimming company in Glasgow, offer baby swim classes around Glasgow, Edinburgh and Ayrshire.
You can find more information about their swimming lessons, and ask about their baby swimming lessons, on their website below:
Website: https://www.waterbabies.co.uk/lp/baby-swimming/scotland-east-and-west
Email: [email protected]
Telephone: 0131 554 6682
Amanda is originally from Australia and has been with Water Babies since she started lessons with her daughter 10 years ago.  Amanda fell in love with the lessons so much that she applied to work for the company!  In 2019 Amanda bought the business along with her business partner Ashley and since then has been enjoying all that being a family run business owner brings – variety every day, lot's of special moments with families in the pool, and so many happy comments from the 1200 plus swimmers they are proud to teach every week.
https://www.mybump2baby.com/wp-content/uploads/2022/09/baby-swimming-tips.jpg
630
1200
Water Babies
https://www.mybump2baby.com/wp-content/uploads/2016/10/Logo-MyBump2Baby_transparent-bg-1-1.png
Water Babies
2022-09-26 10:17:06
2022-09-26 10:18:09
Baby Swimming Tips - The Adventures of Baby Swimming