Your belly button piercing after pregnancy- What's going to happen

There are lots of bodily changes and sacrifices that have to be made during pregnancy, but is taking out your belly piercing one of them?
This is a question that pregnant women have lots of different views on, but luckily, as long as your belly button is healed, whether you choose to remove it or maintain it, shouldn't matter too much.
However, we have a few pieces of advice you could use to ensure your belly button piercing stays as healthy as possible throughout your pregnancy.
Is your belly button piercing healed?
The state of your belly piercing during pregnancy and after giving birth relies almost solely on whether or not it was completely healed before you became pregnant.
Belly button piercings take on average around a year to heal, but it could be sooner if the correct aftercare has been used to speed up the healing process. You know if your button piercing is healed if:
The belly bar can be moved pain free
No puss or crust has been produced in the last few months
No swelling
No redness
No irritation
Ability to easily change the belly ring
If you are certain your piercing is fully healed, you have the highest chance of your piercing surviving the pregnancy and going back to exactly the way it was before you got pregnant.
And if your piercing is still fairly new and therefore not fully healed up properly yet, you are at a higher risk of getting a piercing infection during pregnancy and scar tissue not forming the normal way that it should.
What to do if belly button piercing isn't healed before pregnancy
So, if your navel piercing hasn't quite healed in time before becoming pregnant, there are a number of steps you can take to ensure the area is as least prone to infection as possible.
Sticking to piercer's advice
After getting your body piercing done, your piercer should have given you a few pieces of advice in terms of taking care of the piercing and helping it to heal. This could include using a saline spray or wear loose fitting clothes for example. So it's important that you still stick to this advice to give your new body piercing the best possible chance of healing properly and quickly.
Ask for a longer bar
As you get further along in your pregnancy, the area of skin around your belly button piercing will become tight and stretched which could potentially irritate your piercing.
To reduce irritation, we advise you ask your piercer if they could swap your bar to a longer one to allow for extra room to swell when your bump grows. Your piercer may also suggest you change the thickness of the bar to best suit your growing bump.
Avoid tight clothing
Avoiding any clothing too fitted around your stomach or piecing is advice you should follow, pregnant or not. A tight waistband will irritate the abdomen and newly forming scar tissue which could result in irritation bumps pain and infection.
Instead, opt for a waistband that sits lower than your belly button and the only material in this area should be flowy and loose. Be careful not to catch the piercing though!
Consider taking it out
In order to prevent infection and for a piercing to heal properly with scar tissue formed correctly, it must be cared for meticulously.
While pregnant, your belly button can change shape, pop outward and stretch which means your piercing is going to do the same. With fresh navel piercings, scar tissue hasn't yet been formed and it won't be able to with your belly constantly growing.
Piercings are also at high risk of infection which is something you have to avoid during pregnancy for the safety of you and your baby. You may not even notice it at first, but tiny micro-tears is all it takes for your piercing to become infected and need treatment.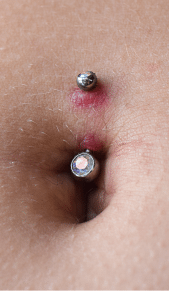 The immense tightness of the area may also become extremely uncomfortable and even painful, so you might feel better once the belly ring as been removed.
Always remember, even if you do eventually resort to removing the piercing, it can always be re-pierced after your pregnancy! With scar tissue probably not grown yet, it is an easy fix to ensure full safety for you and your baby.
After taking out the belly button ring, still keep the pierced area clean with saline solution given by your piercer, or alternatively, sterile warm water with added sea salt.
My belly button piercing is already healed
If you are one of the lucky people to have a nicely healed navel piercing before getting pregnant, then don't worry! There are plenty of ways you could try to maintain it and for the majority, they work.
While your bump is still fairly small, you should be okay sticking to a regular metal belly button ring. But if you feel as though the ends of the bar are being pushed into your skin, allowing for no movement in the piercing, it may be time to switch to a slightly longer bar. This is because movement of the bar is necessary because it allows for extra room to swell and therefore lower chance of infection.
In the second trimester
After switching to a longer metal bar, you may find that during your second trimester, this one even becomes too short and almost skin tight as your belly grows. This may be time to introduce a pregnancy belly ring.
What is a pregnancy belly button ring?
These cleverly designed pieces of jewellery are something some pregnant women have ever heard of, but they work very well at keeping your hole open and healthy.
Instead of a curved metal post with two ball ends, pregnancy belly rings have a bendable silicone post that is significantly longer and straighter than regular jewellery. Some companies even add designs onto the ball ends aimed at pregnant women, with things such as baby feet , which could be a cute accessory for your bump!
As the post is silicone, it can mold to the curve of your body and belly, hence, it is very comfortable.
In the third trimester
During this stage, your belly will have grown excessively, in comparison to the other trimesters so it may be time to take out your piercing.
If you do decide you don't want to remove the piercing during pregnancy, a long silicone bar may be the answer as mentioned earlier, but leaving in a piercing to give birth can bring along a whole host of other problems you may have not even considered.
If you have a C-section, the surgeon will most likely remove the navel piercing so that it doesn't interfere with the operation. It then may prove very difficult to get it back in afterwards as your belly and navel area will be tender and sore.
Belly button piercing after pregnancy- What will it look like?
As with healing anything post pregnancy, everyone's body's are different and all heal in their own time.
After giving birth, your belly may have loose skin, stretch marks or a warped belly button and these all contribute to the state of your belly button piercing.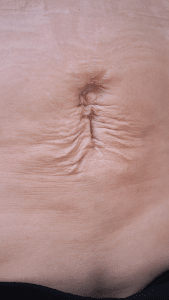 If your belly button popped out (dome shaped) then you may find it can take months to return to its normal shape, but it will happen eventually. This can mean that getting your belly button ring back in can take longer than those whose belly button didn't pop.
Belly buttons can also migrate and change shape which has the potential to change the way that your belly button piercing sits or looks. You may then decide that taking it out is the best option.
In summary
As long as you take care of your piercing when pregnant, it is possible to maintain your belly jewelry looking as perfect as ever. Taking out your jewellery permanently could result in slight scarring, but nothing too major to be worrying about.
Stick to wearing loose fitting clothing around the navel area and regularly clean with a saline solution, even if you believe it's fully healed. This then reduces risk of infection to keep you and baby safe.
https://www.mybump2baby.com/wp-content/uploads/2023/08/Untitled-design-8.png
630
1200
Gracie Charlesworth
https://www.mybump2baby.com/wp-content/uploads/2016/10/Logo-MyBump2Baby_transparent-bg-1-1.png
Gracie Charlesworth
2023-08-31 13:37:24
2023-08-31 13:41:02
Your belly button piercing after pregnancy- What's going to happen