BeWILDerwood Cheshire Review
Disclosure: This article may contain affiliate links, this means at no cost to you, we may earn a small commission if you purchase a product through them.
Bewilderwood Cheshire Review
We were thrilled to have been invited to the new BewWILDerwood in Cheshire during the May half term.
Family days out is something we have really missed during the pandemic (minus the kickoffs) so we were especially excited to head out for a new adventure. This has been our first proper day out in a very long time so we had a lot of excitement the night before from George and Daddy.
Before you delve into our review further, let me start by saying that this place is like no other place we have ever been, it is so unique and different that we actually wished that they offered glamping and we could carry on exploring into the night as we really didn't want to leave.
We are really excited to share our BeWILDerwood Cheshire review with you today.
What is BeWILDerwood?
BeWILDerwood is inspired by magical books written by Tom Blofeld, in a nutshell, Bewilderwood is a huge award-winning forest full of family fun and outdoor adventures for younger children, older children and (WAIT FOR IT)……. GROWN-UPS. It was music to my ears when I found out I could get just as involved (if not more) than George.
I mean a huge benefit of having a family of your own is the fact it is 100% absolutely acceptable to revert back to a child-like state at any given opportunity and we did just that.
BeWILDerwood is a place where you can create incredible memories whilst playing and exploring as family.
As I mentioned above, BeWILDerwood isn't just for little ones, grown-ups can often be found hanging out of the attractions and in some cases queue-jumping your own child (my husband). We came to Bewilderwood to get fully involved in the woodland adventure and we did absolutely that.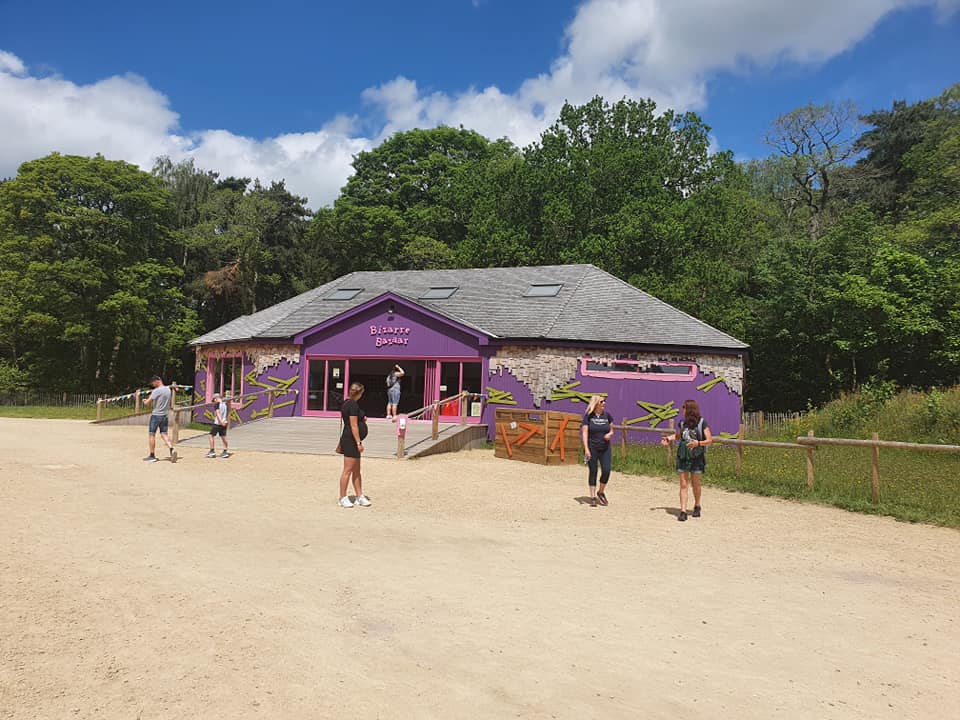 Where is BeWILDerwood?
Ok, so the Bewilderwood we went to is located in Whitchurch in Cheshire, the postcode for your sat nav is SY13 4JF.
Now the good news is there is another BeWILDerwood located in Norwich.
BeWILDerwood Cheshire Tickets prices & Car park
Day Tickets – Cheshire
The ticket prices for this BeWILDwood Cheshire park are as follows (please note the prices may have changed since this review has been written). There is currently high demand for these tickets so we recommend booking tickets in advance to avoid disappointment.
Born to BeWILD Under 92cm Free
Almost WILD Between 92 -105cm £17.50
BeWILD now Over 105 cm £19.50
Still WILD 65 years + £12.50
Carer In receipt of DLA or PIP free
Pregnant (over 20 weeks) MATB1 from required free
Car parking is completely free which is always good to see.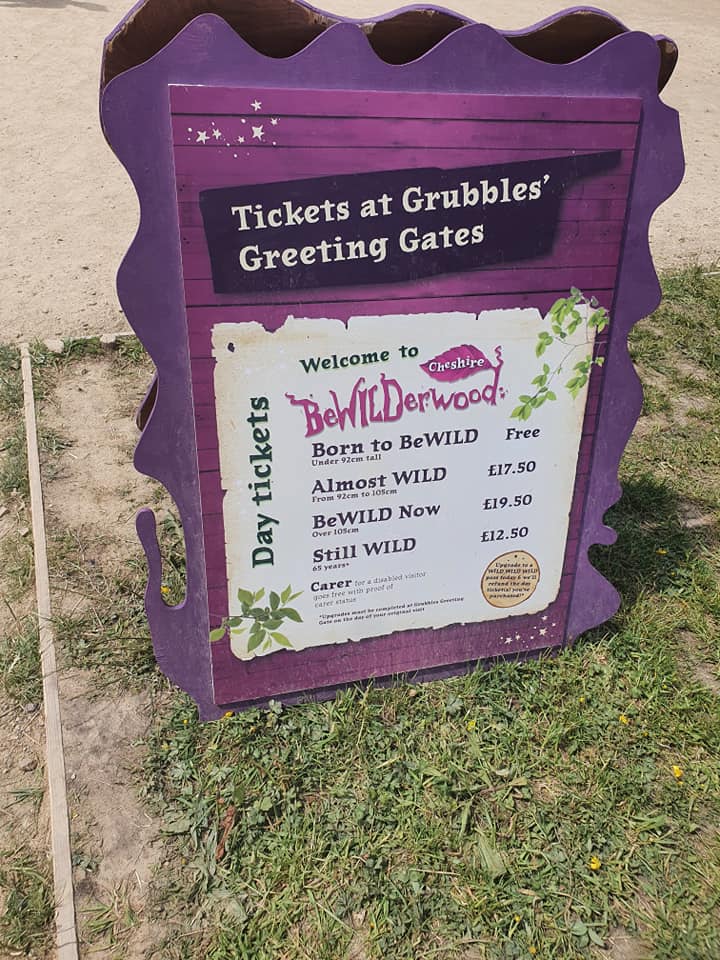 Opening times
BeWILDerwood Cheshire is open 10am – 5pm, last admission is 4pm.
How long can you stay at BeWILDerwood Cheshire?
You know it has been a huge hit with all the family when you have spent the entire day laughing and there is a kick-off at the end. Even though we had been there all day we still hadn't gone on everything so I would say you can easily stay at this place for the whole day.

Social Distancing and at BeWILDerwood
I wanted to touch on this as I know there a lot of nervous grandparents, carers and parents since the pandemic and who can blame them? I know I am a lot more mindful of keeping safe when we are in a public environment.
There were hand sanitisers literally everywhere in the park which was great to see, I would recommend taking a hand sanitiser in your pocket too so that after each attraction you can make sure your hands are clean. The toilets were fine, they were in like a cabin and dotted throughout the park.
Dining at BeWILDerwood Cheshire
There are two places to get food from, the munch bar and the cosy cabin, both are the same but in different parts of the woodland. There is no indoor dining and I think that only adds to the outdoor experience. The prices to buy food were really reasonable which was actually a breath of fresh air. My diet went out the window that day (and every other day that week but that's another story).
George got a munch box which included a sandwich, a drink, biscuits, crisps and raisins, ideal for hungry kids or kids with hungry parents. Danny and I opted for the BeWILD banger (similar to a hot dog) – it definitely filled the spot.
There were lots of picnic benches to eat at and lots of people brought picnic blankets and families eating a picnic which was lovely to see, we barely get out of the house in one piece as it is so the picnic idea went out the window for us but I was really impressed with the prices and food they had.
We later got an ice cream tub, the ice cream was delicious and a good afternoon fix after burning lots of energy.
Allergy and Food Intolerances
It was great to see BeWILDerwood accommodating for allergies and food intolerances too.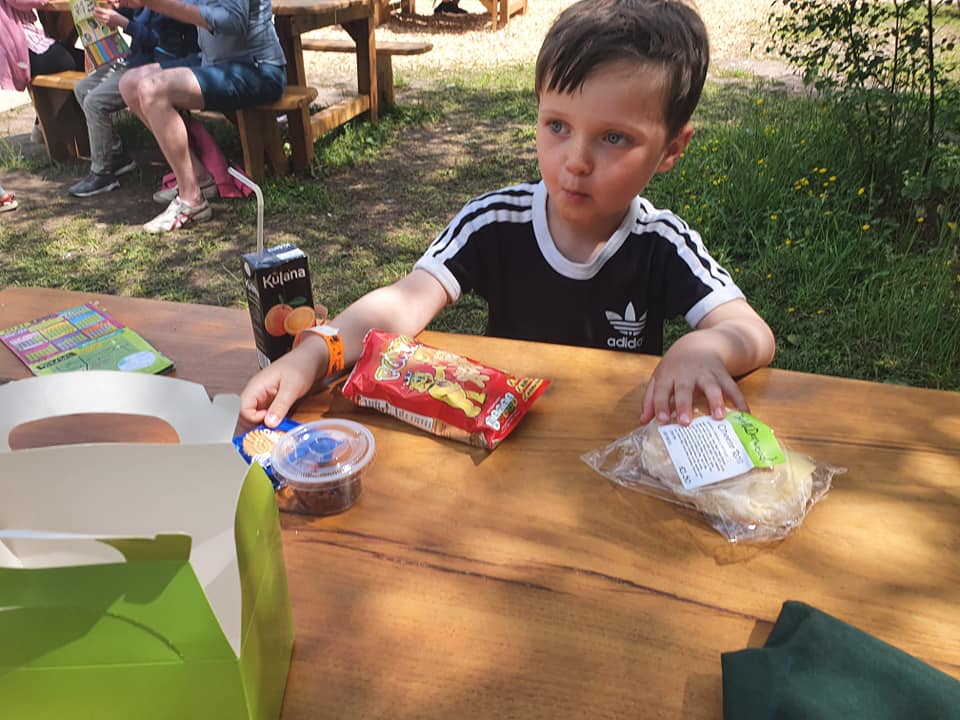 What attractions do beWILDerwood Cheshire have?
Ok on to the fun bit…. as I said previously, we did not manage to get on everything in the park so I can't give our full experience on every single attraction but we had so much fun.
As we walked into the park we were greeted with a board with all the times for different activities on. George loved looking on the trees for the colourful fairy doors as we walked in.
Slippery Slopes (the big slides)
As we headed in George was playing on the first play area we saw, he met some friends and he really enjoyed himself, as we looked around we soon realised that the little play area was only a fraction of the fun that could be had. I spotted the slippery slopes, the slippery slopes are HUGE slides that are manned by the staff in the park.
George and Danny headed straight up and started queuing, they weren't waiting too long and one by one the boys came down the slide. They both loved it and we're giving sacks to wear to help them go faster.
We moved on to the next slide and double trouble could go down this one together, it was really fun watching everyone coming down these huge slides.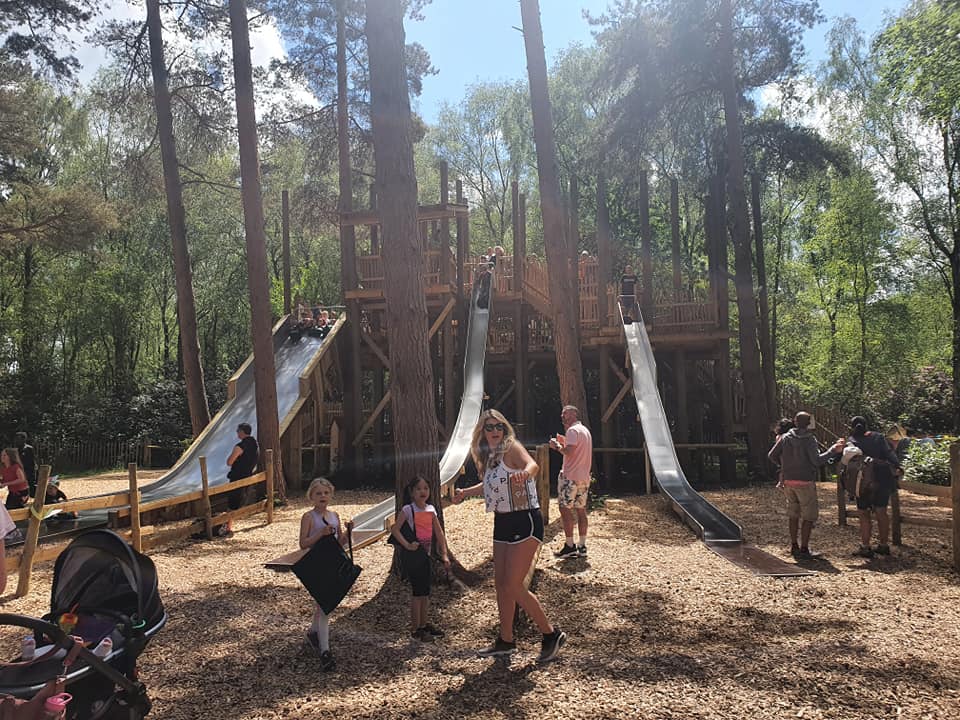 Wobby Wires
Wobbly wires were great for the whole family to get involved in. They were are just like a zip wire and seeing parents screaming and swinging from one side of the forest to the other really tickled me. What a fabulous place and kids were loving playing with their parents.
Get lost in the "sky maze"
The sky maze was good fun for George, he loved trying to find his way out. I on the other hand needed a wee and I would fully recommend emptying your bladder before heading into this place. It was great fun with lots of wooden walkways.
Mish Mash Maze
This maze was again another fun one, luckily I learnt my lesson from the first maze and made sure I was fully able to participate.
Big Hat Craft Area
George loved the idea of heading to the craft area and making a big hat. We got given all the hats and materials to create the perfect hat for George, he really enjoyed having a bit of down time and crafting and I enjoyed resting my leg for a few minutes.
Brave the Broken Bridge
George and my husband braved the broken bridge, there were lots of younger kids on the broken bridge having lots of fun.
Den Building
The den building was probably our favourite, the area was full of little ones working with their parents to create the perfect den.
Some of the other attractions we didn't get round to were;
Telescope Tower
Witch's House
Story Telling Sessions
Top Tips for Visiting BeWILDerwood Cheshire
Here are some top tips for spending a full day in this fantastic woodland.
Wear comfortable clothes, I recommend Regatta rainsuits for children, easy to stick in your handbag and enough to keep your little ones dry and warm should the rain start.
Carry hand sanitiser (they do have it dotted around but it just means you don't forget to use it after the rides)
Plan your day out as best as you can, they have storytelling in the storytelling area at set times.
Bring a picnic blanket if you can, at the height of lunch the picnic benches were busy so instead of waiting we saw lots of people on picnic blankets to maintain social distancing.
If you are an adult be prepared to get involved.
Get on the zip wires first thing as they seemed to get busier as the day went on.
Bring snacks to eat on the go, you will need your energy.
If you have younger ones make sure you bring the pram as it can be a tiring day.
HAVE FUN!!!!!!!!!!!!!!
BeWILDerwood Cheshire Review Summary
We hope you enjoyed our review on BeWILDerwood Cheshire we really enjoyed our day at this wonderful woodland. We have never been to anything like this before and we will definitely be back for another family day. We loved how BeWILDerwood encouraged the whole family to get involved. We especially enjoyed the den building and working together to build the perfect den as a team.
If you would like to go to BeWILDerwood Cheshire you can get your tickets here.
If you have recently been to BeWILDerwood and would like to leave a comment about your trip, we would love to hear from you.
Carla is the founder of MyBump2Baby. Carla has a huge passion for linking together small businesses and growing families. Carla's humorous, non-filtered honesty has won the hearts of thousands of parents throughout the UK.
She has previously written for the Metro and made appearances on BBC News, BBC 5 live, LBC etc. Carla is a finalist for Blogger of the Year award with Simply Ladies inc. Carla is also the host of the popular Fifty Shades of Motherhood podcast and The MyBump2Baby Expert podcast.
https://www.mybump2baby.com/wp-content/uploads/2021/06/bewilderwood-cheshire-review.jpg
720
960
Carla Lett
https://www.mybump2baby.com/wp-content/uploads/2016/10/Logo-MyBump2Baby_transparent-bg-1-1.png
Carla Lett
2021-06-14 12:43:10
2021-07-06 12:23:16
BeWILDerwood Cheshire Review