10 "Guaranteed" ways to induce labor naturally
We understand, you're coming to the end of your pregnancy and you can't wait any longer to meet your baby! The last couple of weeks in particular probably feel more like a century and you may be willing to do whatever it takes to get your baby out and get rid of the discomfort as soon as possible…
Sadly, there are no guaranteed ways to induce labor naturally, as they are hardly proven effective with scientific evidence. But despite this, we have gathered a list of the methods with the most logic behind them to give you the highest possible chance of an on-time labor.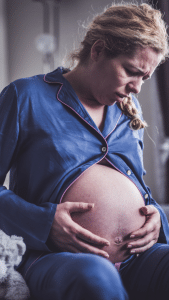 However, some methods out there could actually hurt you and your baby, so we urge you to ask your doctor or midwife before you try any methods to shorten labor.
Science or Old Wives tale?
There hasn't been a great deal of research that has gone into the methods that are used to supposedly trigger labor at home, so it's hard to distinguish whether they are actually working or if the timing of the labor is merely a coincidence.
On the other hand, some of the methods do have a scientific explanation as to why they may be helpful for inducing labor and these are the best and most natural ways you could try.
Many of the methods suggested are simply 'Old wives tales' that many women have been practicing for many years despite some of them being random and pointless. Nevertheless, trying some of the peculiar methods can be a bit of fun during pregnancy and shouldn't hurt you or your baby if done safely.
However, with that said, in this article we will try to suggest ways that could actually trigger labor in one way or another, and avoid those old wives tales!
When is it safe to 'induce labor' at home?
Now, your third trimester especially can feel like a century, but it is vital to remember that even in these last few weeks, your baby is still finishing developing major organs such as the brain, lungs and liver. This means that triggering your labor too early may not be the safest thing you can do because your baby may be premature.
At 39 weeks, your baby has finished developing and is ready to be born. Therefore, trying the following methods at this stage is deemed safe and the methods have a higher chance of having effect.
If you would like to start to slowly introduce ways to induce labor into your routine before 39 weeks, then it it safe to do so after 37 weeks. But, you shouldn't over-do them in case they do more harm than good. A premature birth can be scary as there is a much bigger risk of health problems for your baby.
If you are past your due date but not been offered to be induced in hospital, trying our methods could prove extremely useful for you especially. But try not to over-work yourself with them, your baby is coming soon no matter what!
If you are still unsure when is best to start to attempt stimulating labor, we advise you consult your midwife and seek their help on when will be best, as they can consider your personal situation will professional medical advice.
10 Methods to induce labor naturally and safely
So, now you understand the safety aspect of attempting labor induction at home, it's important for you to choose a method that is best for you and agreed by a doctor.
If after attempting any of the below you have unusual or concerning symptoms, seek professional medical advice immediately.
Some of these aren't for everyone and will depend on how both your physical and mental health and how far along you are.
1. Walking
Any kind of moderate exercise during pregnancy is highly beneficial and it comes in extremely useful in those last couple of weeks.
As your discomfort increases, frustratingly, your energy levels decrease. This can understandably make the thought of any form of movement feel like a chore and impossible with an almost fully developed baby growing inside of you. But doing any physical activity, anything as simple as walking, can help manoeuvre your baby into the correct position for giving birth.
Some pregnant women find that "Curb walking" works wonders to induce labor. To do this, go to a quiet road or a park with a slightly raised curb and walk on the lower ground with one foot and onto the raised curb with the other. You may feel lopsided and uncoordinated at first, but after a while, it will become easier and even more effective at dropping your bump and moving your baby.
Walking is definitely the safest and first method you should use to start labor induction at home, but only after 37 weeks.
2.Pregnancy ball
Bouncing on a pregnancy ball is another method of physical activity you could try that should help manoeuvre your baby in preparation for birth.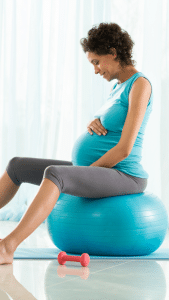 You can buy pregnancy (yoga) balls from anywhere like Amazon, Argos etc. And simply sitting on the ball and gently bouncing up and down for a few short periods a day is all it takes and you can even take your ball with you to hospital with you!
Again, only begin this exercise at 37 weeks.
3.Pregnancy massage
A more relaxing method you could try is going to professional massage therapists for a pregnancy massage.
Massage therapists that offer pregnancy massages are trained to know exactly where the birth-inducing pressure points are in the body and taught to avoid them when pregnant women aren't full-term. However, if you are full-term, asking your therapist to gently massage those pressure points may aid toward starting your labor.
A relaxing massage can also cause a release of oxytocin. This is the "feel-good" chemical that is released in our body when we are happy and content. Oxytocin release has also shown it can potentially trigger labor induction, as well as calming you before birth!
You may also find that some salons and spas actually offer an "induction massage", but sometimes this can just be clever marketing.
4.Eat dates
Although it may seem slightly random, there has been some evidence to show that those women who ate dates in the last week of their pregnancy's cervixes' dilated at a quicker rate, as well as requiring no help inducing in hospital, and overall a quicker smoother birth.
Dates are tasty and a snack that is totally safe for pregnant women. They are full of potassium and folate, both chemicals that do wonders for the body!
So, along with other methods you may be trying, munching on dates during the last couple of weeks during your pregnancy might just help you have an easier birth, but nothing is ever promised or guaranteed.
5.Eat pineapple
Another snack you may prefer to eat during those last few weeks leading up to your long-awaited birth is pineapple!
Pineapple contains an enzyme called Bromelain which aids with the breakdown of tissues. Pregnant women therefore eat pineapple in hope that the Bromelain travels to their cervix and helps to soften and dilate them.
However, as with any method similar to this, there is extremely little evidence that this is actually the case.
6.Drink red raspberry leaf tea
Although some teas can cause miscarriage during pregnancy, red raspberry leaf tea is safe to drink during the third trimester only.
It supposedly tones the uterus due to its levels of iron and calcium. Although it isn't necessarily proved, it won't cause any major health problems to try it.
7.Evening Primrose oil
Before taking any kind of supplement during pregnancy, always consult your doctor.
Evening Primrose oil contains prostaglandins that could dilate your cervix when taken orally, but it won't work or be allowed to take by everybody.
8.Sexual intercourse
We get it, you might not be in the mood to have sex when you're so far along in your pregnancy, but there are some proven health benefits of using sexual intercourse to induce labor.
During any type of sexual intercourse with your partner, the closeness and physical contact can act as a comfort and cause a surge of oxytocin.
Orgasms are another way to achieve the oxytocin release which can cause uterine contractions.
Another benefit of using sex to induce labor is the fact that a man's semen has prostaglandins which could aid in dilating the cervix, as mentioned earlier.
However, if you would like to try having sex in this stage of your pregnancy, we advise you ask your doctor's opinion before hand and don't have sex after your waters have broken as risk of infection increases.
9.Acupressure
Acupressure is essentially the massaging of certain, specific pressure points on the body that are known to induce labor.
You can do this at home or by a professional pregnancy massage therapist by rubbing the webbing between the thumb and index finger and also at the back of the ankle.
10.Acupuncture
Acupuncture uses the pressure of needles to cause hormone changes and balance out energy. It isn't for everybody and acupuncture can be a great alternative though.
If after more research you decide that acupuncture is a method you'd like to try, then we urge you to ask permission from your doctor or midwife beforehand and go to a trained professional for the treatment.
Other, discouraged ways to induce labor
So now we've covered all the safe ways that could help you to induce labor naturally, it is also just as important to acknowledge those discouraged ways and old wives tales.
Despite some pregnant women sharing some of these ways for inducing labor, they can do much more harm than good and are therefore not advised by medical professionals.
1.Nipple stimulation
Nipple stimulation with hands or a breast pump will supposedly give an oxytocin release to jumpstart uterine contractions.
However, it isn't proven to work in the same way that having sexual intercourse does and therefore doctors tend to discourage it. It also takes a lot of time to build up enough oxytocin to have any effect whatsoever.
2.Eat spicy foods
Although eating spicy foods won't really harm you, it is simply another old wife tale that it has any effect on when labor starts.
That's not to say to avoid your cravings if you want to eat hot foods, but remember, they can cause an upset stomach or indigestion if eaten in abundance.
3.Castor oil
Many women believe that taking a spoonful of castor oil before birth helps get labor started and start contractions.
However, it isn't advised by doctors due to the fact that castor oil works by irritating the gut and acting a laxative. These "contractions" that the oil causes are not labor! This means that taking castor oil before birth could result in diarrhoea which really isn't ideal.
Having an upset stomach an also lead to vomiting, nausea and eventually dehydration.
So in this case, there are far more negatives outweighing the positives.
I'm still not in labor!
If you believe you have exhausted all of the above methods and there are still no signs of labor beginning, don't fret! The above methods will not work for everybody as they are hardly proven.
If you are past your due date, your midwife may invite you to hospital to receive a medical induction to stimulate labor. We understand that you want to have your baby using as many natural methods as possible, but your doctor knows what's best.
https://www.mybump2baby.com/wp-content/uploads/2023/08/Guaranteed-ways-to-introduce-labor.png
630
1200
Gracie Charlesworth
https://www.mybump2baby.com/wp-content/uploads/2016/10/Logo-MyBump2Baby_transparent-bg-1-1.png
Gracie Charlesworth
2023-08-30 13:44:24
2023-08-30 13:47:32
10 "Guaranteed" ways to induce labor naturally