Gulliver's Kingdom Review, Matlock
Disclosure: This article may contain affiliate links, this means at no cost to you, we may earn a small commission if you purchase a product through them.
I have great expectations for summer of 2021, 1- because of a hopeful end to COVID-19 restrictions and 2- as my son Sebastian starts his reception year at school in September, and feeling like we have missed a good chunk of days out over the last 18 months I just want to make the absolute best of the summer.
And what a way to kick start our summer of adventures with a weekend trip to Gulliver's Kingdom Matlock, Bath. We booked the stay and play deal which includes accommodation and the theme park tickets for the day of arrival and for the following day. Seb was extremely excited about his sleepover in the pirates retreat and made me promise I would bunk in with him in the triple layer bunk bed!
Check-In and Parking
Check in is 4pm, although you can arrive earlier to collect wristbands for the park.
Parking at the cabins is for overnight guests only and free, however it is still a good walk up the hill to get to the first entry point of the theme park, so we drove up to the next car park. All Parking at Gulliver's is free; however places fill up fast, we struggled slightly with a 1230pm arrival time, but a friendly member of staff directed us to a good spot to find a space.
Straight through at the check in gates, amazing! And this was consistent throughout the Theme Park, with minimal queuing all day, perfect when attending a theme park with an impatient pre-schooler, and also meant we were able to experience most rides on our first day.
RIDES AT GULLIVERS KINGDOM MATLOCK
Gulliver's kingdom Matlock is a medium-sized theme park with a good variety of rides aimed at 3–13-year-olds. There are a couple of rides/attractions aimed at older, more adventurous visitors. 13 of the rides Seb was able to jump on with no problems at all. He was disappointed with not being able to ride the tree top drop and unfortunately, we had to queue to get to the front to find this out via their wooden flags, this could be avoided by a measuring chart outside of the queue?
Sebastian, not a huge fan of the log flume, but loved every single other ride we went on, his top 3 favourites; log coaster, pirates ship, and the excavators (not strictly a ride, but most definitely a dream come true to an obsessed digger fan!!)
Because of minimal queue times, we were able to re-visit all our favourite rides several times, this means you really do feel like you get your money's worth!
Gulliver's World Western World
Gulliver's kingdom is built on a hill and divided into theme sections. Working your way up the hill with each new theme stacked on top of each other until finally reaching the top, where you find the log flume in the western world. A fun little area with a cowboy and Indian vibe, the log flume being the main attraction here as the royal mine cave was closed during our visit.
You can purchase your ride photos of the log flume for £7.95, a great little souvenir of the day!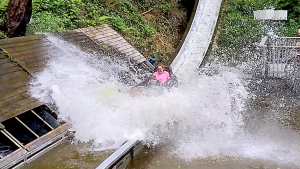 Scare Safari Kingdom
A steep down hill walk takes you to a small soft play area, a big hit for my 4 year old (not so much for his 11 year old neighbour who joined us for this trip) After letting off some steam in soft play you will find yourself in the Safari Kingdom. With Several rides here to enjoy, and some fabulous views over Matlock. In Fact the whole park has stunning, and very peaceful views over the Peak District.
Located in safari kingdom is the top entrance to the chair lift which takes you the to the bottom of the park, and back (if you want to go straight back up, you do need to jump off and re-join the queue at the bottom) We all loved the chair lift, not just because it saved our poor tired legs, but because of the moment of calm it provided with the wonderful views through the park and hills of the peaks. Gulliver's Matlock is a very picturesque theme park.
Smuggler's Wharf
Jumping off the chair lift you are greeted by the pirate ship in smugglers wharf, land of the pirates! The Gulliver's pirate ship is great, and suitable for younger members of your family as much as the older ones, you will find the larger movements to the rear of the ship and more subtle swings in the centre, we tried both the middle and back seats, with many giggles and squeals on both! Smuggler's wharf is also home to a little boat ride to calm the nerves after the pirate ship!
Walk back up the hill to enjoy the log coaster,JCB land and the crazy barrels! We spent a bit of time trying to scoop up balls with the life size excavator diggers and mini diggers. A firm favourite with Seb, I think he would have been quite happy to spend a full afternoon with the diggers! Log coaster is a mini rollercoaster with a few fast dips with twists and turns, also great fun for all ages.

Lost World of the Living Dinosaurs
One steep hill walk further to explore the lost world, full of dinosaurs, some robotic roars and awesome photo ops! The main attraction here is a huge water boat slide, we didn't experience this, as I have a bit of an irrational fear of slides, maybe next time I will be brave enough! It did look fun!
Up one more level and you return to the safari Kingdom.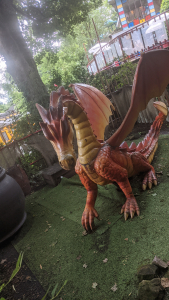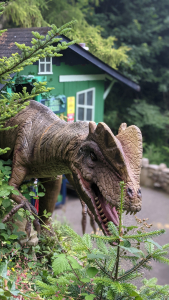 FOOD AND DRINK AT GULLIVER'S KINGDOM
Inside Gulliver's kingdom there are plenty of food stands on most, if not all levels, where You can purchase hot food and snacks. A children's meal deal from inside the western world cafe, for example, is a very reasonable £5.95 for a cheese burger, fries and drink, add a couple of pounds extra for the adults version or a pizza for £11 (large enough for 2 to share) A cart' dor ice cream stand located near the chair lift, if you fancy a real ice cream treat. Slushies are available with a choice of flavours around the park. You first purchase the cup and drink for £4 all following top ups are £2. I did notice that a lot of the small drink stands closed just after lunch, so you need to visit one of the larger food outlets to buy drinks and snacks. Gulliver's also allow guests to bring in picnics and there are plenty of bins around to dispose of any rubbish.
There are also lots of restrooms and baby changing facilities located all across the park, they are also very well maintained and cleaned regularly.
WHAT WE LOVED
The rides all aimed at younger children, and an easy introduction to theme parks
Friendly & approachable staff/entertainment staff
Stunning views and environment
Clean facilities
Not over priced
Small queues
WHAT COULD BE BETTER
Dated characters and buildings could do with a freshening up in places.
The ability to measure children before queuing
Drinks stands open longer
THE OVERNIGHT STAY
Pirate Room
This was the part of the trip that my 4-year-old son was most excited about, he could not wait to stay in the Pirates room, and I have to say, he was not disappointed.
The pirates' retreat is so well thought out and attention to detail outstanding, our room was immaculately clean with everything we needed for an overnight stay. The triple bunks are cleverly crafted into a corner of the room away from the main bed and t.v. A curtain closes off the children's sleeping area too. I can confirm that the bottom bunk was large enough for an adult and comfy too! If I was to stay for more than one night, I think I would prefer a ground floor level room with easy access to outdoors.
On-site Dining and Entertainment
Expecting we would need to head to the nearest town for food, I was pleasantly surprised to find we could eat and enjoy the evening's entertainment on site. Huge thumbs up to the evening staff here, they did a cracking job at keeping the momentum going and the children (and us adults) entertained.
We ordered a couple of pizzas, sides, children's drinks and a bottle of wine for £49 Pizzas were very tasty and portion sizes generous. They do come in takeaway boxes, which means a lot of waste and not much space on the tables to eat.
As promised a special mention goes out to 'Magic Ash' who wowed us with his card tricks, our 11-year-old guest couldn't let him go without requesting his autograph.
We won the bingo and danced at the mini disco.
We missed out on the movie and cookies as we were a little tired after such a fun day!
The Cost
Park entrance to Gulliver's kingdom when purchased in advance is just £17 per person.
A stay and play one night varies in price depending on peak times but averages £190 during the summer months.
The Take-Away
Overall, I would 100% recommend a trip to Gulliver's. Do go early, wear trainers for the steep hills, enjoy the views andhave fun on the rides!

https://www.mybump2baby.com/wp-content/uploads/2021/08/Gullivers-Kingdom-Review.png
630
1200
Katie Raybould
https://www.mybump2baby.com/wp-content/uploads/2016/10/Logo-MyBump2Baby_transparent-bg-1-1.png
Katie Raybould
2021-08-19 13:20:10
2021-08-22 08:50:51
Gulliver's Kingdom Review, Matlock