How to transition out of a swaddle
Many parents choose to introduce their babies to swaddle blankets after birth. Your baby might really like it, but you can't keep them like that forever. In this blog, we're letting you know how to transition out of a swaddle.
This blog includes:
Why do babies like swaddle blankets?
Are swaddle blankets good or bad?
When to transition baby out of swaddle
How to use a swaddle safely
Tips for transitioning out of swaddle
Signs to stop swaddling your baby
What to do if your baby won't sleep without a swaddle
Why do babies like swaddle blankets?
One of the main reasons babies enjoy swaddling is because it reminds them of being in the womb. When babies are inside the womb, it's warm and dark, and they don't experience things in the same way.
After babies are born, they may experience feeling cold, tired and hungry. With that in mind, you can understand why they'd enjoy something that reminds them of being in the womb. A swaddle blanket helps to keep the baby warm and can make them feel protected during nap time. They can also help younger babies to fall asleep (newborns).
Newborn sleep is very important. Initially, your baby will sleep more than they are awake during the day. You'll experience frequent night waking as your baby requires food or other attention.
Are swaddle blankets good or bad?
When using things like swaddle blankets, you must ensure that you are aware of any potential risks. You'll have already heard of SIDS, sudden infant death syndrome, which is when a healthy baby dies unexpectedly.
The risk of SIDS is higher in the first six months of a baby's life. This is why parents are advised to have the baby sleep in their room until they are around six months old. This can help to significantly reduce the risk of SIDS.
If you plan on using a swaddle, you must ensure that you do so safely. It's recommended that the swaddle is introduced to the baby as a newborn rather than when they are a couple of months old.
If you've passed the newborn stage and are considering swaddling, it's probably best to avoid it. This is because your baby is not used to it, and it may increase the risks of SIDS.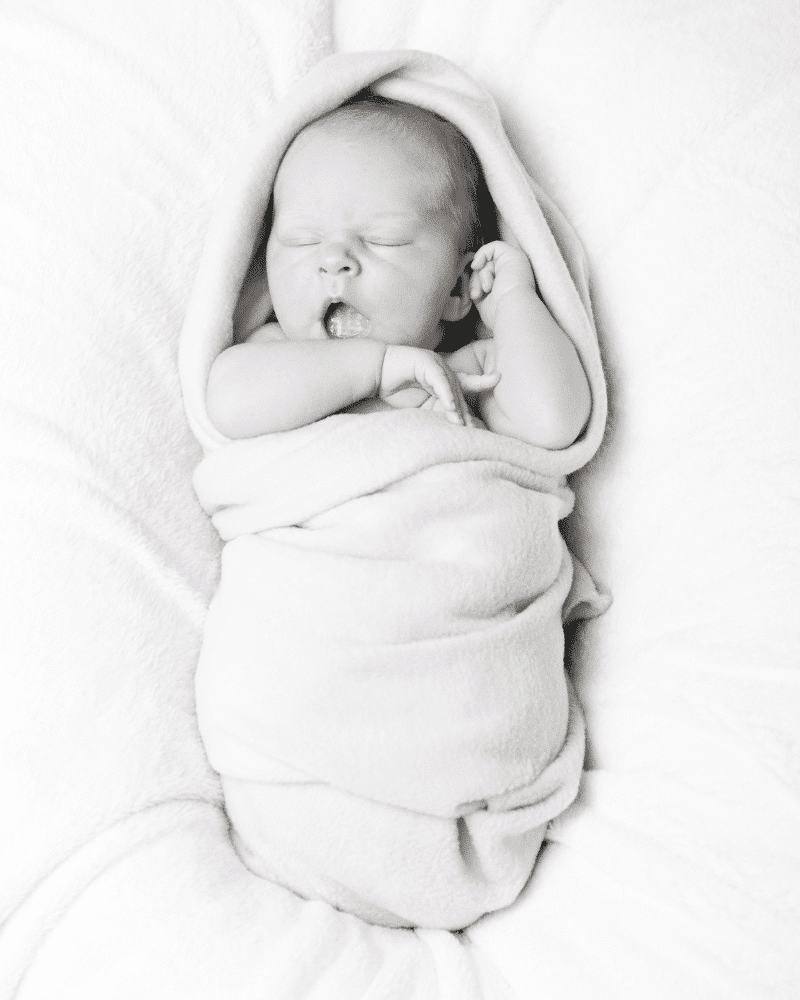 When to transition baby out of swaddle
There is no defined age when you should stop swaddling your baby. Instead, it depends on when your baby meets their developmental milestone of rolling. You must stop swaddling the baby when they show signs of rolling or the baby starts rolling.
Some babies start rolling at around 3 – 4 months old, and most babies can roll by seven months. You'll need to stop swaddling as soon as your baby learns how to roll.
The risk of swaddling a baby that can roll is that they will roll onto their front and not be able to get back. Some babies may struggle to breathe when lying on their front.
For the best and safest sleep, babies should be lying on their backs. They should be in their own sleep space, with their feet near the end of the crib or basket.
How to use a swaddle safely
If you choose to swaddle your baby as a newborn, you must ensure that you know how to do it safely. There is plenty of information online about how to swaddle your baby safely. Make sure that you only read information from credible sites and that you use a high-quality sheet or muslin.
Ensure that the sheet does not cover your baby's head or neck. Make sure that it cannot be pulled onto their face while they are using it during daytime naps or night sleep. Remove all loose blankets from the sleeping area.
Don't keep your baby in the swaddle for too long, as it's good for them to be able to move freely. This is how they will continue to develop their skills.
Tips for transitioning out of swaddle
If you're frantically searching the internet for things like 'how to stop swaddling', don't worry – we have some tips.
When your baby gets used to using something, it can be tricky to take it away from them. When it may not be as safe as it once was, it's very important that they do stop using it. A swaddle is an example of this.
It's important to remember that your baby wouldn't have been staying in the swaddle for too long anyway. This means you would have had to deal with the swaddle transition period at some point anyway.
You can transition your baby out of a swaddle in various ways, and some may work better for you than others. Try one first for a short while, and if it doesn't work, try another method. Try not to compare your situation to other people's – all babies are different.
There are some options for a gradual transition and others where you stop swaddling your baby altogether.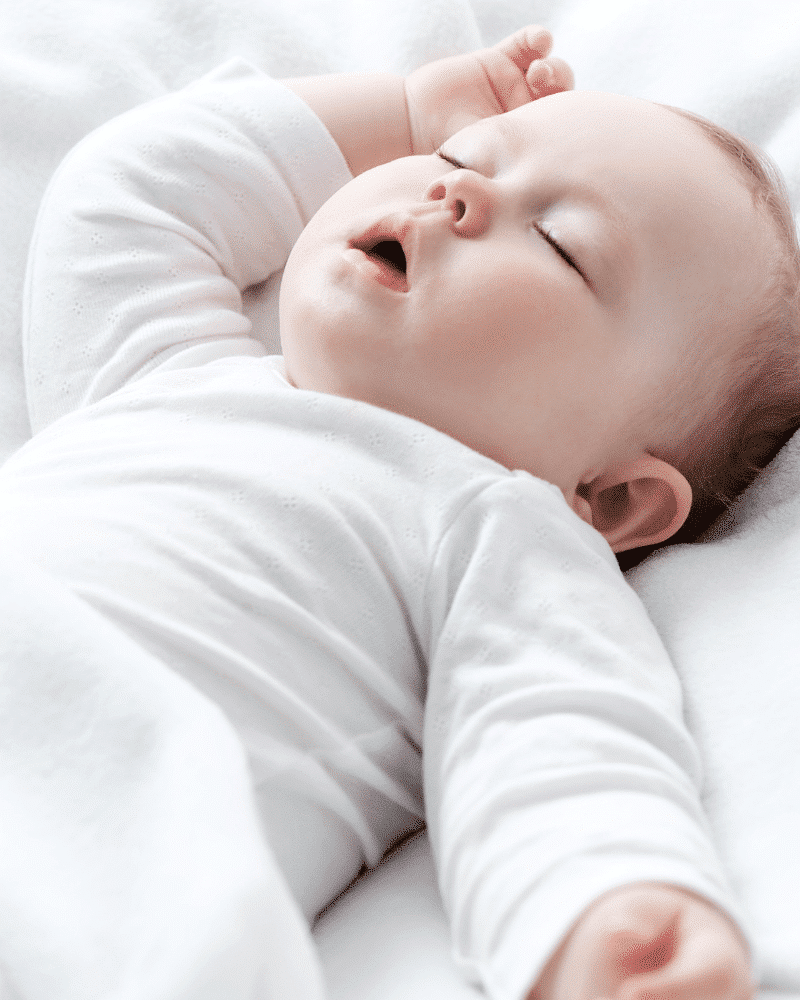 Adjusting the arms
This method may not work for all babies, and it depends on how you use the swaddle already. Some babies prefer to use the swaddle with their arms out normally. But, if your baby likes to have their arms inside the blanket, you may want to leave them out.
Keeping the baby's arms out of the swaddle allows them to move a little more freely. Some parents like to leave one arm out initially, but you could leave both arms out. If your baby responds well to having one arm or both arms free, you are on the right track.
Swaddle for part of the night
The partial night swaddle can help babies understand that they can get to sleep without the swaddle. It involves starting the night with both arms free and then swaddling if the baby wakes through the night. Again, you could try this with one arm first or even the baby's legs. This partial night swaddling method can take longer as you'll slowly introduce more time without the arms being swaddled.
You should only use these methods if your baby has not started rolling yet. This is why it's often a good idea to avoid swaddling altogether or only do it for a very short while. This means the baby is less likely to become familiar with the swaddle and expect it every night.
Remove the swaddle altogether
You might hear this method referred to as going 'cold turkey'. This means removing the swaddle blanket altogether. Your baby may struggle with the cold turkey method at first, but they will get used to it.
When removing the swaddle blanket, use a sleep sack instead. Baby sleep sacks are a great option as they keep the baby's head free. They can help your baby transition from being a swaddled baby.
The swaddle transition could take anywhere from a few days to a few weeks or even longer.
Signs to stop swaddling your baby
Rolling over is an immediate sign that your baby needs to transition out of their swaddle. However, some babies may show other signs before rolling that may indicate they are done using it.
Baby shows signs of rolling – You must stop swaddling when your baby rolls
Your baby is consistently breaking free from the swaddle often
Reduced startle reflex
Baby is fussing more than usual
Baby seems ready to start the sleep training process
Baby is refusing the swaddle
What to do if your baby won't sleep without a swaddle
It can be very tricky when your baby is refusing to sleep. It's normal for them to fuss a little when something changes, such as the swaddle being taken away. But if your baby is showing signs of being ready to not use it, you need to remove it.
Try a sleep sack
Minimise light and sound in the baby's sleep environment
Utilise white noise in their sleep environment
Create a good bedtime and sleep routine
Soon enough, your baby will be sleeping unswaddled, and they may even sleep better using a sleep suit. Sleep disruption can affect your baby and you as a parent too.
We hope this blog has been useful regarding how to transition your baby out of a swaddle. Although the swaddle transition may be tricky initially, it's the right thing to do for safety reasons.
Hey there, I'm Abigail! 
I recently graduated with a degree in Marketing. I'm currently a freelance blogger and Marketing Assistant. I love learning new things and hope that you find my blogs useful and informative.
See you in the next article!
https://www.mybump2baby.com/wp-content/uploads/2023/09/how-to-transition-out-of-swaddle.png
630
1200
Abigail Sproston
https://www.mybump2baby.com/wp-content/uploads/2016/10/Logo-MyBump2Baby_transparent-bg-1-1.png
Abigail Sproston
2023-09-07 15:27:10
2023-09-07 15:40:39
How to transition out of a swaddle