Everything you need to know about the newborn sleep schedule
Congratulations on your newborn baby! We're sure you're loving getting to know them! In this blog, we're going to let you know about the newborn sleep schedule.
This blog includes:
How much sleep does a newborn need?
Signs of an overtired newborn
How long should newborn naps be?
Should you sleep train a newborn baby?
Newborn sleep patterns by weeks
How long should a newborn sleep without feeding?
What should a newborn wear to sleep?
What's a good bedtime routine for a newborn?
Tips for your newborn's sleep
Whether this is your first baby or not, it's important to remember that all babies need different amounts of sleep. Try not to compare your situation to anyone else's. Being a new parent is such an exciting time, and there's so much to learn.
How much sleep does a newborn need?
Newborn babies typically need the most sleep, although every baby is different. Newborns need at least 8 hours of sleep per day, and this can go to a maximum of 16 – 18 hours per day. The average baby sleeps for around 15 hours per day. This doesn't leave you with much awake time with your baby.
In the early days, it's highly likely that your baby will spend more time sleeping than awake. This is normal for baby sleep. However, if you are worried about your baby's sleep, you should seek advice.
Babies need sleep in the same way that adults do. Sleep helps babies to develop a range of skills and can help to support their memory. It's very important that your baby is getting enough sleep. Without it, you'll end up with an overtired newborn.
Keep in mind that newborns do not sleep through the night. They will wake often for feeding. Make sure the sleep environment is as comfortable as possible for them. Find out about false start bedtimes.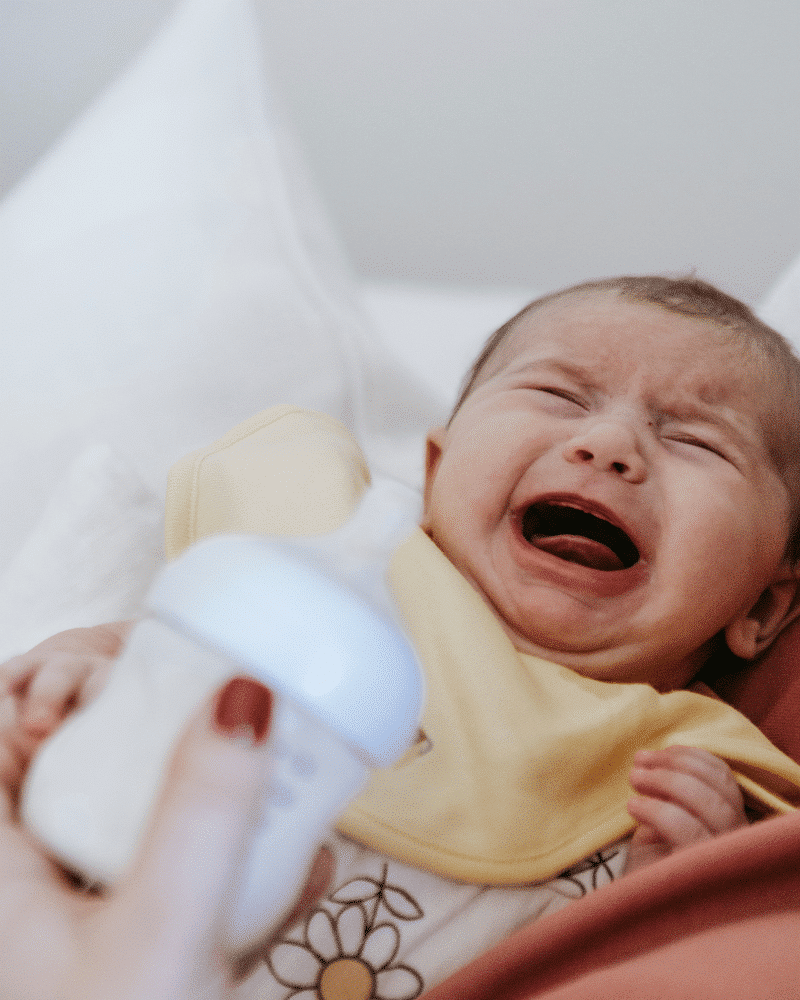 Signs of an overtired newborn
Rubbing face
Yawning
Being fussy
Being harder to soothe
Taking short naps
It's important that you get your baby to sleep as soon as you can if they are too tired. Read our blog on how to get an overtired newborn to sleep.
How long should newborn naps be?
The length of time your baby should spend napping depends on them and what they are used to. On average, newborn naps last between 30 minutes and three hours. These will likely vary throughout the day. For example, later naps may be shorter than earlier naps.
Usually, newborns sleep after every feed. This is a normal part of their feeding and sleep schedule. At this stage, you should avoid the pressure of sleep training and let your baby fall asleep when they need to.
By the time they reach 3 – 4 months old, they will likely start to have more consolidating sleep. This will allow them to sleep for longer periods but less frequently.
Should you sleep train a newborn baby?
There's usually little point in sleep training a newborn baby. Instead, it's better to let them sleep when they need to. Sleep is very important to them at this stage as they are still developing.
By the time your baby reaches the three-month mark, you will know their pattern of sleeping. This means you can start to put together a sleep schedule. Don't be disheartened if your baby doesn't take to it straight away, baby sleep training takes time.
Our bodies use the circadian rhythm to know when it's time to sleep. It can take six months for this to develop in babies. That's why it might be a good idea to wait before you start sleep training.
Newborn sleep patterns by weeks
All babies are different and have different sleeping patterns and requirements. Here are some typical baby sleep schedules. You can use it as a guide, but don't be too strict.
Newborn – 1 month-old sleep schedule (4 weeks)
Wake up: 6:45 AM
First nap: 7:30 AM – 8:45 AM
Second nap: 9:45 AM – 11 AM
Third nap: 12:15 PM – 1:15 PM
Fourth nap: 2:30 PM – 4 PM
Fifth nap: 5:15 PM – 5:45 PM
Sixth nap: 7 PM – 7:30 PM
Bedtime: 9 PM
Having shorter naps towards the end of the day can help your baby fall asleep. The times between these naps are your baby's wake windows. Find out more about newborn wake windows. This might help you to establish what time newborns should go to bed.
2-month-old baby's sleep patterns (8 weeks)
Wake: 8 AM
First nap: 9:15 AM – 10:15 AM
Second nap: 11:30 AM – 12:45 PM
Third nap: 2 PM – 3:15 PM
Fourth nap: 4:30 PM – 5:45 PM
Fifth nap: 7:15 PM – 7:45 PM
Bedtime: 9:30 PM
3-month old baby sleep schedule (12 weeks)
Wake: 7 AM
First nap: 8:15 AM – 9:30 AM
Second nap: 11 AM – 12:30 PM
Third nap: 2:15 PM – 3:45 PM
Fourth nap: 5:30 PM – 6 PM
Bedtime: 8 PM
As you can see, the number of naps your baby needs can decrease quickly in these early stages. You'll also notice that as the wake windows become longer, the wake-up and bedtimes change too. Young babies are unlikely to manage sleeping through the night as they wake for feeds – this is normal for an infant sleep schedule.
When creating a nap schedule, it's all about seeing what works for your baby. You'll definitely find a routine that fits in with them over time, which will help to build healthy sleep patterns.
Remember that you can adjust your baby's sleep as you see fit. If your baby struggles with falling asleep, they may need to be awake longer. In contrast, if your baby is always falling asleep early, it may be worth shortening the wake windows and increasing nighttime sleep.
Make small adjustments to your baby's sleep schedule and see how your baby reacts. You know your baby best, so look out for their sleepy cues. Most babies have similar sleep cues, such as eye rubbing, yawning and being fussy.
How long should a newborn sleep without feeding?
Usually, if your baby is hungry while sleeping, they will wake up. Babies remain full for different lengths of time. One factor in this is the way they are fed. Typically, formula-fed babies need feeding every 3 – 4 hours. Breastfed babies need feeding every 2 – 3 hours.
It's important to stick to a good feeding schedule. This helps your baby to reach a healthy weight. You will need to take your baby to be weighed every so often in the beginning. This helps to ensure they are growing properly and getting the right nutrients.
What should a newborn wear to sleep?
What your baby should wear to sleep in depends on the time of year. If it is warmer, your baby will need much thinner clothing. In the winter, they will need thicker clothing. You should have a thermometer in your baby's room so you can see how cold or warm it is.
For the first six months of your baby's life, they should sleep in the parent's room. This can help to reduce the risk of SIDS. Be aware that some babies experience a six-month sleep regression.
Some parents like to put their babies in a swaddle blanket from newborn. Read our blog on how to transition out of a swaddle and how to use one safely.
What's a good bedtime routine for a newborn?
Creating a bedtime routine is a great way to help your baby relax and feel ready for sleep. You should try to ensure that the routine is the same every night. This will help your baby to become more familiar with it. This will aid sleep training when the time is right. Start with a simple bedtime routine during the newborn stage.
Bathe the baby
Fresh pyjamas
Low levels of noise
Dimmed lights
Read a book with stuffed animals
Feeding
White noise may help if your baby struggles with falling asleep
Ensure that your baby has a safe sleep environment for both daytime sleep and night sleep. It can be useful to do activities in the baby's room so they can get used to being in there.
Tips for your newborn's sleep
Helping your newborn to sleep can provide challenges, but here are some tips to help you as a new parent.
Recognise your baby's cues for sleep
Research into infant sleep cycles and healthy sleep habits for your new baby
Build on the circadian rhythm with day and night, introduce light in the day and a dark bedroom at night
Expect them to struggle to settle into a sleep routine
Monitor their wake windows
Feed your newborn when they need it
Your newborn baby will need lots of sleep. This will help them to develop and learn new skills. As a newborn, let them sleep when they need to rather than trying to build a routine. Use the newborn sleep schedule above as a guide rather than a set of instructions.
We hope this blog has been useful regarding the newborn sleep schedule. Good luck with your baby's sleep, and remember to seek advice if you are worried.
Hey there, I'm Abigail! 
I recently graduated with a degree in Marketing. I'm currently a freelance blogger and Marketing Assistant. I love learning new things and hope that you find my blogs useful and informative.
See you in the next article!
https://www.mybump2baby.com/wp-content/uploads/2023/09/newborn-sleep-schedule.png
630
1200
Abigail Sproston
https://www.mybump2baby.com/wp-content/uploads/2016/10/Logo-MyBump2Baby_transparent-bg-1-1.png
Abigail Sproston
2023-09-14 13:51:46
2023-09-14 14:01:41
Everything you need to know about the newborn sleep schedule