So you are thinking about taking a trip to the wonderful Loro Parque? I decided to carry out a review so that you can make your own informed decision before purchasing Loro Parque tickets.
Loro Parque is located in the North of Tenerife in a place called Puerto de la Cruz, many companies offer excursions and they are often at a good price alternatively you can hire a car from as little as £25 a day. Loro Parque is most famous for its many Parrots which you can enjoy as you make your way round the beautiful park, it is also home to some of the most endangered animals in the world like the white tiger.
My husband and son (9 months) and I decided that we would like to do something fun and different on our last day in Tenerife and we agreed to head to Loro Parque. We got a coach from Costa Adeje, we booked this by speaking to a rep in our hotel. We arrived at Loro Parque at around 11am, the coach was picking us up at 4pm. So we had a good 5 hours of fun ahead of us. When we first entered Loro Parque, we couldn't get over how beautiful and well-kept it was and we were so excited to sit down with a map, timetable and an ice lolly and plan our day. There are many shows on at Loro Parque and you need to make sure you get to see them all.
Loro Parques Shows
Loro Parques Orca Show
The Orca show was the first show we watched and it was absolutely brilliant. There is a space for prams and plenty of places to comfortably sit during the show. The Orcas were absolutely brilliant and you couldn't help but smile as you watch them perform tricks and entertain the audience. They caused mischief as they spashed some of the audience (be prepared to get wet if you are sat near the front)
Loro Parques Sea Lion Show
The Sea-Lion show was initially a show I wasn't as bothered about. It was so fun to watch and the sea lions showed off their wonderful personality's and it looked like they have an unbreakable bond with their trainers which melted my heart. The show was hilarious to watch and I even watched them twice I loved them that much.
Loro Parques Dolphin Show
The Dolphin show was lovely, we arrived at the Dolphin show a little early and managed to sit right at the front which was really nice as we got to see the dolphins swim round before the show started. The show was very educational and I learnt things about Dolphins I didn't know. They continued with a wonderful show and it really was a fantastic way to end the day.
Loro Parques Bird Show
Birds is never something I have really been interested and to be honest we only went to this show because we were nearby when it started but this show actually left me speechless and it is not often I am left speechless. It is unbelieveable and a definate must see.
Loro Parques other animals
In between the shows we saw the other amazing animals in the park, travelling in to the beautiful penguin world was incredible and it was something you would only ever dream about seeing in real life. The tunnel full of sea animals from sharks to stingrays was amazing and George absolutely loved it.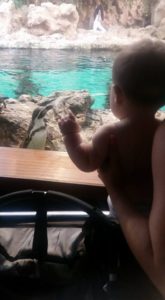 Loro Parque Lunch Time
There are many places to eat at Loro Parque but as my husband and I were keen to get round the park as quickly as possible we decided to have a sandwich and a quick drink, it was delicious.
Loro Parque's Toilet and Changing Facilities
The toilet and changing facilities were very clean and well kept, there was a lady on the door cleaning the toilets throughout the day which was really good.
[rwp_box id="0″]
Loro Parques Overall Review
Loro Parque was definitely one of my favourite days of our first family holiday. When I booked Loro Parque I was initially I was a little worried about how George would be on the coach as it did take about 2.5 hours from Costa Adeje. The coach had full air-con and was very comfortable, it also had a toilet on it which was useful when changing the baby. It picked us up from a bus stop near our hotel. I would strongly advise to take lots of food, drinks and toys to keep your little ones entertained. You may want to think about hiring a car as this would cut the journey right down and you can also go to the park and leave as and when you wish. George did sleep the majority of the journey which was great.
The park was just brilliant, there was so much to do and you may find that you don't manage to get round to see everything if you don't plan your day effectively. Once you get to the park, get your map and timetable and plan your day to ensure that you don't miss anything. There is a break for dinner with the shows and there is more than enough restaurants and cafes to choose from. George is only 9 months but he did really enjoy looking at the animals. The journey can seem off putting but it really wasn't as bad as I thought. I think next time we go to Tenerife I will definitely look at hiring a car and seeing all the beautiful parts that we didn't get to see last time. I would definitely visit Loro Parque again as it truly was a magical place. I did find the trip to be educational at the same time learning about the many animals at Loro Parque. What I liked about Loro Parque above other animal parks is that it was clear to see how much of a bond the trainers and animals have, it really was lovely to see.
Carla is the founder of MyBump2Baby. Carla has a huge passion for linking together small businesses and growing families. Carla's humorous, non-filtered honesty has won the hearts of thousands of parents throughout the UK.
She has previously written for the Metro and made appearances on BBC News, BBC 5 live, LBC etc. Carla is a finalist for Blogger of the Year award with Simply Ladies inc. Carla is also the host of the popular Fifty Shades of Motherhood podcast and The MyBump2Baby Expert podcast.
https://www.mybump2baby.com/wp-content/uploads/2017/02/Loro-Parque-Review.jpg
371
960
Carla Lett
https://www.mybump2baby.com/wp-content/uploads/2016/10/Logo-MyBump2Baby_transparent-bg-1-1.png
Carla Lett
2017-02-08 12:47:30
2018-08-14 12:54:04
Loro Parque Review - Tenerife