Tokophobia-Fear of Childbirth
Fact Checked
Disclosure: this article may contain affiliate links which means, at no cost to you if you click to purchase through one, we may earn a small commision.
Today we share an article written by expert Sharon Mustard from Easi Birthing about Tokophobia – fear of childbirth. You can view Sharons listing on MyBump2Baby here or head over to her website here.
What is Tokophobia?
Tokophobia is a pathological dread and avoidance of childbirth. It is a distressing condition which can often be overlooked by medical professionals. As well as specific phobia and anxiety disorders, tokophobia may be associated with depression and post-traumatic stress disorder (PTSD).
Do I have Tokophobia?
It is first important to recognise that not all fears around pregnancy and childbirth mean an expectant parent is suffering from tokophobia. Tokophobia is the extreme end of the anxiety continuum in pregnancy and childbirth. Whilst mostly women, it can affect both women and men.
Extreme fear of childbirth can manifest through a number of symptoms including:
· Nightmares
· Difficulty in concentrating on work or on family activities
· Panic attacks or extreme anxiety
· Obsessive, all-consuming thinking about the birth
· Interference with your relationships at home and work
· Avoidance of any information about birth if pregnant
· Interference with daily activities such as sleeping and eating
· Avoidance of pregnancy altogether
A woman who is pregnant and frightened of birth will have recounted her fears to many people. This pre-occupation, rather than relieving tension instead has the effect of turning the screw of anxious expectation. If these people have had traumatic birth experiences, they may feel inclined to empathise with her that they know the ordeal she describes-inadvertently providing evidence to support her fears.
Some reports have found that at least one woman in six is so terrified of giving birth that she induces a miscarriage or avoids becoming pregnant altogether. This can occur even when a baby is desperately wanted. Others, either intentionally or not, find themselves pregnant and living in abject fear of facing the phobic situation at the end of pregnancy.
How common is Tokophobia?
Fear of childbirth is common and more intense in pregnant women who have not had previous experience of childbirth.
Over 20% of pregnant women report fear and 6% describe a fear that is disabling.
Altogether 13% of women who are not pregnant report fear of childbirth sufficient to postpone or avoid pregnancy.
The Birth Trauma Association both acknowledge that following witnessing a traumatic birth, men can also develop tokophobia. Studies have shown that men are more likely to fear for the women's health than the women themselves.
What are Tokophobes afraid of?
Most commonly women can suffer from:
· a fear of death during delivery
· not being able to trust in the obstetric team
· fear of their own incompetence; women with low self esteem are more likely to suffer tokophobia.
· delivering a physically damaged or congenitally malformed child
· fear of pain
· long labour
· complications
· medical intervention
Women who have suffered childhood sexual abuse or rape fear the experience of childbirth will revisit the distress and helplessness of abuse. Women who have already suffered trauma during childbirth can be afraid of re-traumatisation. A useful, albeit simple, definition for an event to have the ingredients to develop trauma is wherein the perceived threat is greater than the individual's perceived ability to cope.
· There may be secondary phobias present such as irrational fears of hospitals or of needles.
What causes Tokophobia?
The disorder is generally classified into Primary and Secondary tokophobia:
· Primary tokophobia is the fear of childbirth which pre-dates pregnancy and can start in adolescence and extend well beyond menopause. This can be a result of vicarious learning from others; overhearing an adult telling birth horror stories as a child, the media portrayal of birth, frightening birth videos shown at school when a teenager.
· Secondary tokophobia is due to a previous negative experience regarding traumatic birth, poor obstetric practice or medical attention, postpartum depression or other such upsetting events. Although most typically this is after a 'traumatic' delivery, an emergency caesarean section or instrumental vaginal delivery increases fear of childbirth in a subsequent pregnancy.
Tokophobia could also occur after an obstetrically normal delivery, a miscarraige, a stillbirth, or a termination of pregnancy.
Is it normal to be scared of childbirth?
There is no doubt that childbirth has the potential to be the most amazing, wonderful experience. However it is especially important for tokophobic women to realise that the greatest factor influencing whether it is or not is the person's own expectations and attitudes.
Sadly, in many contemporary western countries, birth has become seen as a medical condition, as an ordeal.
However in other cultures, childbirth is regarded as a natural, normal event in a woman's life. The birthing women are given support from other women, and children are often present to witness the event. In this way, birth is celebrated and honoured. Young girls then grow up with the belief system that birth is a positive event and their expectations of childbirth reflect this attitude. As a result, their births are similar to their predecessors; without fear and sometimes without pain. They have a positive expectation of childbirth.
In most western cultures, it is very much the opposite. For many generations we have been told that delivering a baby is many hours of painfully agonizing work, to be faced with fear and trepidation. Our fears about childbirth are part of social conditioning. Whilst some anxieties are to be expected around the unknown quantities of experiences we have never encountered before eg. pregnancy, childbirth and even becoming a parent, the fear continuum is diverse and the fact is that it can have wide-reaching effects on the birthing body, mum, dad, birth partner and baby.
Though changing, antenatal education, which has the potential to empower women to have confidence in their bodies ability to birth naturally, has often also portrayed birth as an event 'waiting to go wrong'. There is often a strong emphasis on choices of pain control and of possible complications and interventions, an approach which for parents can only serve to rationalise their fear.
Much of the experience of pain in childbirth is the result of an unnatural process of fear, which produces tension and creates tightness and clamping of the muscles. Medium states of hypnosis produce analgesia, amnesia, time distortion; clinical research into the use of hypnobirthing has reported an incidence of 60 to 79% of women using no chemical pain relief whatsoever.
Why is it important to seek help for tokophobia if I am not pregnant?
An untreated profound fear of childbirth can rule the individual's life decisions-restricting the choices they feel are open to them about their future. Therefore it is highly recommended that you seek help whether you are currently pregnant or not.
Fear or worry has a profound effect on whether the woman blocks becoming pregnant in the first place; consciously or subconsciously. The latter can be the reason behind infertility.
Some women find themselves unable to have relationships with men who want biological children of their own.
Many feel shame at their perceived inadequacy. The loss can be grieved into old age. The psychological impact of this can have far-reaching effects if not treated. Feeling of low self-worth, a loss of belonging and depression can result.
How do I overcome / counteract my fear of giving birth?
It is important to not let your fears control you and your decisions. Extreme fear of natural childbirth can motivate a request for an elective caesarean section, in an attempt at avoidance
of labour and delivery.
Many medical professionals are concerned at the ever-increasing demand for caesarean sections and seek to make sure their patient understands the risks and benefits of the procedure and are able to make informed decisions.
In childbirth, women can actually create the very situation they fear. The anxiety can create a ripple effect that extends to the woman's body, the baby, her partner. Medical interventions, complications, prolonged labour, increased pain are more likely with women who have a dread of childbirth. So this alone provides a huge incentive to address any fears you may have.
One of my favourite quotes is from an obstetrician Michel Odent who said,
"One cannot help a normal physiological process, the point is not to hinder it."
· Attending a hypnobirthing course
This can be an effective way to alleviate fears and teach you strategies to empower, rather than feel helpless. For example, at 'easibirthing and parenting training', our course is designed to give time to reflect on how you feel about becoming a parent to this baby. You will of course have some normal doubts, but this is about eliminating some worries, and managing others. This course is about placing birth as a central role in your adjustment to becoming a parent (or a parent again). The focus, of course, is about understanding and utilising hypnosis to your best advantage both during the birth and beyond.
Hypnobirthing can utilise self-hypnosis, relaxation, visualisation and breathing methods to prepare a women's mind and body for birth. It can teach pain management skills and aim to boost confidence so that you manage, rather than fear, childbirth. It is about reaching a state of deep relaxation, maintaining perception of control over the process and developing a positive attitude. It is about changing the expectation of birth. The aim is for previously tokophobic women to go into labour feeling calm, confident and in control.
· Consulting a psychotherapist
Fundamentally sufferers need to be listened to and for their fear to be taken seriously. Sadly, this is often not the case. Suffering in silence remains a reality for many. Very often an individual can feel their fear is be belittled. Women and men need to know that they are not alone, and that expressing their fears does not have to be a 'taboo' subject.
Women and their partners should be encouraged to openly talk about their fears, as in many cases these can be allayed. A fear in the open is one which can be acknowledged and then challenged.
A hypno-psychotherapist can address her sense of control in making positive, informed choices; whilst remaining realistic about her sphere of control. The latter will lessen the chances of destructive self-blame beyond the birth. If women and partners haven't felt empowered during the birth, this will have a knock-on effect.
There is a clear relationship between women's expectations before delivery and experiences after. So, the expectation of being in control (both self-control and control over what is being done to you) is positively associated with achieving that aim and with higher satisfaction with that delivery.
· Psychotherapeutic treatment for birth trauma
Whenever aspects of a woman's previous birth experience have been traumatic, her subconscious will be attempting to block the possibility of re-traumatisation. The feelings arising from that need to be neutralised and reframed, to enable her to see it as separate from the next birth. Women being encouraged to have a vaginal birth after caesarean may already be left with a perception that their body has failed them. The woman may be holding anger or guilt from her previous experience which needs to be expressed within therapy. In this manner, the person can lessen or remove the power of the past experience influencing a future one.
· Building a relationship with your midwife and obstetrician
Talking to maternity professionals about your fears can mean you work together towards a common aim of treating tokophobia or indeed preventing it in the first place. Because of the faith women will have in their expert knowledge, birth professionals have 'prestige suggestion' defined as "A persuasive message delivered by or attributed to a highly respected or admired source to maximize its credibility". Research has measured the effect of nursing suggestions to labouring women and recommends that the conversation of the nurses be "controlled carefully for the purpose of advancing the birth process".
Midwives in Britain are generally very committed to empowering women, but changing language around childbirth is an evolving process.
· Ask friends and family to be sensitive to how you feel about birth
Negative suggestion is of course not confined to birth professionals. Everything a person hears/learns related to birth becomes part of their subconscious learning. We have heard stories from well-meaning friends and family that send shivers up our spines, and so the legacy continues.
One of my clients chose to wear a badge saying "Only positive birth stories please, my baby is listening!"
· Be mindful of your own internal language
If, when pregnant, you remain aware how powerful suggestion can be, you are forewarned and therefore forearmed. If you have negative thoughts, acknowledge they are only thoughts and re-frame the suggestions you are giving to yourself.
· Continually involve your birth partner
During pregnancy, I encourage women to find out how their partner feels about the birth. In an
intense experience such as labour, a woman will tend to assess the world through her partner's eyes as they are the most familiar 'anchor' in the environment. They are therefore integral to the whole process, not simply in the role of coach to the expectant mother.
· When it doesn't go according to plan; stay calm, confident and in control
Trauma and subsequent tokophobia can result if the person then becomes alarmed as it is not happening exactly as they were told it would. Even in situations where 'things are not going according to plan', maintaining CCC is the ideal mental state. Think of each birth as unique-like a fingerprint. The individual differences can be seen as something to cherish. A positive, calm state of mind will help keep a woman's mind open to options/choices, rather than feeling helplessness.
Post natal benefits of addressing fears
Successful breastfeeding Oxytocin, known as the love hormone, is produced during lactation-even when the mother hears the signal from her hungry baby. During lactation, the endorphins as a built-in reward system encourages the mother to breastfeed. The commonest causes of deficient lactation are worry and fear.
· Enhanced bonding
Positive prenatal, perinatal and postnatal bonding is important for increasing the baby's sense of security. Emotions cross the placental barrier too.
· Adjustment to parenthood
We talk of the birth of a mother and the birth of a father-a part of your identity and life experience that never existed before. Acknowledge this and see it like a job description that is changing every day! It is okay to be a 'good enough' parent. Don't aim for perfection, it is unobtainable. It is important that women and men feel empowered to deal with the challenges ahead. Tokophobia can have its origins in part due to a traumatic start to parenthood.
The way forward…..
In the western world we have lost connection with the inner wisdom of, what is and always has been, a natural process and instead birth is being seen more and more as a medical procedure. Let's reclaim what our bodies are capable of. Don't let your fears rule you, instead show them you are in control!
Sharon Mustard is the founder and director of easibirthing® and parenting at www.easibirthing.com . Sharon has been passionate about supporting women and their partners for over 25 years in using Hypnosis and Psychotherapy for Fertility, Pregnancy, Hypnobirthing , Post Natal Mental Health & Parenting Relationships.
In addition to supporting parents and parents-to-be in face-to-face and online sessions, she has an online training school whereby courses can be completed at your own pace at https://school.easibirthing.com
Sharon also trains counsellors , therapists and related professionals across the world to work in these specialist areas.
As well as being a specialist in hypno-psychotherapy for childbirth, fertility & post natal mental health, Sharon is a Hypnotherapist, Psychotherapist, Counsellor and Life Coach with a full-time practice in Salisbury, Wiltshire, UK. Visit her practice at www.mustardtherapy.co.uk
. In 2019 Sharon received the Brookhouse and Biddle award for significant contribution to Psychotherapy.
MyBump2Baby asked other women about their experience of Tokophobia and here is what they had to say;
"Tokophobia has been a fear of mine since i was a small child, I think the trigger for me was a very graphic movie i watched with my mother and i used to have nightmares about it. It is only now as an adult that i actually realise I have a fear of childbirth and only very recently after trying to get pregnant for almost 2 years that I realised this could be stopping me getting pregnant. Of course, after trying for a baby for so long my mental health has taken a battering. I recently spoke with someone about overcoming tokophobia and i was so glad i did, i do feel a lot better – I am yet to get pregnant but i am confident now that my time will come." Laura 33, Ashford
" After suffering from miscarriages and then having to give birth to my baby, it has traumatised me, it was an awful birth experience and i am terrified to go through it all again. Since my last miscarriage i have struggled to get pregnant and i feel this is due to the previous traumatic birth, I have got my daughter so i think it would be classed as secondary tokophobia. I am keen to work on this and would like to find out more" Amy 28, Warwick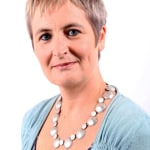 Sharon Mustard is the founder and director of easibirthing® Fertility to Parenthood. She has been supporting women and their partners for over 25 years in using hypnosis and psychotherapy for fertility, pregnancy, hypnobirthing, post natal mental health & parenting support. As a tutor for National College of Hypnosis & Psychotherapy, she teaches other therapists in this specialist area. Sharon also runs her own online training school providing a range of accessible courses for parents, parents-to-be and professionals.
Sharon is a UKCP registered hypnotherapist and psychotherapist with 27 years of experience promoting all aspects of emotional and mental health.
Sharon is also a mum of 3, and a grandmother to 3 lively grandsons!
https://www.mybump2baby.com/wp-content/uploads/2021/01/tokophobia-fear-of-childbirth.png
630
1200
Sharon Mustard - Founder & Director of easibirthing | UKCP Registered Hynotherapist
https://www.mybump2baby.com/wp-content/uploads/2016/10/Logo-MyBump2Baby_transparent-bg-1-1.png
Sharon Mustard - Founder & Director of easibirthing | UKCP Registered Hynotherapist
2021-01-28 14:37:12
2023-09-27 14:33:01
Tokophobia-Fear of Childbirth