Child Bereavement Story – James & Rebecca | MyBump2Baby
Disclosure: This article may contain affiliate links, this means at no cost to you, we may earn a small commission if you purchase a product through them.
My bereavement story begins in late December 2013. My wife was sent home from work feeling sick, we didn't really think anything of it as she worked in a care home, so it was expected she may pick random bugs up from time to time. We had got together in the previous March and everything was such a whirl-wind, so much so, we got engaged on Christmas Day. So we weren't together that long, but it felt right for us both to progress our relationship. We both knew we wanted to be parents, but wanted time for ourselves first, understandably so.
The sickness wasn't really going away and by this point, she was really bad. I don't know how it came to this, but she booked an appointment at our doctors, which thankfully was in the same building. With us being relatively new into the relationship, I out of respect didn't go into the consultation. After all, it was just a bug… right?
Rebecca came out and I immediately asked her what the doctor had said…
That's when I got the best news a man could ever possibly hear, that the love of his life was pregnant! This was quite a shock because Rebecca was on the pill at that time, but you do hear of these things happening and it happened to us. Of course, it took us a while to let it sink in, getting together, engaged and becoming expectant parents in less than a year, but it was perfect and just felt right, so I didn't really care – I was the happiest I had ever been up to that point, likewise her.
We told family and extremely close friends the news, who were equally as excited as we were. It was just such an exhilarating feeling. The plans for time for ourselves went straight out of the window. Of course, it was disheartening, but I believe everything happens for a reason and this reason was to bring us a world of happiness and joy.
Approximately a month later, on our niece's birthday, was our first ultrasound appointment. Having never been through this experience before, it was both scary and exciting in equal measure. That being said, being very highly intuitive, I had been joking with Rebecca about we were going to have twins, I even told a work colleague. I was nervous but knew I had to remain calm, given the circumstances.
It soon came to us and our turn… Deep breath
The sonographer from what I remember was extremely pleasant and put us both at ease. Rebecca lay down on the bed and the sonographer did what she needed to do. So she got the scanning tool out and started scanning Rebecca's belly, she soon picked up a heartbeat. That was not all, she found another! She then said "I've actually found triplets in this room", immediately I thought, is that us? She quickly said, "no, it's only twins for you" Rebecca looked at me thinking 'what the hell?' and I sat there as calm as anything I think Rebecca was acutely surprised at!
So our plans began in earnest. We were in the process of moving as Rebecca wanted to be closer to friends and family. Fair enough, but with twins now on the way, this was even more of a priority for us. Once we had moved, we began shopping for the things we needed. My eyes were well and truly opened in how expensive things were when it comes to babies, not only for one but twice over. I didn't care though because at the end of the day – these babies were going to have the best start in life that we could possibly give them…
Not long after moving in, we decided to have a private gender scan. So we could be better prepared for the arrival. It was then we found that we were expecting twin boys!
Rebecca's pregnancy wasn't great, she was quite unwell all the way through it. So much so that she was admitted to hospital about a fortnight before the boys arrived. She was advised to begin her maternity leave from work to just rest.
We had a scan a few days before the second admittance. It was decided then that we should start thinking about the imminent arrival of the boys. Rebecca was admitted a few days before to closely monitor the boys growth as that was the primary concern of the medical staff.
Then on Saturday 2st June 2014 – we became parents to Joshua and Jacob.
Jacob was the first to arrive but there was no noise from him, no crying or anything. I almost convinced myself that it was normal, but it was anything but 'normal'. Joshua quickly followed and we heard a little cry from him, which was more reassuring.
It was then, a doctor came over to us and uttered the words, "I'm sorry, there's nothing more we can do, we've tried for 20 minutes", I immediately thought what had happened, why aren't they trying more etc.
I told Rebecca who by this time was exhausted as you can imagine. She was in and out of it. I explained as much as I could. We had lost one of our boys, Jacob. That was single handedly the hardest things I have ever done in my whole life.
That being said, Joshua was pulling through but he needed to be transferred to another hospital for surgery. He subsequently spent 5 months in Neonatal Intensive Care…
Fast forward almost 7 years, Joshua is thankfully still with us. We still have hospital appointments for him as he has a few health conditions as well as being assessed for Autism and ADHD.
The past 7 years have been tough. The milestones, the birthdays, Christmas etc. Joshua is very much a Mummy's Boy which I have found hard because I have often wondered about whether Jacob would be a Daddy's boy so to speak. I realise now that it's incredibly unhealthy having those thoughts, because it just spirals quite fast. Both Rebecca and I had counselling when we came home with Joshua, but it just wasn't the right time. As a result of Joshua needing us much more than a 'normal' child, I don't think we've ever just say down and thought about what we've been through together.
Sure enough we are incredibly blessed to have Joshua and he is truly the light of our life There is always going to be times when we just think "…but there should be two". If course there are two, there will always be two. Just because Jacob isn't here physically, he's here in all our hearts and his memory will never be diminished. Rebecca and I have two boys that we are immensely proud of and always will be.
Going through this experience can only be described as bittersweet. On one hand we are extremely blessed to have such an amazing little boy in Joshua, but on the other hand, we are still bereaved parents. The memories you thought you were going to have with two boys growing up together – just taken away from you. I can never explain just how it feels, however the overriding feeling is that we are lucky, extremely lucky. We know Jacob would never have been able to sustain any kind of life He was very unwell when he was born. All we have is a few pictures of him and quite an extensive post mortem. We have no memories of him, we never met him, but he's still our boy, our baby boy and he always will be.
Life can be cruel in so many different ways. We never expected this to happen to us, nobody did, even the doctors at the hospital. It has been put down to 'one of those things' as there has been no genetic link.
Does that make it easier? I'm not so sure but what I am sure of is that by talking about it, you can get through it. Nobody can take away the experience we have had. It's for us and whilst Joshua is with us, we are sure to give him the best life possible, whilst keeping Jacobs memory very much alive.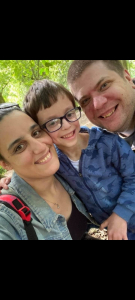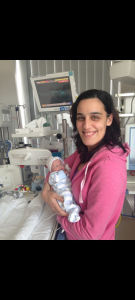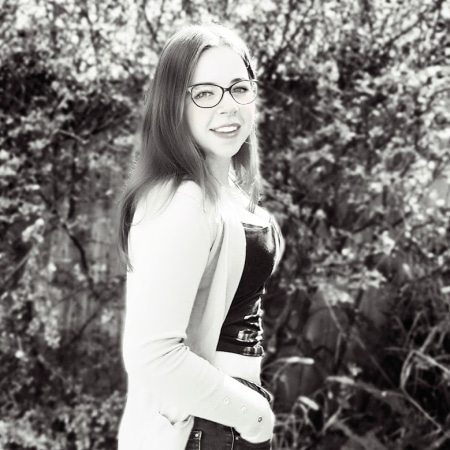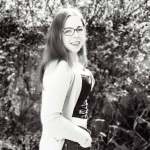 Louise McCamily serves as the Digital Marketing and Administrative Assistant at MyBump2Baby, where she has contributed to the creation and editing of more than 400 articles. She holds a prestigious Surfer SEO certification and a Foundation Degree in Software Engineering with distinction. Louise is passionate about delivering outstanding service to MyBump2Baby's expanding community of families
https://www.mybump2baby.com/wp-content/uploads/2021/07/james-rebecca.png
628
1230
Louise McCamily
https://www.mybump2baby.com/wp-content/uploads/2016/10/Logo-MyBump2Baby_transparent-bg-1-1.png
Louise McCamily
2021-07-06 22:18:45
2021-07-06 22:18:45
Child Bereavement Story - James & Rebecca | MyBump2Baby