Deciding on the Perfect Rug
We have recently just moved house, well back in December to be a little more precise and the thought of decorating somewhere new filled me with such excitement, not so much the stripping of wallpaper, sanding walls and painting but more so the thought of accessorising the rooms with furniture and fabrics, pictures, pots and not forgetting one of my favourite things; rugs.
 Rugs Transform Rooms – FACT!
I take after my Mum when it comes to rugs.  She loves them.  Always has done for as long as I can remember.  She is forever swapping old rugs for new rugs, rotating them from room to room, reviving them and so on.  Whenever we go out shopping she always ends up coming back with a new rug to add to her already large collection and now she is even ordering them online too.  I guess I've learnt from my Mum how a rug has such an impact on a room. It can bring to life an area or space quite considerably and add a very homely and welcoming feel.  You can bring to life carpets with a rug, warm up laminate floors, adorn a hallway, and they are also incredibly practical for porches and doorsteps in catching the dirt before it gets walked around the house.
Six months on….  
So, we are now six months down the line from moving and the house is taking shape.  We have redecorated and put our own stamp on it.  I am now in the process of accessorising my little girl's room.  We have added a feature wall with some wall paper that she chose and painted the other walls.  We have upcycled some furniture to go with the colour scheme of the room and we have created a comfortable, fun space where she can play with her toys but also relax.  The flooring is laminate and we have gone back and forth as to whether we should carpet it or not.  We have actually decided against it at the moment and have opted for a rug instead.  We came across the Rugs and Rooms website and couldn't believe the vast choice of rugs in all colours, styles, textures etc.  We finally came to a decision (we could have picked about 5 but narrowed it down to 1) and we chose the "Smoky" rug.   We love it, so does my little girl.  It adds something to the room which was definitely lacking. It radiates warmth and comfort.  The rug itself has a short pile, just what we were after as it complements the laminate flooring and wallpaper very nicely. The greys in the rug work well with the dusky pink shades that are also present in the paper and cushions.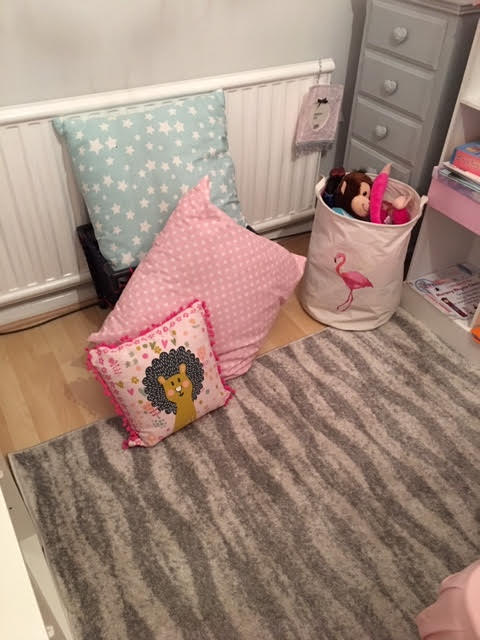 I was incredibly happy with my purchase and everyone who comes over always comments on how lovely the room looks, always picking out the rug.  My daughter loves the texture and feel of it – soft against her feet without being too high or over textured.  She calls it he grey sea rug as she thinks the pattern on it is like waves in the sea.
Rugs and Rooms
I cannot wait to start browsing through the Rugs and Rooms website again to find a few more rugs – in particular – one for the lounge – as my Mum proudly states; "You can never have too many rugs"….my sentiments entirely.
Carla is the founder of MyBump2Baby. Carla has a huge passion for linking together small businesses and growing families. Carla's humorous, non-filtered honesty has won the hearts of thousands of parents throughout the UK.
She has previously written for the Metro and made appearances on BBC News, BBC 5 live, LBC etc. Carla is a finalist for Blogger of the Year award with Simply Ladies inc. Carla is also the host of the popular Fifty Shades of Motherhood podcast and The MyBump2Baby Expert podcast.
https://www.mybump2baby.com/wp-content/uploads/2019/07/rugs-and-rooms.jpg
640
480
Carla Lett
https://www.mybump2baby.com/wp-content/uploads/2016/10/Logo-MyBump2Baby_transparent-bg-1-1.png
Carla Lett
2019-07-10 06:15:57
2019-07-10 06:23:07
Deciding on the Perfect Rug