Financial Planning for Your New Baby
Now that your new baby has arrived, you've got enough to worry about without having to research too much into your finances. We've made it easy for you and written this blog all about financial planning for your new baby. So settle them for their nap, get yourself a cup of tea and read this blog. To further make things easier, here is a baby necessities list for when your little one arrives.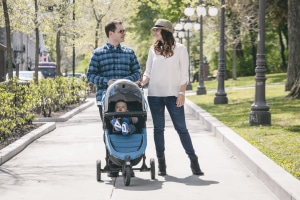 Financial Assessment
The first thing you should do is assess where you are financially, look at your savings, your maternity/paternity pay, and your outgoings. This will help you formulate a solid financial plan for the future and help you to understand where you can make any necessary cutbacks in your lifestyle. You should also consider where you'd like to be in the future, taking into account the different baby products that you'll need to pay for. 
If you haven't already, consider your options for life insurance and include your baby in the plans. It can be daunting, but it will offer your family a good layer of protection should anything happen to you in the future. Find your nearest financial adviser using our family protection directory.

Make a Will
Again, if you've not already done it, write yourself a will. You should take care when deciding where you want your finances to go and also who you'd want to look after your child in the event of your absence. It's a huge decision and therefore it's important to make sure everyone involved is aware of your plans for a legal guardian.  Find your nearest will writer using our family protection directory.

Start a Weekly Budget
You should set yourself a weekly budget up so that it's easier to keep track of your money. Work out how much you're spending on your weekly food shop, how much you're spending on baby products and the rest. That way you can keep a certain amount of money aside for those necessities. Make yourself a shopping list, it might not be how you want to spend your Saturday night, but it can help to make sure that you only buy the things you need. You can also try the cheaper supermarkets to try and cut down on spending. 
Emergency Funding
You should try and set yourself up with an 'emergency' fund. If you haven't already started saving for this, then you should aim to put aside 3 month's worth of living costs, if you have already started saving, you should try and save for between 6 and 12 months. This can be really helpful should you need to deal with any unexpected financial problems. 
Think before you Buy
Watch your spending, think before you buy and ask yourself if you really need the product. If you're tight on money with a new baby, the first thing you'll have to sacrifice are the treats that you're buying for yourself. Think about the things you'll need to buy, such as prams and carrycots, try and find the baby products that you like the look of and you may find yourself enjoying them as a treat for yourself too! 
Prepare for Childcare Costs
Start thinking about childcare costs as early as you possibly can, it can be expensive and it's important to make sure you're prepared and have the money saved up to pay for it, as it is usually paid monthly. Start asking people around you for recommendations and go and look around the local nurseries before you make your decision. If you're a stay at home parent, don't discount the option of childcare, it can be a huge benefit to even put your child in a nursery for half a day a week.
Government Funding
Consider your benefit choices, the government may be able to offer you funding to help with your new baby. Check the official government website to work out how much funding you're eligible for. It may not seem like a lot but some help is better than no help. (Please note – funding is highly dependent on personal financial circumstances).
We hope this blog has been helpful for you new parents and we hope some of these tips come in handy for planning your future financially with a new baby. If you need any more help, please don't hesitate to get in touch and be sure to check out the financial area on our website.
Hey there, I'm Abigail! 
I recently graduated with a degree in Marketing. I'm currently a freelance blogger and Marketing Assistant. I love learning new things and hope that you find my blogs useful and informative.
See you in the next article!
https://www.mybump2baby.com/wp-content/uploads/2019/12/Pram-Friendly-Walks-in-Lytham-St-Annes.jpeg
1125
1688
Abigail Sproston
https://www.mybump2baby.com/wp-content/uploads/2016/10/Logo-MyBump2Baby_transparent-bg-1-1.png
Abigail Sproston
2019-12-31 10:55:25
2022-02-21 16:43:10
Financial Planning for Your New Baby