"Isn't teething fun" Said no parent EVER!!!
Teething can be a very difficult time for both parents and baby, with lack of sleep, ongoing tears and plenty of unsettling symptoms – it really is no wonder parents are often searching for some kind of magical teething jewellery to help them through this difficult stage parenting.
There is no set age for teething, although very rare, it is not unheard of that babies can actually be born with teeth. Others, start teething before they are 4 months old, and some after 12 months. But most babies start teething at around 6 months.
What can help with teething?
If I said I hadn't heard the raving reviews about the benefits of Amber when it comes to teething babies, I would be lying. Many parents who have used Amber cannot speak highly enough of it, which is why we were really excited to share more information about the amazing Green Hawk Spirit – a company who specializes in Amber teething jewellery.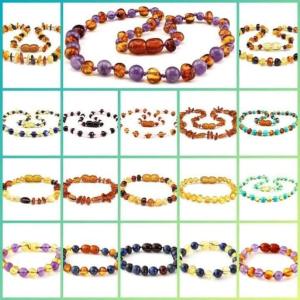 What is Amber and how can it help a teething baby?
Now, this is where it gets interesting, the story behind Amber is incredible. Amber came from tree resin millions of years ago. It has been on one heck of a journey from initially being buried, fossilized and created over this time. One of the main noted points in lore for 'Amber' is that it is said to have properties that can help soothe a person, traditionally being used as jewelry on infants to help with teething.
Here are some reviews from other mummy bloggers who swear by Amber Teething Jewellery;
Suzy who blogs at Our Bucket List Lives said "We had an amber bracelet for my son when he was younger. He sailed through teething and I'm sure it was because of this. The times he wasn't wearing it he always seemed grumpier. I miss seeing it on him now as he looked so cute wearing it."
Mandi who blogs at Big Family Organised Chaos said "we had never tried an amber necklace with the first 5 children and I was a little skeptical, but gave it a go with number 6 and omg it was amazing, he sailed through teething, and it was the first thing I reached for when we had baby number 7. "
Kelly who blogs at It's a Tink Thing said "My daughter wore an amber anklet/bracelet and then a necklace. I can honestly say we never even knew she was teething, unlike with my son, who didn't wear amber! She only stopped wearing the necklace about a year ago at the age of 6. I'd recommend everyone to try it!"
Lisa from The Family Ticket said "I honestly thought that the amber necklace was going to be another fad which didn't work.
I never noticed it working or not working but both my boys had their teeth come through with barely any problems.
Now that I hear other mum friends struggling so much with teething and their little ones I'm totally convinced it must have been the necklaces….plus they look super cute!"
About Green Hawk Spirit

Green Hawk Spirit are a developing business and family, dedicated to learning about and being mindful of the world around us. They have been creating this fantastic company for a few years but only in the last year have they truly found their feet and emerged into the world of holding stalls, attending events, online retail and so much more!
Green Hawk Spirit specialize in Authentic Baltic Amber teething jewellery. Their products are available in a variety of colours, shapes and sizes to ensure there is something to suit all families. They also have a selection of mixed jewellery, containing Baltic amber and semi-precious stones, including rose quartz, amethyst and plus lots more.
We love the fact that all of the amber purchased comes presented with an authenticity card and free, first class, signed for delivery within the UK.
Reviews from other parents who have used Green Hawk Spirit
At MyBump2Baby we love discovering fantastic new businesses and you only have to look at the fantastic reviews from parents who have used Green Hawk Spirit to see how well valued they are;
"I received my order very quickly and beautifully presented would highly recommend. Thank you again?"  Kim
"Really lovely bracelet, my little girl is very happy and the packaging and certificate were all very nice too! Arrived so quickly. Thank you again for running the competition and for your great communication 🙂 xxx" Chloe
Based on the reviews from customers, we have now awarded Green Hawk Spirit with our Recommended on MyBump2Baby badge.
If you would like to purchase some Amber Jewellery you can visit their website or Ebay Shop and follow them on social media where they regularly hold competitions for their followers.
You can find their website here
Follow the Facebook page here
Carla is the founder of MyBump2Baby. Carla has a huge passion for linking together small businesses and growing families. Carla's humorous, non-filtered honesty has won the hearts of thousands of parents throughout the UK.
She has previously written for the Metro and made appearances on BBC News, BBC 5 live, LBC etc. Carla is a finalist for Blogger of the Year award with Simply Ladies inc. Carla is also the host of the popular Fifty Shades of Motherhood podcast and The MyBump2Baby Expert podcast.
https://www.mybump2baby.com/wp-content/uploads/2019/04/Green-Hawk-Spirit-3.jpg
687
687
Carla Lett
https://www.mybump2baby.com/wp-content/uploads/2016/10/Logo-MyBump2Baby_transparent-bg-1-1.png
Carla Lett
2019-04-30 13:53:31
2021-10-20 12:16:33
Greenhawk Spirit | The Magical Teething Jewellery Specialist