Peppa Pig World Review, Paulton Park
If you are a regular follower of my blogs, Instagram stories and other social media updates you will know that Peppa Pig and I have a kind of love/hate relationship – I mean COME ON… you have to agree that when you are forced to listen to anything on repeat it does begin to get somewhat torturous.
Initially, I must admit, I was filled with pure happiness when George finally got bored of Baby TV as the songs on Baby TV often made me question my sanity. When George first started watching Peppa Pig it was fun and I didn't mind the pink little pig but as George's obsession with Peppa grew so did my headache.
But, although the love George has for Peppa Pig is extremely intense – it is very real and I felt it was only fair to let him run riot in his version of heaven at the fabulous Peppa Pig World at Paulton Park. I am really excited to share with you my Peppa Pig World review, Paulton Park so here goes;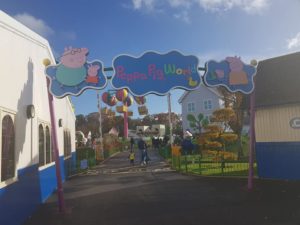 MyBump2Baby's Peppa Pig World Review, Paulton Park
Parking at Peppa Pig World
I was impressed to see that parking was completely free of charge at peppa pig world – big thumbs up for me!
Opening times
Opening times were 10:30 am – 4:30 pm. Please note that we headed here in November and these times can change depending on the day or time of year so make sure you check the website in advance.
Ticket prices
Ticket prices were FREE for children under 1 meter and £25 for anyone over 1 meter on the day. If you booked in advance online the price was £23. These were winter prices and I felt that these were extremely reasonable compared to other theme parks we had been to. Remember to check the ticket prices as they do adjust depending on the time of year.
First Impressions of Peppa Pig World
Our bags were not checked upon entry in to the park.
Peppa Pig World is just one part of Paulton Park, we thought it was great how Paulton park appeals to ALL family members from excitable young toddlers right the way through to thrill seeking adults.
The place was clean and extremely pram friendly which is always good to see.
Changing Facilities for babies and toddlers
There are plenty of changing facilities to use and all were extremely clean and well kept, there was plenty of room and also a room if you wanted to breastfeed privately too which I thought was a great idea. The changing rooms also had a microwave to heat babies milk/food. George is potty training and I did notice that there was no foot stool so George couldn't get on and off the toilet easily as he can at home.
Lost Child Stickers
We filled in a lost child sticker and stuck our contact details to Georges back in case we lost him – you know how toddlers like to run off.
Strollers
You can hire a stroller a single or double stroller for the day from £8.00, the stroller is suitable for children up to the age of 6 years, it has a sun canopy for additional shade and has plenty of room to carry picnics. We brought our pram so didn't need to use one.
 
Family Theme Park – Peppa Pig World Rides
Peppa Pig World was truly magical and it felt like we were actually in the cartoon. There were 9 rides in total and George could go on them all. Even with no queue times, we didn't manage to ride all 9 rides in the time we were there. There was more than enough for children to do which is the way it should be and we left Peppa Pig world wanting to come back for more fun.
Peppa Pigs Balloon Ride
This was the first ride we went on, there were 6 of us and the kids absolutely loved it. This ride is great for looking over the whole park and planning your next ride.
Miss Rabbits Helicopter Flight
This ride was suitable for 4 people and George really enjoyed it. He did get a little frustrated when he couldn't reach the control unit but once the ride started he soon got over it and we had plenty of laughs and screams.
Windy Castle Ride
This ride reminded me of a big wheel. Another great ride for having a good look over the park. This carried a family of 4.
The Queen's Flying Coach Ride
The Queen's Flying Coach was good fun Each carriage carries up to 4 adults and 2 children.
Grampy Rabbits Sailing Club
George loved sailing away with Grampy Rabbit, we were greeted with some great surprises including Peppa Pig and her pals. This ride fits 4 people on.
George's Dinosaur Adventure
Our George absolutely loves dinosaur so this ride was something he was really keen to go on with his daddy. This ride is suitable for children under 1 metre and children under 8 years of age must be accompanied by an adult. This ride can fit 2 people on.
 
Daddy Pig Ride
We all know how much daddy pig loves his car, this ride gives you a chance to take a ride in daddy pigs car with your family and have a tour of the peppa pig village.
Grandpa Pigs Little Train Ride
This lovely little train ride is the perfect ride for all the family, a lovely circuit on Grandpa pigs train.
Grandpa Pigs Boat Trip
This boat ride is great fun for all the family, this would be a great ride in Summer.
Meet and Greet with Peppa Pig
Let's face it, we came to Peppa Pig world because George is a huge fan of Peppa Pig so of course, when the opportunity arose to meet the famous pig and her little brother George we jumped at the chance. We queued for around 10 minutes and just as we got to the front of the queue and stood before Peppa Pig, George's personality changed and as we posed for our picture the biggest tantrum you have ever seen began (typical). You may have seen my Instagram post.
We decided after the 36 minutes of pure hell we would take him back to see Peppa Pig and thank goodness we finally managed to get our picture. I loved that we were allowed to take pictures on our own phone.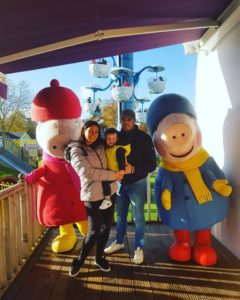 George's Spaceship Playzone
It began raining around 12pm so we decided to get our lunch but if it wasn't lunchtime we would have used this fantastic play zone. Initially, we headed into this area for food but all the tables were taken so we went to the Café at the front.
I was really happy to see a play area as some of the parks I have previously reviewed don't have an indoor play area which I feel is important on hot summer days and rainy days too.
Socks must be worn at all times in the play area.
 Wild Forest Family Restaurant
The Wild Forest family restaurant was clean and affordable and I was impressed with the menu and the waitress service. You head to the till to order and pay but the staff members bring your food out once it is ready. You can have a look at the menu here
I also noticed that there was a charging point for phones in the restaurant too which was handy.
Other food options are;
Base Camp was a great place for a break, there isn't much choice of food but you can see the menu here
Railroad Diner offering fish and chips.
The Ice-cream Kiosk
My husband and George enjoyed some sweet treats from the kiosk, I had stupidly started a diet the day before so sadly missed out but the prices were extremely reasonable.
What was Peppa Pig World missing?
I think Peppa Pig had it all covered in terms of indoor and outdoor activities. There were plenty of places to go including Peppa Pigs classroom and her house too. There were plenty of play areas too.
Peppa Pig World, Paulton Park overall review
I thought Peppa Pig World was extremely well priced in comparison to other theme parks we have previously visited. I really feel that Peppa Pig did think of everything for toddlers. There are plenty of play areas and distractions to keep queues to a minimum.
The Paultons Park app was also very useful and I do recommend you download it to plan your day effectively.
Our MyBump2Baby Peppa Pig World, Paulton Park overall Review
[rwp_box id="0″]
Carla is the founder of MyBump2Baby. Carla has a huge passion for linking together small businesses and growing families. Carla's humorous, non-filtered honesty has won the hearts of thousands of parents throughout the UK.
She has previously written for the Metro and made appearances on BBC News, BBC 5 live, LBC etc. Carla is a finalist for Blogger of the Year award with Simply Ladies inc. Carla is also the host of the popular Fifty Shades of Motherhood podcast and The MyBump2Baby Expert podcast.
https://www.mybump2baby.com/wp-content/uploads/2021/03/peppa-pig-review-paulton-park.png
630
1200
Carla Lett
https://www.mybump2baby.com/wp-content/uploads/2016/10/Logo-MyBump2Baby_transparent-bg-1-1.png
Carla Lett
2021-03-01 21:50:05
2023-02-02 13:36:08
Peppa Pig World Review, Paulton Park