Disclosure: Some of the links within this article may contain affiliate links, meaning at no cost to you, we may get commission if you decide to make a purchase through one of the links within the article.
Today we share a informative article on The Importance of Tummy Time from the fabulous franchise Baby College. If you would like to find out more about Baby College and if they run classes near you simply head to their website or check out our directory.
Baby College classes are filled with lots of different activities and games that parents can play with their babies at home, however, we always stress the importance of tummy time for their baby's all round neurological and physical development.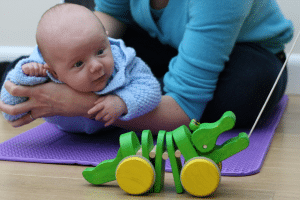 Back to Sleep was the campaign launched by Anne Diamond in the 1980s. It has been incredibly successful in reducing cot death, but it had the unexpected knock-on effect of also reducing the time that babies play on their tummies. In fact, the campaign was called 'Back to Sleep, Front to Play', but the second half of the slogan was lost. We completely endorse the Back to Sleep Campaign but remind parents of the importance of the 'Front to Play' in our classes as we encourage parents/carers to play with babies on their tummies and suggest that this is consolidated at home.
The Importance of Tummy Time for Babies
Tummy Time helps babies strengthen their neck, back, and shoulder muscles needed to meet infant developmental milestones such as holding the head up, rolling, sitting and crawling. It may also help prevent early motor delays and conditions such as flat head syndrome – this common condition can occur when the baby's soft skull can mould and cause a flat spot at the back of the head and has been associated with motor and other developmental problems.
From birth, the infant brain begins developing the different neural networks needed for sensory awareness of the surrounding environment and their relationship to it. Tummy time activities during infancy encourage babies to use their body parts to reach, push, pull, kick and twist. They are also given the opportunity to feel different textures on their arms, hands and cheeks thus supporting their tactile sense (sense of touch). As they move and shift their weight, they gain a sense of body awareness while developing their movement and balance. In addition, it helps babies develop eye and hand coordination – by looking down at their hands, they can see how they move and what they can do. Through tummy time, the brain structures that support all of these sensory, visual and motor skills are stimulated generating new connections and becoming more complex! As babies improve their coordination and overall muscle strength, they are being prepared for sitting, gliding along the floor, crawling and eventually walking.
Babies are active from birth and can start having a small amount of tummy time from as early as one month old. Start by giving your baby just a couple of minutes on their front at a time, which should be repeated two or three times a day, gradually building up to a total of about an hour a day by around three months old. Even at three months this hour shouldn't be all at once but made up of short bursts across the day. Your baby will naturally try to lift their head to see what's going on but won't be able to hold it up for long periods of time until they are around three or four months old.

Tummy Time Activities for Babies
Under 3 months:
Lie your baby face down on your lap (you could do this when winding your baby).• Lie your baby on your chest or stomach with their face near yours, whilst you are lying down or relaxing in a chair.• Lay your baby down on the floor and then you lie down in front of them and use a rattle to distract them and to encourage visual development.• When standing hold your baby on their tummy, lying flat on your hand/arm, holding them securely round one arm and one leg (Tiger in a Tree pose).
Over 3 Months:
Practice tummy time in small time increments.• Continue to use rattles or pull-a-long toys to encourage head turning and visual tracking.• Encourage your baby to practise rolling and moving while on their tummy by placing a toy just out of their reach, as this will encourage them to reach and rotate on their tummy to get the toy.• Play peek a boo under a scarf or a blanket.

• Use mirrors as babies love to look at themselves.
Always make tummy time a fun activity with smiles, songs, praise and lots of interaction. Try as much as possible to get down on the ground with your baby – it reinforces the idea that it is a fun and social activity and helps keep them distracted.
Donna Twyford, Director of Baby College UK.
To find out more about Baby College classes near you visit www.babycollege.co.uk
Carla is the founder of MyBump2Baby. Carla has a huge passion for linking together small businesses and growing families. Carla's humorous, non-filtered honesty has won the hearts of thousands of parents throughout the UK.
She has previously written for the Metro and made appearances on BBC News, BBC 5 live, LBC etc. Carla is a finalist for Blogger of the Year award with Simply Ladies inc. Carla is also the host of the popular Fifty Shades of Motherhood podcast and The MyBump2Baby Expert podcast.
https://www.mybump2baby.com/wp-content/uploads/2020/02/the-importance-of-tummy-time.png
627
940
Carla Lett
https://www.mybump2baby.com/wp-content/uploads/2016/10/Logo-MyBump2Baby_transparent-bg-1-1.png
Carla Lett
2020-02-24 21:36:10
2022-08-08 12:58:34
The Importance of Tummy Time for Babies