5 Ways to Keep Fit on a Busy Schedule
At MyBump2Baby, we recognize that a lot of our parents lead busy lifestyles and often can't make time for a regular fitness routine. Fitness is really good for not just your body but also your mind, so regardless of your goal we should try to make at least a bit of time for it each week.
You may want to lose weight, change your lifestyle, improve your fitness levels or even just see friends more, whatever your goals now is as good time as any to start.
Remember that you can find local fitness and exercise classes in our directory.
Today's blog tells you 5 ways to keep fit on a busy schedule and it's brought to you by the fabulous Manda from Move with Mumma, enjoy!
5 Ways to Keep Fit on a Busy Schedule
Get Up Earlier Than Everyone Else In Your Household
This might feel like the last thing you want to do BUT I guarantee you will have such a productive day if you do this.
Start by setting your alarm 15-minutes earlier for a few days, then take it back another 15-minutes for a few days. Once you have practiced a few days of being up 30-minutes earlier than normal, add in just 5-10 minutes of physical activity. You can then increase this over time.
This could be anything! Stretching, Intervals, Weights or a Walk.
When you do this you will have achieved two of the hardest tasks of the day: getting your exercise done and adding in something for you! Everything else is going to feel great!
Add in a Short Daily Walk and Move More
Going for a walk will not only increase your steps for the day, it will clear your head, release those feel-good hormones and help you sleep better.
A walk could be something to add in on your lunch break but if you can't get out then doing other things to increase how much you move in a day is really beneficial and helps to use energy. If you work in an office, try to move from your desk once an hour and escape for a short office walk if possible, if that's not an option, do some desk stretches to help relieve aches and help your posture.
Try Shorter Workouts
Start small and build up to around 20-minutes Monday to Friday.
First get in the habit of rising earlier than everyone else, then increase your workout time slowly.
When you feel ready, commit to a programme to ensure you get results. Check out this 6am Club, as a member you are part of a motivating community of busy women and men who commit to feeling amazing by starting their day with something for them!
Make Exercise a Part of Your Daily Routine – Schedule In The Time
You've got to schedule this time in and make it an important part of your day or it's not going to happen.
I promise I didn't used to be a morning person, but getting my workout in before 6am is the only way that I'm guaranteed to include it in my day. As a personal trainer and fitness instructor, after a day and evening of coaching and motivating other people, motivating myself is near impossible. So I have to do it before my busy day! It clears my head for the day ahead.
It needs to be right for you and your schedule! Is there an afternoon or evening time slot where you have a little bit of time for yourself? You might find you have more energy after breakfast, is there a fitness class you could attend or a workout you can do at home during this time.
Do you have time in between baby's nap or before the afternoon school run? Just 5-minutes can really lift your mood and energy.
Pick a slot that suits your life.
Exercise at Home
Save time by working out at home. Getting dressed, packing a bag, grabbing water and leaving the house is a huge effort in itself. In that time you could be in front of the laptop or tv working out in your underwear.
The choices of workouts are endless online, you could dance, stretch or workout with weights. If you don't have weights then fill up some litre bottles with water and start there. There are lots of bodyweight workouts online too so you might not even need any kit to start with. Start with something you enjoy and encourage the family to join in with you.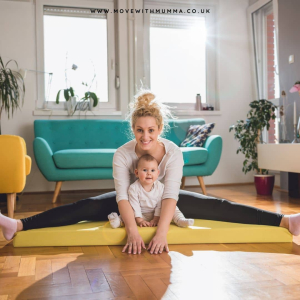 Don't be hard on yourself, life is crazy busy at times, think progress not perfection.
Find me on Facebook and Instagram for health & fitness motivation.
Manda
Here are some reviews from MyBump2Baby mums who began exercising regtulary
Sarah "I really wanted to keep fit but couldn't find anything i liked, me and a few friends decided we would start our own netball team, we were all mums so couldn't practice every day but we did manage to get together 3 times a week to practice. We enjoyed it so much we then hired a fitness coach and began using exercise equipment too (something i never thought I would be able to do in confidence). I now rely on exercise so much as it was only once i started that i realised how much movement and activities with friends actually helped me with my mental health. Of course i lost weight too, infact my body weight actually dropped 3 stone, i recommend starting to move a bit more and it is amazing how much time you can find to exercise once you find something you enjoy"
Amy " At first when i thought about workouts, i thought they were a huge commitment and to be totally truthful i never found workout videos "fun". After suffering with mental health i decided to get fit and maybe just maybe i would feel better. I started couch to 5k and i was a total beginner, i have never been a runner, not even at school but once i started i loved it and got hooked to the feeling afterward fairly quickly, i am now running 3 times a week, i do other exercises twice a week and I have joined a local sports club to help with my weight training. I am like a new person since i began exercising and no matter how busy you are… or you think you are.. you can definately fit a few classes or activities in each week."
https://www.mybump2baby.com/wp-content/uploads/2020/06/keep-fit.png
630
1200
amanda crofts
https://www.mybump2baby.com/wp-content/uploads/2016/10/Logo-MyBump2Baby_transparent-bg-1-1.png
amanda crofts
2020-06-04 06:57:58
2021-01-02 00:02:35
5 Ways to Keep Fit on a Busy Schedule