8 Reasons to book a Professional Newborn Photography Session
Welcoming a new arrival to the family is such a special time and in the days that follow you will no doubt be full of all kinds of emotions. Whether you decide to mark this occasion by booking a photographer to visit you in your home or you choose to visit a professional studio, here are 8 reasons why you should consider booking your session;
To celebrate the arrival of your newest family member
It's been 9 months… you have waited patiently to meet your new baby. You have imagined what they will look like and how it will feel to hold them in your arms and now they are here! What better reason to book a photography session than to congratulate yourselves. This is certainly something you won't regret as you capture all of the emotions of this special time
It's a special experience for you to enjoy as a new family
As you let the photographer take over, you have a chance to sit back and marvel at this tiny person you created. It is an emotional and memorable experience, I often catch the new parents staring in awe at their baby, heads tilted to one side with beautiful smile on their faces. As a photographer, it is such a pleasure to take your first portrait as a new family. Your baby will want to see what you looked like when they were born, even if you feel a bit frazzled. You are doing this for them.
They change so quickly
They really do. They only stay so tiny and new for a short time and before long, you will struggle to remember just how small they were. Once this time has passed, you never get another opportunity to capture these memories again.
To capture those gorgeous details
Those pouty lips, chubby cheeks and gorgeous skin wrinkles will change every day. It's a good idea to take a beautiful profile picture as it is the profile that changes the most as a baby grows.
You are creating your first art work and family heirlooms as a new family
Whether you choose to print your images, make framed wall art or a beautiful album, you are creating the history of your family that can be enjoyed for generations to come. There will sadly be a time in the future when we will all only exist in photographs so this is a perfect opportunity to capture your family as art.
Quality and Experience
Yes mobile phones can take pretty good photos these days and you will no doubt take 100's of photos in those first few days.  A professional photographer should have had some form of training in the safe posing of newborns as well as professional equipment and knowledge of lighting that will really enhance every detail of your baby. This is what they specialise in and it is worth investing in this knowledge and expertise. Do not try to replicate poses you have seen without the appropriate training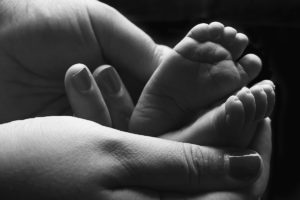 Gifts
Your images can be given as gifts to family members or you can even use some of your images to make your own birth announcement or thank you cards
You only get one chance
Once this newborn phase has passed, you don't get another opportunity to capture these memories. As many newborn photographers photograph babies up to 14 days old, it is a good idea to consider booking before your baby has arrived. Most photographers offer a flexible booking system based around your due date so you can start to research your photographer once you have had your 3 month scan. If you wait until your baby arrives, you may find that your preferred photographer is not available and you risk being left disappointed.
This article was written by the fantastic photographer Sara at Newborn Love in Hatfield. You can find her business listing in our directory.
________________________________________________________________________________
Contact Sara to arrange your photoshoot;
Website:  www.saratomlin.co.uk
Mobile: 07730374267
Carla is the founder of MyBump2Baby. Carla has a huge passion for linking together small businesses and growing families. Carla's humorous, non-filtered honesty has won the hearts of thousands of parents throughout the UK.
She has previously written for the Metro and made appearances on BBC News, BBC 5 live, LBC etc. Carla is a finalist for Blogger of the Year award with Simply Ladies inc. Carla is also the host of the popular Fifty Shades of Motherhood podcast and The MyBump2Baby Expert podcast.
https://www.mybump2baby.com/wp-content/uploads/2018/08/8-reasons-to-book-a-newborn-photoshoot.jpg
800
1280
Carla Lett
https://www.mybump2baby.com/wp-content/uploads/2016/10/Logo-MyBump2Baby_transparent-bg-1-1.png
Carla Lett
2018-08-30 17:07:45
2018-08-31 08:48:37
8 Reasons to book a Professional Newborn Photography Session