Why Every Family Needs a Baby Clothes Blanket

Disclosure: This article is a sponsored article, however all views are our own. Today we share why we believe everyone needs a baby clothes blanket
"Treasure every moment, it goes too quickly" are words you hear often as a parent, they tend to be shouted as you are half way through a major kick off in your local Aldi …. but either way, I am sure you will agree that this is something we have all heard during our first few years of parenting. Initially, I just thought it was just something people said to make you feel better but… 2 years in to motherhood and I now know exactly what they meant. George seems to be growing by the day, his vocabulary is better than mine and his maturity level is already higher than his dads.
Memories
When I see pictures of George as a baby I can't help but feel a little teary as it is so easy to forget just how small he was, remembering his cute toothy little smile in his Spanish rompers, cute cardigans and long socks makes me feel all mushy inside – there is not a chance he will wear that kind of stuff anymore.
Baby Clothes and Keepsakes
When it comes to baby clothing they very quickly become memories. Think back to all the items your little one has had all its firsts in, the blanket that swaddled your baby on the way home from the hospital, the first baby grow that hugged their tiny body, the first bib that collected food the first food they tasted, that flannel sleep suit they first rolled over in, the outfit that cushioned them on their first crawling adventure and the outfit they took their first steps in…. Many of these items are often in a loft somewhere never to be seen again.
Why not order a carefully designed timeless memory quilt that you can keep forever?
Something that is sure to become a family heirloom?
We all have the precious items that we just can't bear to part with, the items so stained you couldn't give it away. Part of us really can't bear to part with these items and then they end up gathering dust in a box in the attic. Why not create something beautiful with your very own memory quilt?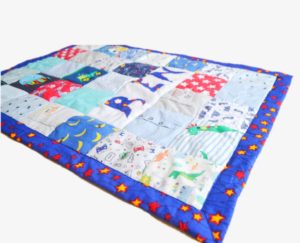 With jaw dropping testimonials and raving reviews, Shomsa Creations proves to offer a fantastic service that all parents and parents to be should know about. The beautiful designs are proof that Shomsa Creations really is THE place to go when it comes to memory quilts, play mats, blankets and creations.
Who will be making your keepsake blanket?
Fiona – a self-made seamstress and the founder of the amazing Shomsa Creations, began her journey by making clothes for her daughter and she has never looked back since.
Keepsake blankets for a grieving parent
Fiona created her first memory blanket for her friend that sadly suffered the heartbreak of a still born baby. With a nursery fully furnished and a wardrobe full of clothes, Fiona created a memory quilt by using the clothes her friend's child never got to wear, Fiona also incorporated the memory quilt with the African print, "An-ka-ra" – which is a great symbol of strength. This memory quilt was her friends comfort, the memory of the child and something the she as a mother can treasure forever more.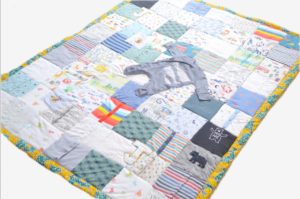 So much more than just a baby clothes quilt….
Shomsa creations memory quilts are so much more than just a memory quilt as Shomsa creations uses vibrant African fabrics to create these timeless blankets and they come in various sizes to suit our requirements.
The memory blankets are available in 3 sizes
Small 28×28 £45.00
Medium 35×42 £70.00
Large 50×69 £150.00
The memory blankets can be personalised with name and additional pieces like bibs can be stitched over the top for an additional cost.
You can purchase your own memory quilt here
FollowFiona on
Shomsa Creations has a massive 5 star reviews on Facebook and here are just some of her fantastic testimonials;
"I absolutely adore the beautiful memory quilt crafted by Fiona. It is just exquisitely made and we couldn't be happier. She was also a pleasure to deal with and we'd highly recommend her work! Thank you so much once again! Xx"
"Fee created an unique and special quilt out of my children's baby clothes. She managed to get the colours to work beautifully together and it's already one of the most treasured items in our home! Thank you so much xxx"
 We have proudly awarded Shomsa Creations with our "Recommended on MyBump2Baby" badge
Carla is the founder of MyBump2Baby. Carla has a huge passion for linking together small businesses and growing families. Carla's humorous, non-filtered honesty has won the hearts of thousands of parents throughout the UK.
She has previously written for the Metro and made appearances on BBC News, BBC 5 live, LBC etc. Carla is a finalist for Blogger of the Year award with Simply Ladies inc. Carla is also the host of the popular Fifty Shades of Motherhood podcast and The MyBump2Baby Expert podcast.
https://www.mybump2baby.com/wp-content/uploads/2019/01/baby-clothes-blanket.png
630
1200
Carla Lett
https://www.mybump2baby.com/wp-content/uploads/2016/10/Logo-MyBump2Baby_transparent-bg-1-1.png
Carla Lett
2021-01-01 08:45:50
2023-02-02 13:37:06
Why Every Family Needs a Baby Clothes Blanket