I have always been a huge fan of holidays especially long haul holidays but now I am a mother of a toddler, booking holidays is a completely different ball game. I am sure you will agree that when you book your family holiday a lot of thought has to go in to it especially when you have a toddler that needs constant attention and entertainment. You want to ensure that the holiday you choose gives you the best chance of getting that "minutes peace" that you absolutely deserve. I mean let's face it – holidays are our reward to ourselves for getting through a whole year without losing our shit, so when you book your holiday make sure you look out for child friendly hotels with plenty of entertainment.
We decided to book Grand Palladium Riviera Maya after reading on Trip Advisor that it was one of the most child friendly hotels in Mexico
After a lot of late nights researching the best child friendly hotels for some winter sun, we decided to book the Grand Palladium in Riviera Maya in Mexico and as a parent blogger, I decided this was the perfect opportunity to share with you our honest experience with some helpful hints and tips when visiting this wonderful, beautiful and magnificent resort. Here is MyBump2Babys Grand Palladium Riviera Maya review;
Transfer from Cancun airport to Grand Palladium White Sands Resort & Spa Riviera Maya, Mexico
After a long 10 hour flight and a troubled toddler, we decided that it was best for us to get a taxi rather than go on the transfer that was included with our holiday. It took us around 70 minutes in a taxi. We used a company called Canada travel and booked it before we came the price was around 80 dollars which was 1496 pesos one way.
Canada Travel greeted us at the airport, our luggage was carried for us and we were given hot flannels to freshen up with and a drink for the journey to the hotel. I would use Canada Travel again.
Grand Palladium White Sands Resort & Spa, Riviera Maya Review
We pulled up to the beautiful Grand Palladium White Sands & Spa and were greeted by friendly staff members and instantly helped with our luggage. We checked in to the hotel and the facilities, restaurants, bars and entertainment were all explained to us. We were advised to download the Grand Palladium app which was extremely useful with a 24 hour chat available for any information and guidance. I'm pretty sure that they regretted telling us about it as my husband pretty much messaged them all day, every day about everything. I strongly recommend the app.
The three of us were then taken to our room via one of the many golf carts that take you around the resort (yes it is THAT big) and our luggage was carried to our room for us and we gave him a small tip.
[dfrcs name="Grand Palladium White Sand Resort"]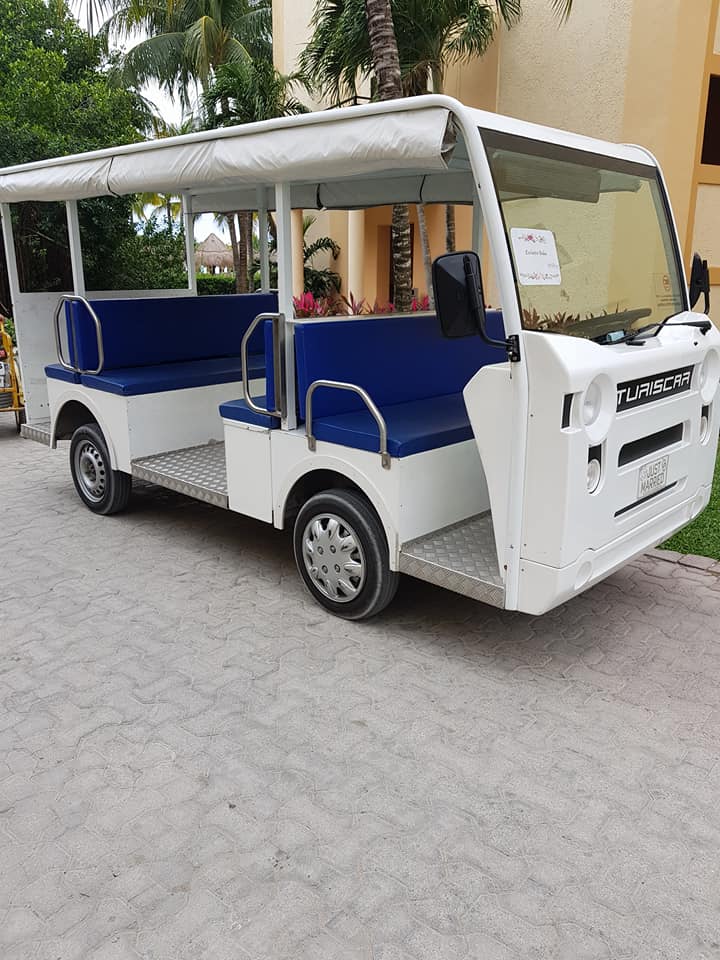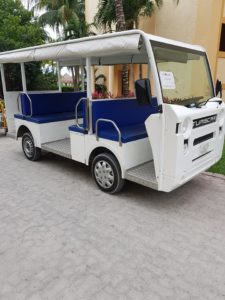 WIFI at Grand Palladium Riviera Maya
Let's not lie here… we all know how important WIFI is when choosing your holiday, especially if you have to work as and when like me. I knew the resort was huge and I was concerned I wasn't going to have WI-FI in certain areas but I had it everywhere. I actually could not believe how good the Wi-Fi was throughout the resort. I was constantly was able to stream YouTube for my little boy which was fantastic and was a real life saver in the restaurants when he started kicking off.
Grand Palladium White Sands Resort and Spa Junior suite Review
I am sure you will agree that first impressions are everything and although our room looked fantastic, unfortunately it did have a musty smell when we initially walked in but I think that is down to the nearby lake, we very quickly adjusted to the smell.
Our room was a fantastic size with a king size bed and a Jacuzzi bath in the middle of the room. The room also had a double sofa bed with a table. The balcony was clean with a table and chairs outside.
Luckily, we were on the ground floor, the apartments have no lifts so if you have children and a pram I would strongly suggest requesting for a ground floor room before you arrive.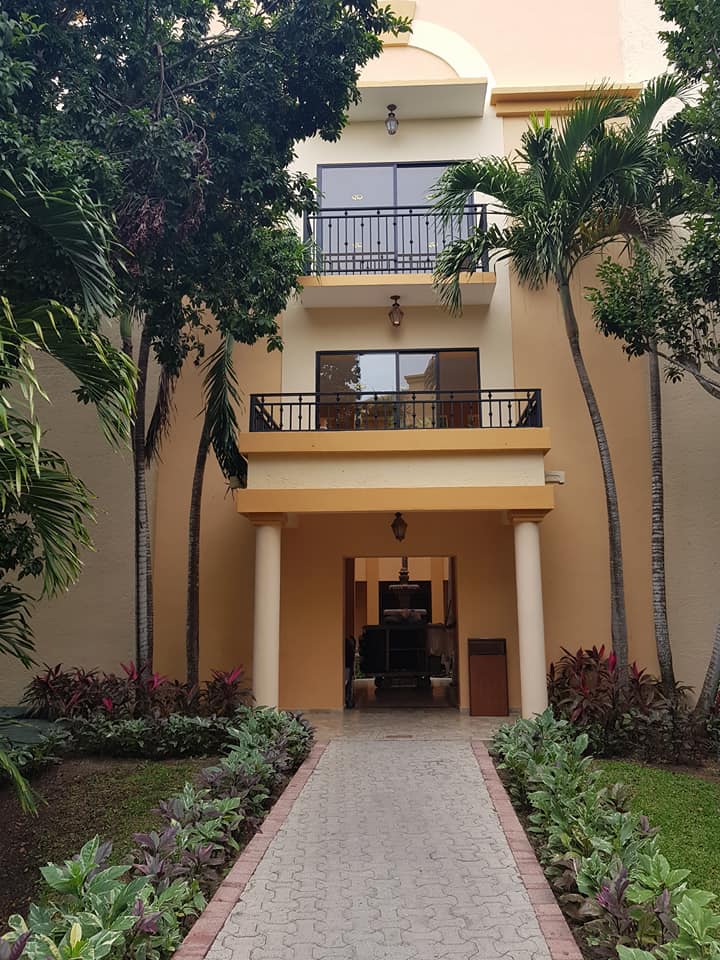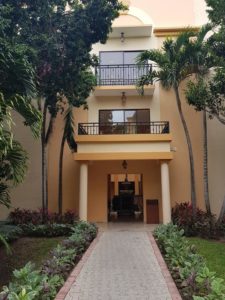 The Mini Bar at Grand Palladium, White Sands, Riviera Maya Review
The mini bar was stocked with bottled Pepsi, Sprite, fizzy orange, peanuts, cans of beer and bottled beers. This is supposed to be restocked daily but we did have to ask for a restock one evening which they did right away. I would advise bringing a bottle opener for the bottled beers. One thing that isn't in the Mini Bar that I would have liked to of seen was crisps, in fact sadly there was a lack of crisps in the resort but fear not the shops sell them, they can be a little on the expensive side so if you are a crisp lover like me and want to save a few penny's pack crisps.
Hygiene and showering at Grand Palladium White Sands Resort & Spa
If you want to save space in your luggage then don't bother bringing shower gel, shampoo and conditioner. The hotel provides it and after forgetting ours I used it every day and it was good quality.
The hotel also provides toothpaste, razors upon request if required.
Cleanliness of the room at Grand Palladium White Sands Resort & Spa
It was clear to see that Grand Palladium felt strongly about saving water where they can which is understandable therefore they said they would change our bedding once every 3 days, however if you request it each day they will. Towels, flannels and floor towels were changed daily and we always had more than enough. The cleaners did a superb job of the room every day and if you tip they make a little animal out of the towels for you.
Additional extras in the room at Grand Palladium White Sands & Spa
The bedroom had a 42 inch TV on the wall, there was a useful "channel card" in the room advising what channels are movie channels, which ones are kids channels there was also documentary channels available. Many of the channels were in English and there were some great new movies on if you fancied a night in. I couldn't find a TV guide so it was a case of finding them as and when.
There was a coffee filter machine in the room but each time we asked how to use it the bell boys didn't really understand so we just left it.
The air con was perfect, it was never damp or too cold. We kept it at the set temperature of 14° and kept it the same day in day out. There was also a fan in the room we kept on the entire time.
Electric Points in the room at Grand Palladium White Sands & Spa
There were plug sockets either side of the bed and one under the mirror next to the TV. There was a shaver plug and a hair dryer at the bathroom mirror. The hairdryer was really good and although I packed mine – I never had to use it.
Laundry Service at Grand Palladium White Sands & Spa
Having a messy toddler meant that halfway through the holiday we were running a little low on clean clothes. We enquired via the Grand Palladium app and found that they offer a laundry service. There was a bag in the wardrobe which had a list for the laundry and you tick off what you are adding to the bag and price it up at the end yourself.
We got around 15 items washed and we were happy to wait till the next day to receive the items. If you want your items washed the same day you can, however it does cost more. The cost for the clothes to be washed without being pressed was $20 which was around 374 pesos which was paid upon check out.
Room Service at Grand Palladium White Sands & Spa
The room service at Grand Palladium Riviera Maya White Sands and Spa. The room service menu is in your room and has a range of items from Pizza, sandwiches and burritos to deserts. The room service is completely free of charge and can take around 20 minutes. We ordered room service a few times for our little one when we were heading out for a late dinner. We also enjoyed room service with a film when we decided to have a night in.
The Grand Palladium Riviera Maya White Sands and Spa grounds.
The Grand Palladium Hotels Riviera Maya explained
Understanding the different hotels and the layout can be a little confusing at first. There are 4 different hotels within one complex which are; the Colonial, Kantanah, White Sands and TRS. You can visit Colonial, Kantanah or White Sands at any time but the TRS part of the complex is for members only.
As a family, we personally stayed around the Colonial/Kantanah pool and beach as it was more lively, the baby club and kids pool were situated there and the beach was a lot less rocky.
The Colonial/ Kantanah pool had a waiter service and ongoing entertainment throughout the day. If you want to ensure you don't miss any entertainment announcements, then you are best sat closest to the entertainment hut near the table tennis tables. Initially we were sat further back nearer the indoor buffet restaurant and we found you don't seem to get included as much in the entertainment.
The beach at the Colonial/Kantanah part of the hotel is stunning. The sea water is clear with some beautiful fish swimming in the shallow waters.
The beach bar at Colonial serve drinks and food 24 hours a day. They have an ongoing buffet during the day with pizza, pasta, fruit, burgers and hotdogs but you can order a fresh meal if you prefer.
The Baby Club Grand Palladium, Riviera Maya Review
The baby club opening hours are from 9am – 8pm ( the baby club closes from 1pm – 2pm every day).
The baby club is open as a play area for children and parents and we used it lots of times with George.
The outdoor play area has a trampoline, Wendy houses, slides, swings and climbing frames.
The indoor area has a ball pond and a soft play area in the main room and then in the back room it is full of toys for young children.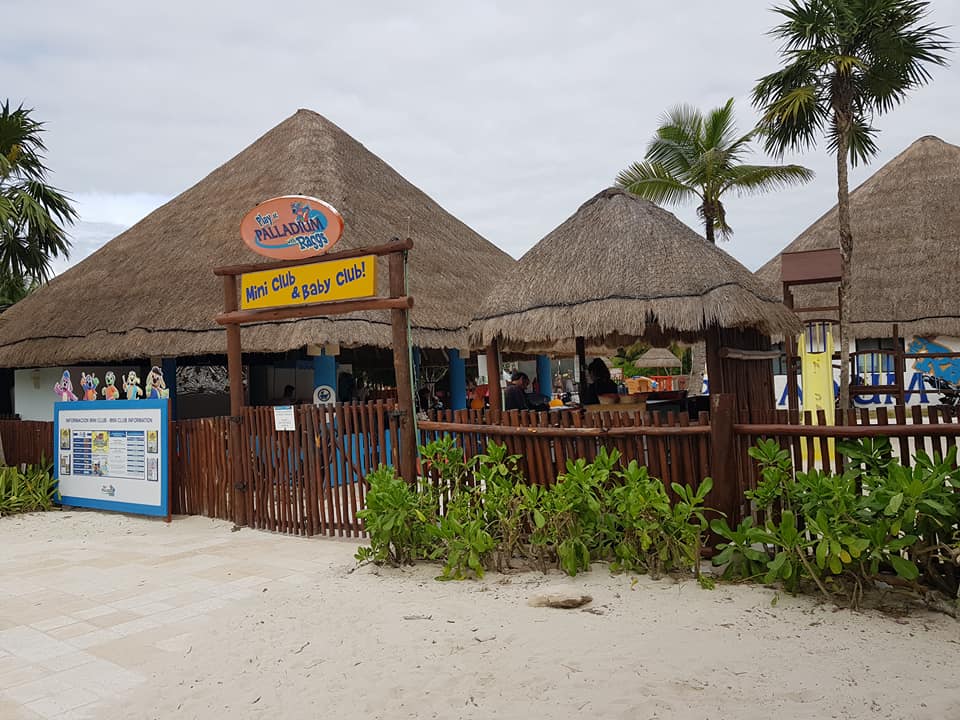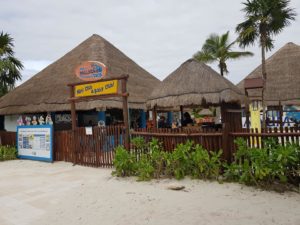 Childcare Service at The Baby Club in Grand Palladium Riviera Mexico Review
We booked the Grand Palladium Riviera Maya thinking that George would enjoy playing in the baby club with other kids for an hour or two a day whilst we had fun as a couple, but although George tried the baby club for a couple of hours and although he seemed to enjoy it, he got upset when we tried to take him again so he ended up staying with us for the duration of the holiday.
The childcare at the baby club has fantastic feedback and the parents I spoke to that did use it regularly thought it was fantastic. They only take children from 1 years old.
You don't need to book in, all you need to do is fill in a small form in the baby club each time you decide to leave your little one with the nursery nurses. Once you leave your child, you are told to stay close by and you are given a walkie talkie so that they can contact you if they need to.
George loved all the girls at the baby club and we regularly saw them when we went in for playtime. They are amazing with the kids and the room is cool in temperature and full of fun toys.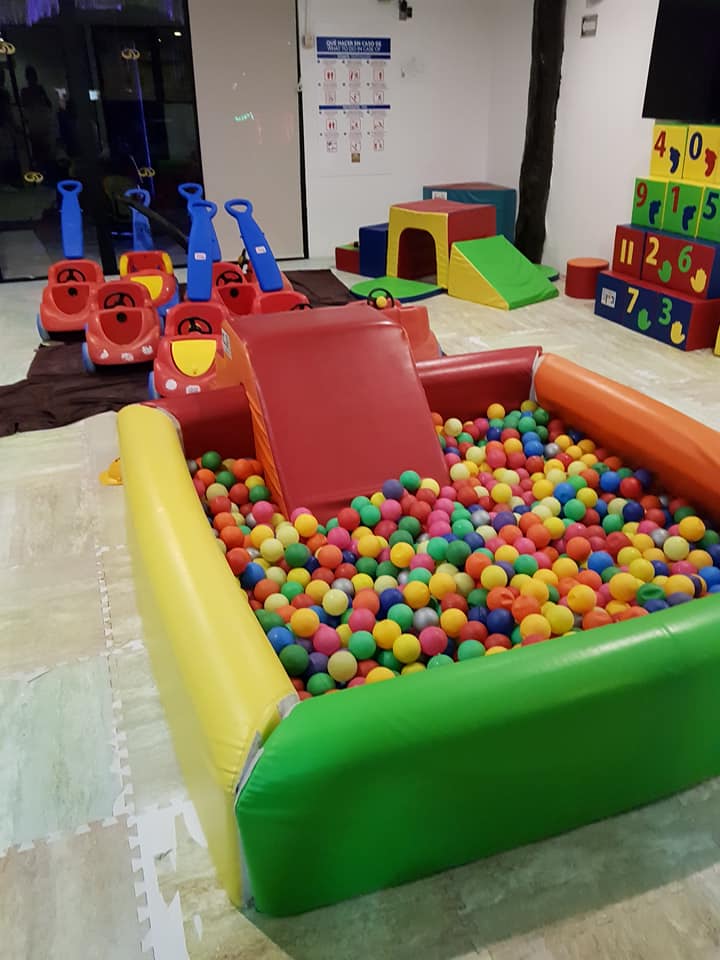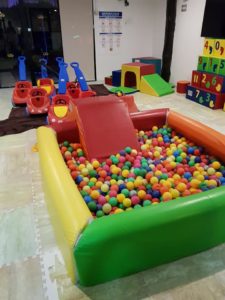 Kids Swimming Pool and Entertainment, Grand Palladium, Riviera Maya
The kids swimming area was brilliant with loads of slides. Although George was a bit too young for the slides at 20 months old, we enjoyed watching his dad slide down them when the lifeguards weren't looking, we enjoyed it even more when the lifeguards were watching and told him off (well I did).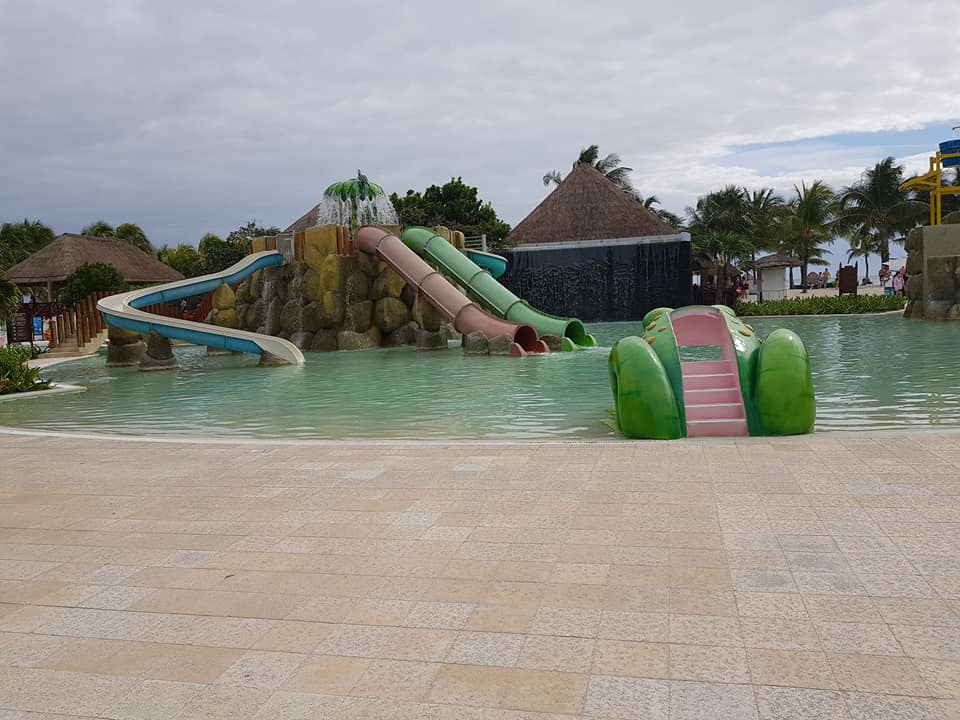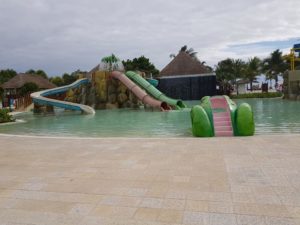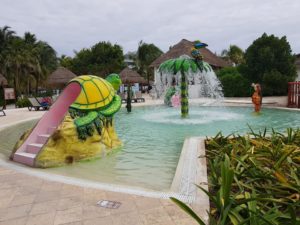 There were often people dressed up wondering round the pool and beach entertaining the children. There was also a balloon man who walked round the hotel and would make the kids different balloon animals on request.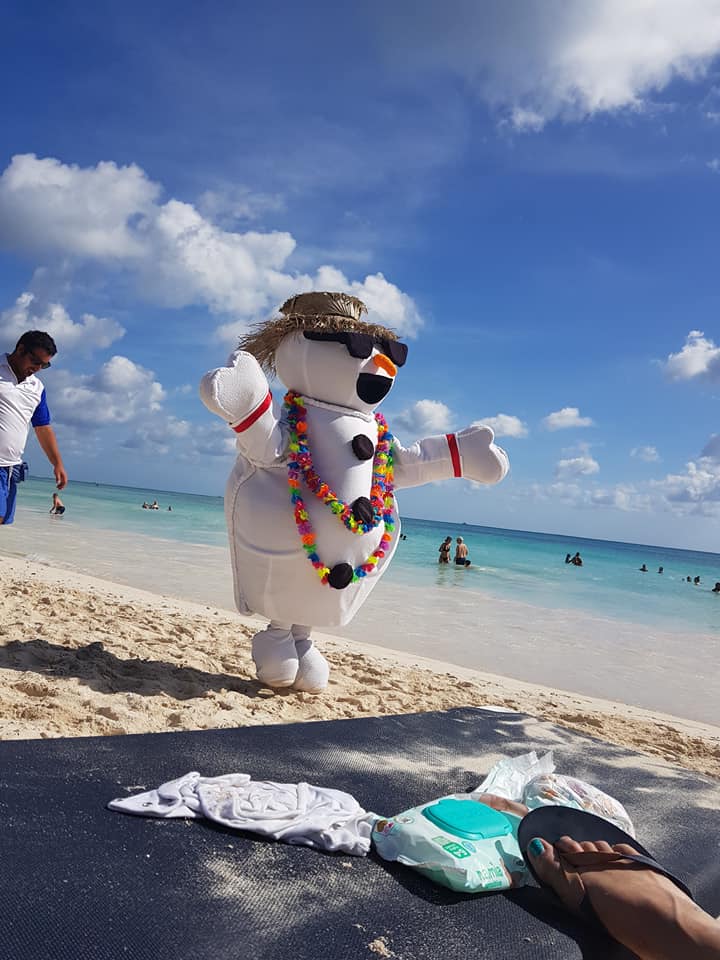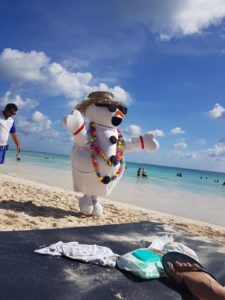 The evening entertainment for kids was on from 8 – 9pm, children can star in the show or if they are too young for that they are invited on to the stage afterwards to see "The Rags" which are a group of dogs dressed up – George loved them.
Grand Palladium White Sands Pool and Beach Review
Grand Palladium White Sands Pool and Beach is absolutely beautiful although with it being extremely quiet and peaceful it is not the ideal place for a toddler. We found we were more suited to Grand Palladium Colonial and Kantenah. We went to the White Sands beach and although it was stunningly beautiful and a lot calmer we found it a little more rocky in the sea than the Colonial beach.
Grand Palladium Colonial and Kantenah Pool and Beach Review
Each day we headed to the Colonial beach and pool which was much more child friendly and lively. As we were staying at the White Sands Resort it was a good 5-minute walk however, whenever we started walking to the Colonial lobby a golf cart would often be passing and would ask us if we wanted a ride which was great. As the week went by we began finding little shortcuts and enjoying the walks.
The beaches were incredible with soft white sand and clear water and you can walk right out in to the sea you can see plenty of fish swimming around your feet.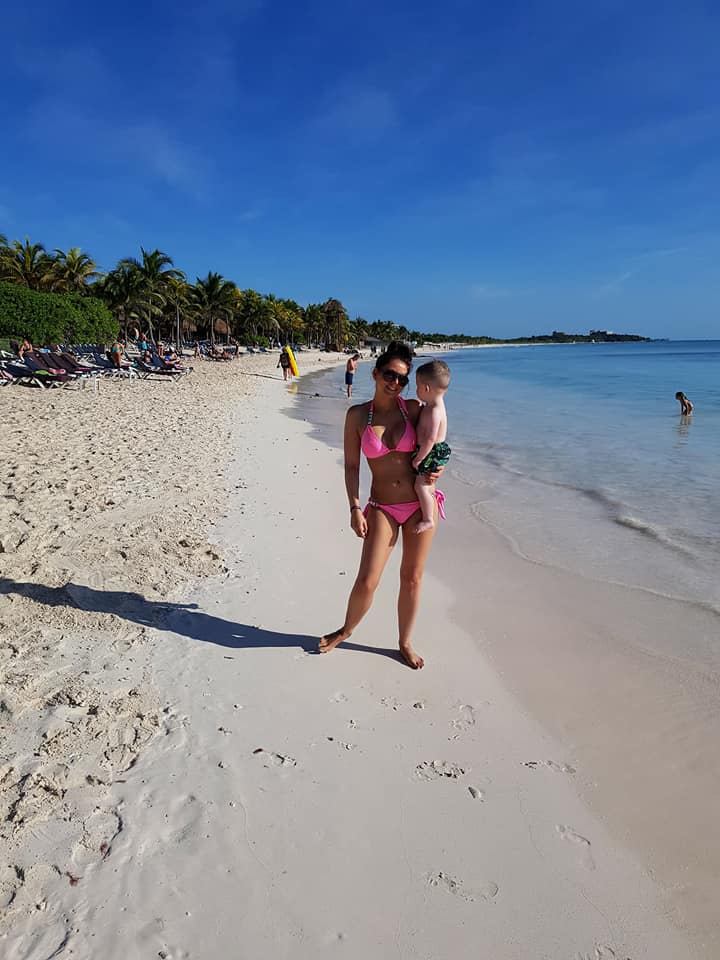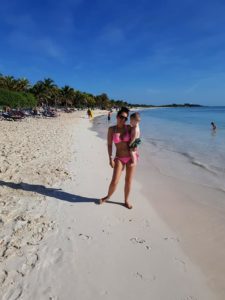 Changing Facilities around the Pool and Beach
I couldn't believe how clean the hotel was in general and I was thrilled when I found out there was also baby change facilities in the dads toilets too. The toilets around the pool and beach are all baby friendly and the cleanliness was fantastic. Everytime I went to the bathroom there was someone cleaning one of the bathrooms. There was never any horrible sites in the toilets which I was thrilled about.
Water sports at Grand Palladium, Riviera Maya
There was a hut located at the Grand Palladium Colonial/Kantanah beach it had a range of water sports that be used for free like pedal boats, kayaking boats, snorkelling wear. To hire any of the water sports at Grand Palladium Riviera Maya you have to leave your passport with them until you come back.
There are Jet skis and Parasailing available further down the beach, it takes around 5 minutes to get to them. They do ask you to book but if it is available then you are allowed on them. They do take card payments and you can pay part card part cash.
Food at Grand Paladium, Riviera Maya Review
The food at Grand Palladium Riviera Maya was outstanding. I was a little nervous that my 20 month year old son may have a bit of a funny tummy whilst he gets used to the food etc. but George loved the food and didn't have an upset tummy once which was a relief.
The cleanliness in each of the restaurants is outstanding, you are given a drop of hand sanitiser before each and every meal and the baby highchairs are thoroughly cleaned in front of you which I thought was excellent.
The buffet restaurants were great and offered literally everything you could possibly think of from pastas to Mexican dishes.
The restaurants could be booked that morning for a set time or from 7 – 9pm each evening you could just turn up and try and get a table. The only restaurant we could and had to book in advance for was the Japanese which seemed the most popular.
You could book most restaurants via the fantastic app which was a great help. The Japanese had to be booked at Guest services due to popularity.
Once of our favourite meals was the BBQ on the beach evening – make sure you look out for this because the atmosphere and food was incredible and they only do it once a week.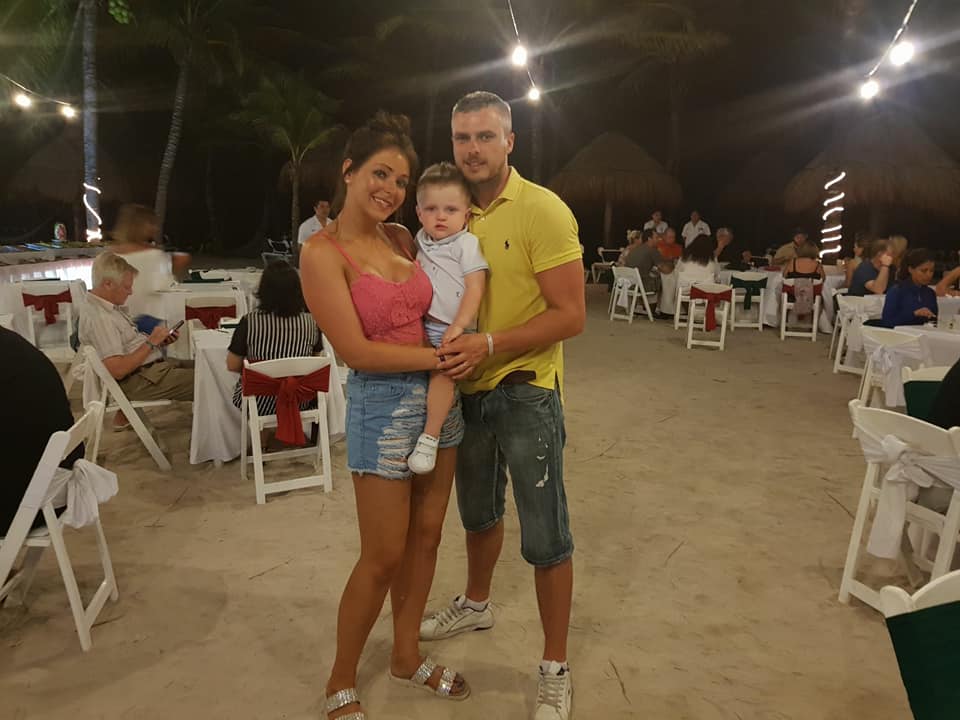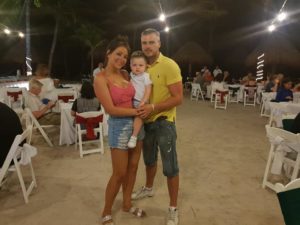 The customer service in the restaurants was second to none and we were treated so nice.
The restaurants you are entitled to as a non TRS member are;
El Dorado Restaurant (Steak restaurant)
The resort's à la carte steak house was fantastic, I wasn't a massive fan of the steak but I am not a massive meat eater. My Husband loved it.
Dinner: 5:30pm – 10:30pm
La Adelita Restaurant (Mexican restaurant)
The Mexican restaurant was lovely and a real eye-opener to what real Mexican food is like. We loved this restaurant.
Dinner: 5:30pm – 10:30pm
Ribs & More
We decided to go to this restaurant on the last night and we went around 8pm which was a really busy time for them. The customer service was not the best and we were waiting a long time for food. This was the only bad meal we had and I feel that this was due to how busy it was and lack of staff.
Dinner: 5:30pm – 10:30pm
Sumptuori Restaurant (Japanese cuisine)
This was our favourite restaurant; the food was fantastic but the show was just amazing. You are in a small group with the chef in the middle and he puts on a fabulous show with the food he cooks.
*Reservation required for teppanyaki.
Dinner: 5:30pm – 10:30pm.
Portofino Restaurant (Italian restaurant)
The Portofino Restaurant was lovely, perfect food for an Italian lover. Some people I spoke to found the food a little salty but I really liked it.
Dinner: 5:30pm – 10:30pm
Punta Emilia Restaurant (Fish restaurant)
Located at rocky spot by the sea and in the beautiful fresh air, we didn't make it to this restaurant unfortunately but we asked a few people we met on holiday if they enjoyed it and they loved it.
*Reservation required.
Dinner: 6:30pm – 10:00pm
La Lola (Spanish)
La Lola was one of my favourite restaurants. The décor was just beautiful and the tapas were fantastic.
Dinner: 17:30 – 22:30h
Chang Thai Restaurant (Thai restaurant)
The food was just incredible in the restaurant was definitely one of my favourites.
Dinner: 5:30 PM – 10:30 PM
O Pavao Restaurant (Brazilian)
This Brazilian cuisine is fabulous for meat lovers. You get full really quickly but make sure you leave room for the steak at the end.
Dinner: 5:30 PM – 10:30 PM.
Tikal Buffet
This restaurant is great if you don't know what you fancy. It is faced paced and very much a safe option, the huge range of food available ensure that there is something for all the family.
La Dalia (Buffet)
Located at Grand Palladium White Sand, this new restaurant serves breakfast, lunch and dinner. You can enjoy a wide variety of dishes, as well as a salad and dessert bar. Every night the selection is changed and our guests can enjoy dishes created by our excellent, professional kitchen.
La Hacienda Buffet
Located at the Grand Palladium Colonial and Kantenah hotels. This was our most visited restaurant, we used it mostly at lunch time. The food was great and there was something for everyone.
El Gran Azul Buffet
Located at the Grand Palladium Colonial and Grand Palladium Kantenah hotels, this restaurant offers food and was handy as it was near the pool. This was hired out on one occasion during our stay for a wedding which looked fantastic.
Sport Bar
The sports bar was a fantastic place too cool down and watch sports. The food was cooked to order with typical sports bar foods, delicious.
Drinks at the Grand Palladium Riviera Maya
Drinks at Grand Palladium, Riviera Maya
The drinks were fantastic with a wide range of cocktails. The barmen also offered cocktails that weren't on the cocktail menu. A big tip is to bring a big flask so that you can load it with your favourite cocktail. We noticed lots of Canadians filled up big flasks by the bar during the day so that they didn't have to keep going to the bar.
My husband and I always asked for our drinks to be made extra strong and we also made sure we selected the premium spirits. If you don't ask for premium spirits they will put in the Mexican equivalents.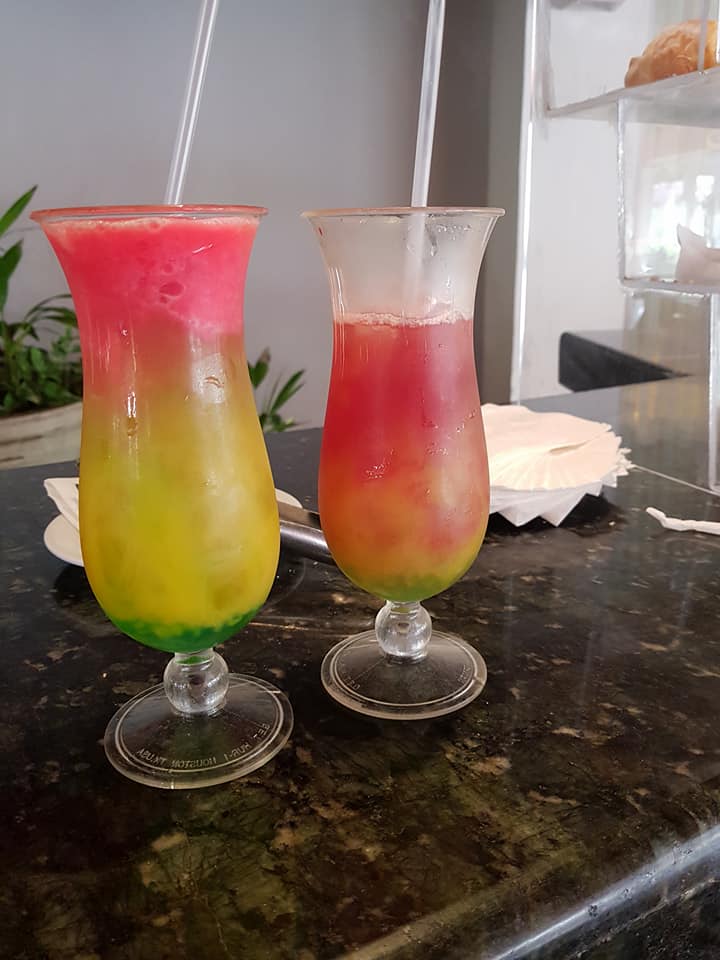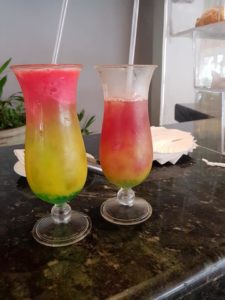 Look out for the Mojito stands with homemade Mojitos made with fresh fruit – they were delicious.
Entertainment at Grand Palladium, Riviera Maya Review
The entertainment in the evening was good with a different show each night. The kids were in a show from 8 -9pm each night and then the adults show would start and would last an hour or so, I was a little disappointed how early it finished and I also thought it could have been a little more fun by getting the audience involved but the shows were well rehearsed and the dancers were very good. Before and after the entertainment there was a fabulous band that played in the lobby which was enjoyable.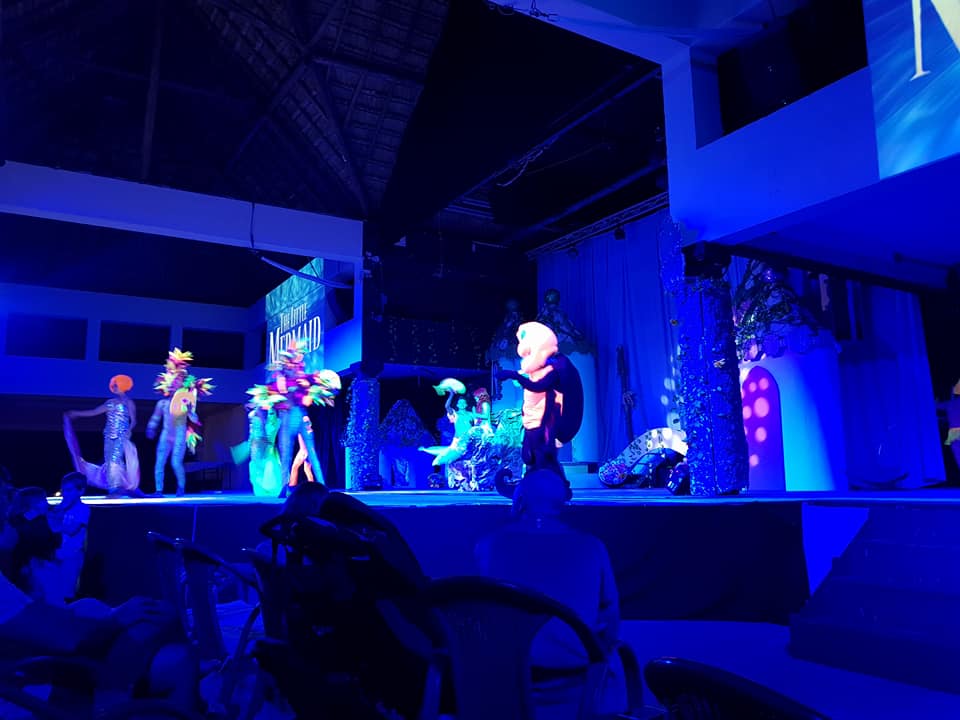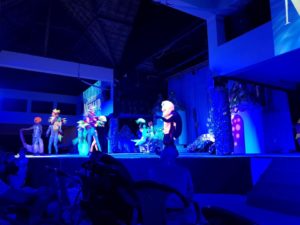 There was often unannounced parties and music on the beach with coconut cocktails on the go, it was brilliant and there always seemed to be something going on. You must go to the foam party on the beach it was a fun experience for both adults and kids.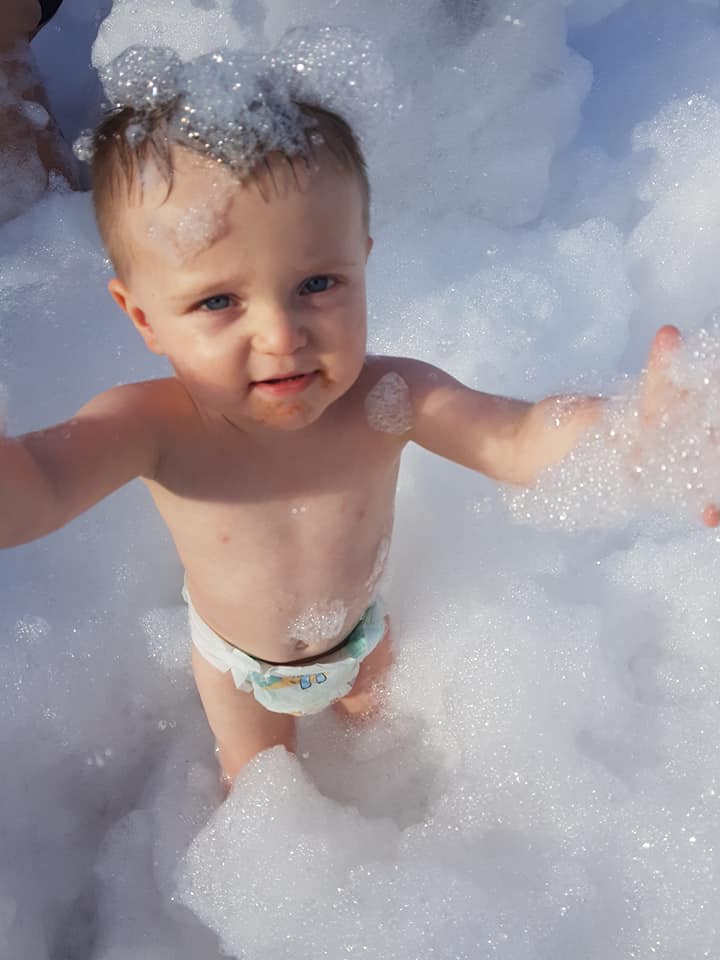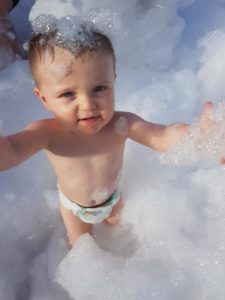 Animals at Grand Palladium, Riviera Maya
My son loved the fact that there were so many animals walking around the resort, Grand Palladium is home to Flamingos, 2 crocodiles (don't worry they are locked in their own area), lizards, cats and many more wonderful friendly animals which greet you on a daily basis. We loved walking around the beautiful resort searching for all the different animals.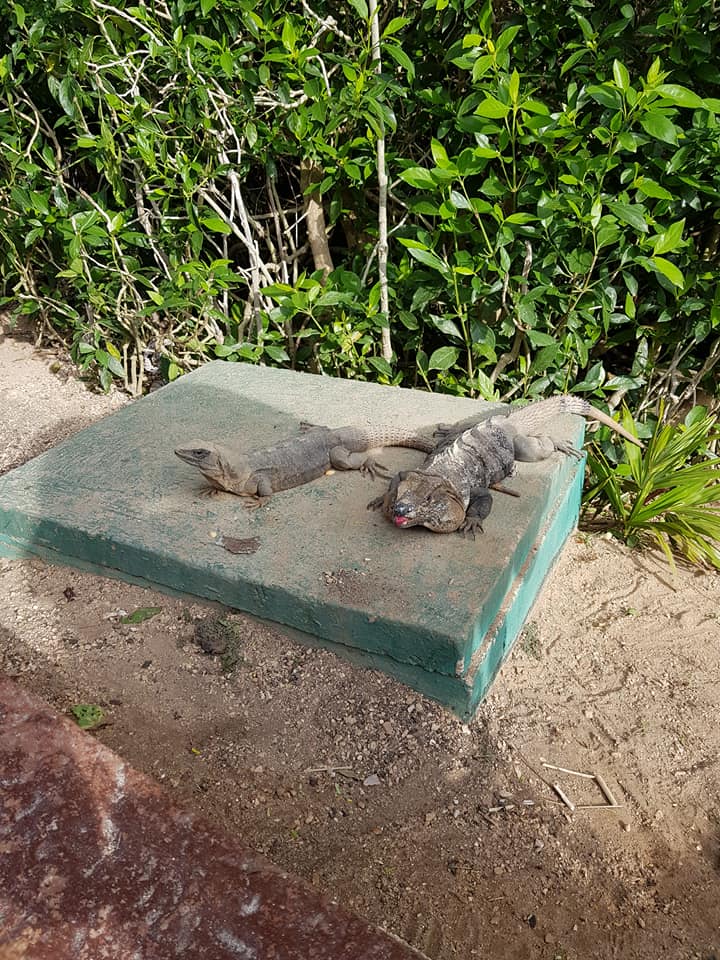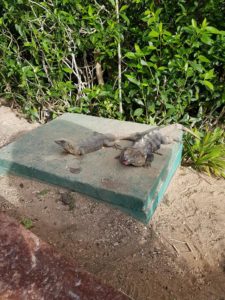 Grand Palladium, Riviera Maya Spa review
The Grand Palladium Spa was incredible, you can pay $35 to use the spa facilities for the day or you can buy a massage and gain access to the spa free of charge. The spa is open from 9am – 8pm and once you buy a day pass you can come and go as you please that day.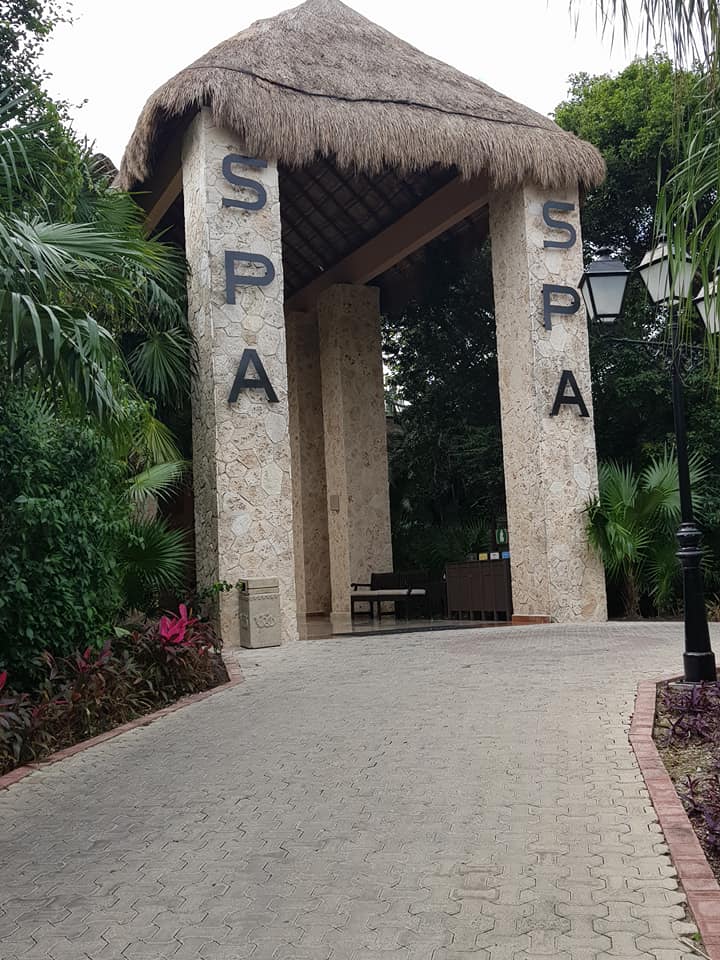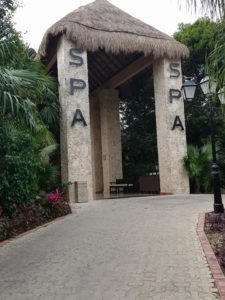 I has an incredible massage, however I strongly suggest not booking a massage right away, you will be approached by spa staff around the pool and throughout your holiday they will have half price discounts on etc. so make sure you wait until you have spoken to them.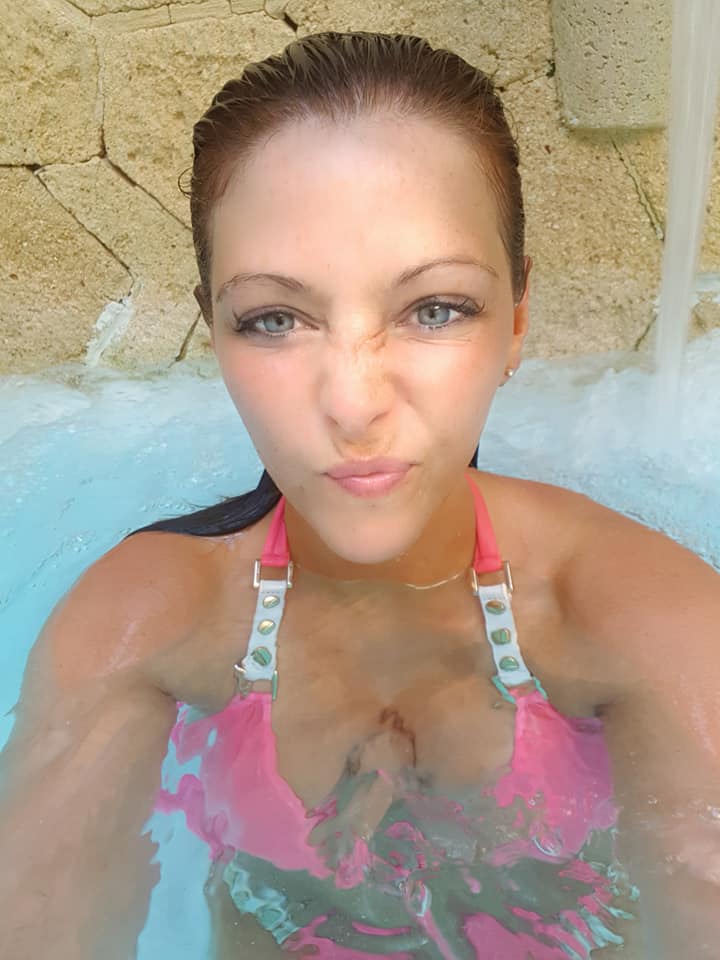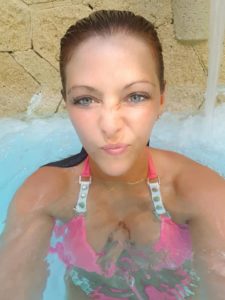 Grand Palladium, Riviera Maya Gym
I really thought I would go to the gym a lot but I didn't my husband went and he loves weight lifting, he said that the weights in the gym went up to a good amount and he lifts a lot apparantly. The gym is open from 6am – 9pm and has classes on daily if you enjoy classes instead of the gym.
The shops at Grand Palladium, Riviera Maya
The shops didn't seem to have nappies, dummies or formula, but they did have swimming nappies and wipes. A friend I met at the resort ran out of formula and she spoke to her Thomson rep and they ordered some from the local chemist however, it was not a brand she had heard of.  The shops sold crisps, chocolate, books, games, t-shirts, flip flops, jewellery etc.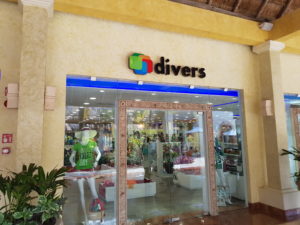 My Bump2Baby's Final Verdict
MyBump2Baby's stay at Grand Palladium, Riviera Maya was utterly amazing. Would I book again? 100% yes. We are already looking at heading to Grand Palladium in Jamaica next year to do another review for our parents. I can't actually think of anything negative about this hotel, it really is the ideal place for families and we would definitely book this hotel again.
[dfrcs name="Grand Palladium White Sand Resort"]
[rwp_box id="0″]
Carla is the founder of MyBump2Baby. Carla has a huge passion for linking together small businesses and growing families. Carla's humorous, non-filtered honesty has won the hearts of thousands of parents throughout the UK.
She has previously written for the Metro and made appearances on BBC News, BBC 5 live, LBC etc. Carla is a finalist for Blogger of the Year award with Simply Ladies inc. Carla is also the host of the popular Fifty Shades of Motherhood podcast and The MyBump2Baby Expert podcast.
https://www.mybump2baby.com/wp-content/uploads/2018/01/Grand-Palladium-Riviera-Maya-Review.jpg
720
960
Carla Lett
https://www.mybump2baby.com/wp-content/uploads/2016/10/Logo-MyBump2Baby_transparent-bg-1-1.png
Carla Lett
2018-01-31 21:20:46
2021-01-02 09:11:32
Grand Palladium Riviera Maya Review