The Benefits of Cloth Nappies
Disclosure: This article may contain affiliate links, which means at no cost to you, we may earn a small commission if you purchase a product through them.
Today we have an article from cloth nappy expert, Emma Gauden, from Nappy Noos, all about the benefits of cloth nappies.
What are the benefits of using cloth nappies?
There are a number of benefits to using cloth nappies. There are benefits to the environment, your baby and your bank balance.  Looking first at environmental benefits, the most obvious benefit is that cloth nappies reduce waste. Every disposable nappy used ends up in a landfill, not only that but every disposable nappy then takes up to 500 years to decompose. The first disposable nappy ever made is still sitting in landfills today. Not only that but disposable nappies are available in every supermarket in the country and small corner shops etc. This means that millions of disposable nappies are made and transported all over the country in lorries which adds to carbon emissions. Plus emissions from driving to the supermarket if you run out of nappies.
Reusable nappies are transported from their place of origin, usually China, but most reusable nappy brands are very eco-conscious so they use either train or ship to transport as this is more eco friendly, to one place in the UK. The nappies then stay with the brand or are sent to small independent retail shops. The majority of reusable nappy brands use eco-friendly packaging which is biodegradable/compostable which again reduces waste from packaging compared to disposables in a supermarket.
The benefits to your baby are that cloth nappies are chemical-free, unlike disposables. Instead of living with plastic on their bottoms, they have soft fleece, athletic wicking jerseys or suede cloth to keep their bottoms dry. There is also some research to suggest that cloth bottom babies find potty training easier.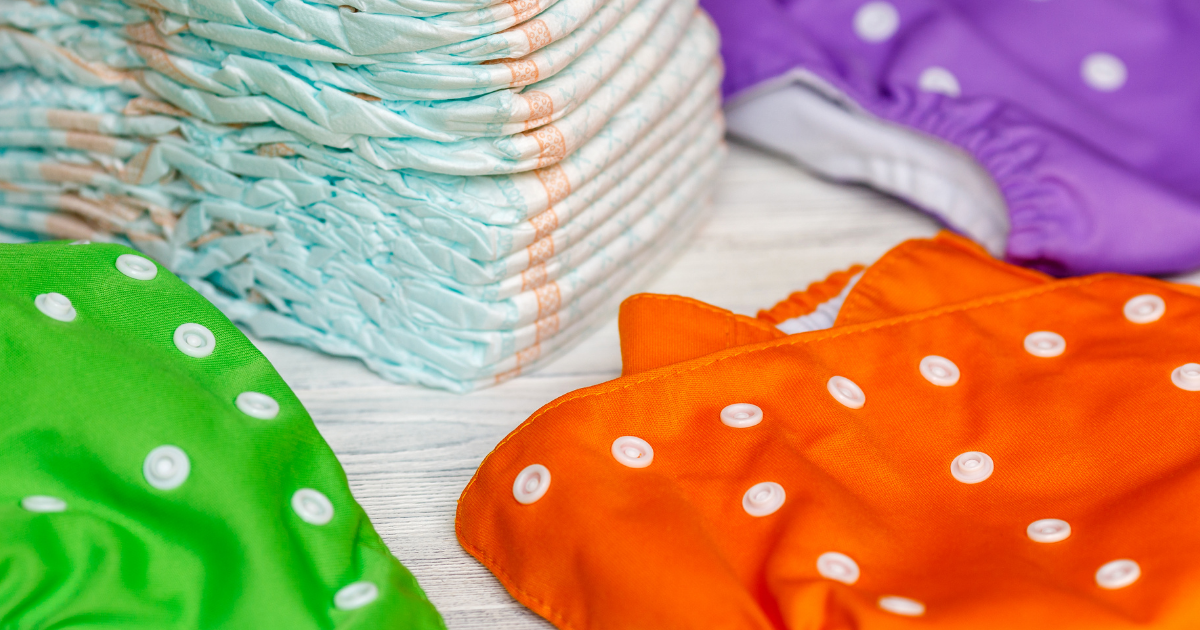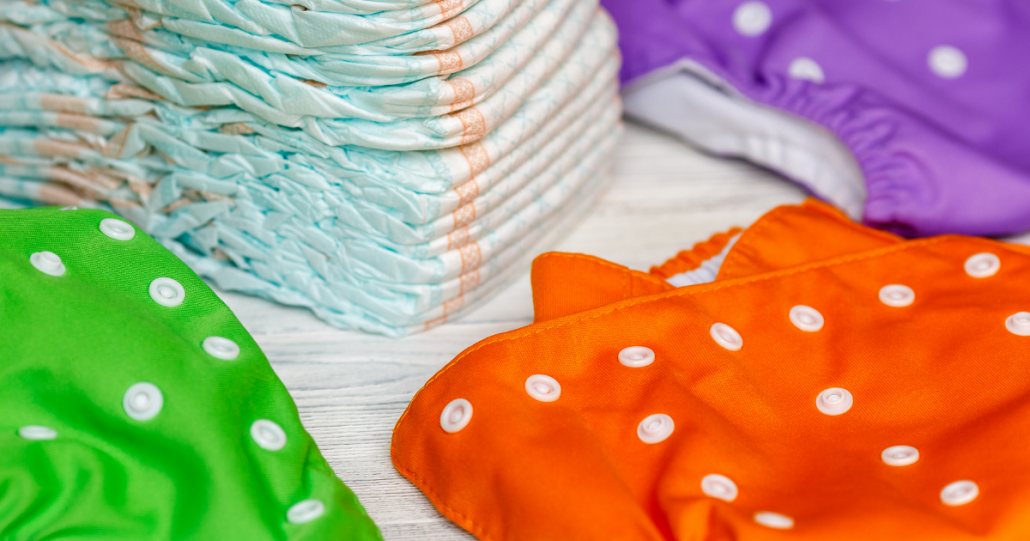 Cloth nappies are expensive to buy upfront but can save you money over time. You can also buy them preloved and they can be used on multiple children ie twins, future children.
Also, cloth nappies are available in some beautiful prints and patterns. You can match your nappy to your baby's outfit and it's so fun to do so.
How many cloth nappies should I start with?
One. You only need one nappy to make a difference and to start your journey. If you use one nappy a day from birth until potty training you will save over 1000 nappies from landfills.
If you want to use cloth nappies full time then you will need around 20-25 nappies. The upfront cost can seem expensive so it is a good idea to build your cloth nappy stash as you go.
You can find some brilliant cloth nappy brands here: 9 of the Best Reusable Cloth Nappy Brands that you NEED to know about in 2021 2022
What age can cloth nappies be used from?
Cloth nappies can be used from birth. A lot of nappies are referred to as 'birth to potty' nappies but they usually fit babies from around 8lbs upwards. Every baby is different and so it is often best to buy newborn size nappies. A lot of people use muslins or terry squares and a waterproof wrap for newborns. A lot of places in the UK have nappy libraries where you can loan a nappy kit to help get you started.
How do you wash cloth nappies?
You should check the wash labels in the nappy as some manufacturers have different guidelines but the general rules are either a cold rinse followed by a long hot wash (max 60c) or a pre-wash with half the dose of detergent followed by a long hot wash (60c) every two to three days. I prefer to use a cold rinse but the main aim is to wash away as much wee/poop as possible initially so that the water is clean for your bigger wash.
Fabric softener should not be used on cloth nappies as it can affect their absorbency – it coats the fibres which means they absorb less. Ideally, nappies should be put out to dry on a washing line or dry indoors on a clothes horse. Direct heat, such as a radiator should never be used. Tumble driers can be used but only in a low heat setting.
It can seem overwhelming to have to wash nappies so often but you can always wash them with baby clothes/muslins/tea towels once you have done the initial prewash/rinse.
For more information about how to wash cloth nappies, click here: https://www.mybump2baby.com/how-to-wash-cloth-nappies/
How do you get the sizing right for cloth nappies?
Every baby is different so what works for your baby may not work for another baby. Birth to potty nappies can be used from around 8/9lbs up until around 35lbs so last up until potty training. Birth to potty nappies come with rise snaps on the front of the nappy which allows you to adjust the size for your baby. You need to make sure there are no gaps around the thighs and that you can fit two fingers at the front where the tummy panel is.
How many cloth nappies will the average baby go through a day?
Newborns need to be changed every 2-3 hours day and night (even in disposables) so you will need to do around 10-12 nappy changes a day. As the baby gets bigger nappy changes become less frequent but you will need to change every 3-4 hours a day and once the baby is sleeping through the night nappy can be used. So you will need around 5 nappies plus a night nappy as the baby gets bigger.
What other mums say about cloth nappies vs disposable nappies:
"I have used disposable diapers with my first child before I was aware of the benefits of environmentally friendly nappies. I have done a little bit of research about cloth nappies and asked other new parents using cloth nappies about their experience. The feedback has been mainly positive. I am now expecting my second child and am tempted to use them with my new baby. I know the initial investment can be expensive but upon looking into it, if I used them I would save around £700." Carla
"I use disposable nappies for ease when I am out of the house but I do use cloth diapers (nappies) when at home because it is easier for me. I still save money but I also feel like I am doing my bit for the environment. I don't find there is lots of extra washing and once I found the right nappy brand for my baby i haven't looked back. I have 5 cloth nappies that I use at home and wash them every couple of days. It is handy to have cloth nappies in your changing bag to incase of an emergency." Laura
Hi, I'm Louise- mum of one to a little boy called Mason.
I am the Digital Marketing and Admin Assistant for MyBump2Baby.
I enjoy working to provide excellent service to MyBump2Baby's growing families.
Nice to meet you!
You can email me at [email protected]
https://www.mybump2baby.com/wp-content/uploads/2021/10/The-Benefits-of-Cloth-Nappies.png
630
1200
Louise McCamily
https://www.mybump2baby.com/wp-content/uploads/2016/10/Logo-MyBump2Baby_transparent-bg-1-1.png
Louise McCamily
2021-10-11 12:16:04
2021-10-18 15:23:25
The Benefits of Cloth Nappies