9 of the BEST Reusable Cloth Nappy Brands that you NEED to know about in 2021 2022
Disclosure: This article is a sponsored article.

Are you looking for the best reusable cloth nappy brands in 2021 and 2022?
We have put a list together of some fabulous reusable cloth nappy brands for you.
Why use Reusable Cloth Nappies?
Reusable Nappies are Better for the environment
Reusable nappies are 40% less harmful to the environment than disposable nappies, as you can wash reusable nappies (and therefore re-use them) saving money which can be reason enough for making the switch.
Disposable nappies take a whopping 500 years to decompose in landfill site- and over 8 million disposable nappies are sent to landfill sites per year!
Before your baby is potty trained, your little one could've used up to 4,000 – 6,000 disposable nappies.
Using cloth reusable nappies will reduce your carbon footprint by 40%- and drastically decrease the amount of waste you produce weekly!
Super Soft Comfort for Babies Skin
Cloth nappies generally feel much more comfortable and soft on your babies bottom- and natural cloth or organic cotton nappies are less likely to cause nappy rashes as they don't contain any harsh chemicals or plastics.
Beautiful Stylish Design
Reusable nappies are definitely much more stylish than regular disposable nappies- coming in a range of designs, materials, colours and patterns for cute nappies.
Save money from Birth to Potty
On average, babies need approximately 4,000 nappy changes before they are potty trained! As you imagine, this creates a lot of waste- and costs quite a lot- over time.
Re-usable cloth nappies save you a lot of money over time- although, the initial cost is usually greater than that of disposable nappies.
As cited from moneyadviceservice.org.uk, using reusable and washable nappies can save you a whopping £1475 or more (including laundry costs).
The average overall cost is noted as:
£1875 for disposable nappies and £400 for reusable nappies.
What do our audience say?
We recently asked our MyBump2Baby audience whether they use cloth nappies, and found that over 71% of parents are currently still using a disposable nappy. The other 29% of MyBump2Baby parents who do use cloth nappies highly recommend making the change! To read more about the benefits of cloth nappies, click here: https://www.mybump2baby.com/the-benefits-of-cloth-nappies/
We have put together a list of Reusable nappy brands you NEED to know about in 2021.
MyBump2Baby's Best Reusable Nappies
Hello, we are a new small business with a dream to be part of making cloth nappies mainstream!
From our own personal experience, we know that having a new baby brings the new worries such as what will the world look like for our babies?
Did you know that every disposable nappy ever used is still on our planet? That's because disposable nappies take up to 500 years to decompose! It's estimated that Nearly 8 million disposables are used every day in the UK: that's 3 billion a year!
At Bonny Bots Reusables our aim is to offer you reusable cloth nappies that show you that we really care! Not only about the future of our planet but most importantly, the comfort of your baby. Our nappies are designed to be as easy to use as a disposable, we can also guarantee that they are of the finest quality. We use natural fibres such as bamboo, cotton, and hemp in our nappies.
Our Bonny Bots Solo nappies are all in one nappies, that are perfect for beginners to cloth! You just wash, dry, use and repeat, it's as simple as that! You can find help with washing your nappies on the Bonny Bots website.
Features:
Soft outer PUL material to ensure the nappy is waterproof.
Double row waist snaps, hip snaps, and crossover snaps, this means the nappy can be used from approx, 10 pounds until approx, 38 pounds. Meaning they will fit most children until potty training!
Bottom row of snaps are males, this ensures that the hip stability snaps on wings will not dig in on larger settings.
Thick, comfortable and leak proof back elastics.
Athletic Wicking Jersey lining, keeping babies bum cool and dry.
PUL waterproof tummy and back panel prevents leaks.
Double gusset – outer PUL elastics and inner AWJ elastics, this gives double protection from leaks.
6 layers of thirsty bamboo Terry (1500 GSM)
Open gussets to allow airflow for drying.
Optional 4-layer hemp/cotton booster.
We have prints that have either been designed by ourselves or talented work at home mums.
Our aim is to continue providing our customers with products that keep them, their babies and the planet happy.
Natashia
Bonny Bots Founder.
Facebook:
https://m.facebook.com/BonnyBotsNappies/
Instagram:
https://www.instagram.com/bonnybotsnappies/
Website: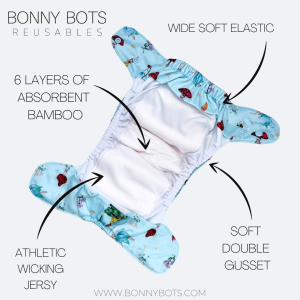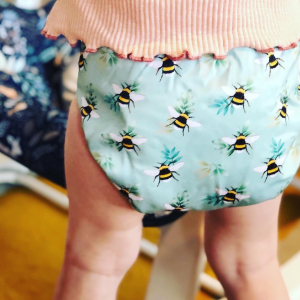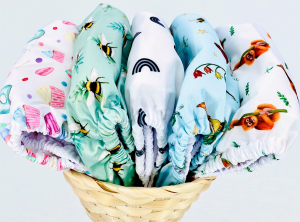 By using reusable nappies, parents can cut back on waste, save money, and reduce their carbon footprint by 40%. Just one reusable nappy change a day can make a huge difference!
TotsBots new Dream Time collection is a celebration of the magic of little one's dreams, from up in the clouds to over the rainbow. With a kaleidoscope of colour on a crisp white background, these bright new prints will bring an uplifting freshness to nappy change time. Available in both the EasyFit and TeenyFit ranges of TotsBots extendible all-in-one reusable nappies for newborns to toddler, and the Bamboozle night nappy system for overnight dryness. TotsBots nappies come with a range of matching accessories such as the Happy Mat with an absorbent fluffy top, the Waterproof Nappy Bag and Wet & Dry Bag all made from recycled plastic materials.
TotsBots is a Glasgow based reusable nappy brand that was founded 20 years ago by parents Fiona and Magnus Smyth who developed reusable cloth nappies after their second child was born due their concern over the level of waste sent to landfill through using disposable nappies. TotsBots has grown steadily to become one of the UK's leading reusable nappy brands and has invested resources in product development and innovation which has been key to the brand's success. In 2003, TotsBots revolutionised the industry by developing an eco-friendly and ultra-performing reusable nappy made from bamboo which was the first ever reusable nappy to win the 'Mother & Baby' Gold Award. Furthermore, TotsBots was the first brand to make the waterproof fabric on the exterior of their nappies from recycled polyester yarn, diverting two plastic bottles on average from going to landfill per nappy.
TotsBots offer multi-packs that come in a handy zipped PVC bag, ideal to be reused for all those pens and crayons, and their single reusable nappies and wraps are packed in oxy-biodegradable packaging. So that nothing goes to waste, TotsBots donate any fabric nappies to Forever Angels and Watoto Kicheko, a baby home and orphanage in Tanzania.
Parents new to reusable nappies can select from a variety of Trial Kits from www.totsbots.com and watch videos and other useful information about how to use and care for reusable nappies.
Facebook https://www.facebook.com/totsbots
Instagram https://www.instagram.com/totsbots/
Website www.totsbots.com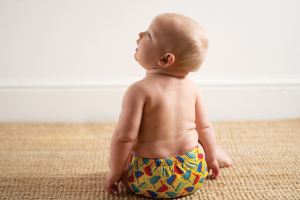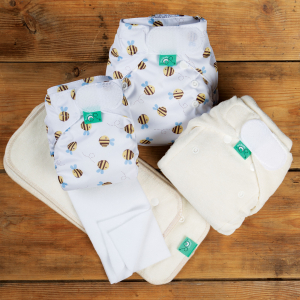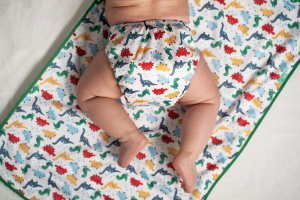 About our brand:
Mama Koala was launched in 2017 and was born from a mother and father's love for their children. We founded the company with the intention of creating a healthy, cleaner environment for our children and preserving the world in which they will grow.
Our mission is to provide affordable cloth diapers that encompassed all the wishes and dreams of new parents: the highest quality products, the coolest cute design, and most importantly, the hope of a healthier and cleaner planet.
To fulfill our mission, we have built our own passionate team of designers, as well as an amazing manufacturing team within the Mama Koala company. Our designers are innovators and love to create beautiful patterns that suit many aesthetics and work for all occasions. Our products are easy to use and meet the needs parents have come to expect from Mama Koala. The entire manufacturing process is done in our own factory. We take care in selecting the best materials available to us and the most efficient manufacturing processes so that you can rest assured you are getting the best for your baby.
Most of our Mama Koala team members are mothers. We all came together to work for the same philosophy: to provide parents worldwide with an environmentally conscious and healthy way to diaper our children.
Our Links
Website: https://mamakoala.com/
Instagram: https://www.instagram.com/mamakoalainc/
Facebook: https://www.facebook.com/MamaKoalaClothDiaper
FB VIP Group: https://www.facebook.com/groups/mamakoalavip
Tiktok: https://www.tiktok.com/@mamakoalainc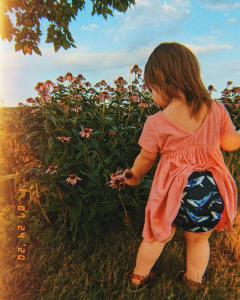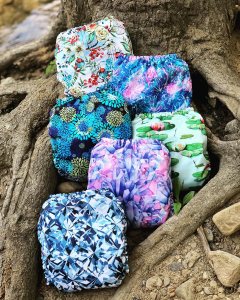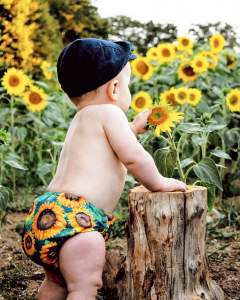 Green Cheeks is a very small business owned, and operated from home in Nottingham, it's just me, Lianne – with a bit of help from my little boy Harrison – he's potty trained now. However, it was very much our journey of learning how to use cloth nappies that inspired the creation of this brand. Green Cheeks is as easy to use as a disposable, quick to fasten, and highly absorbent. Many of the prints are designed by UK artists, we use a blend of hemp and organic cotton in all of the nappies for amazing absorbency (and a super slim fit) and they start under £10.00!
Very simply beautiful, absorbent, affordable cloth nappies.
The average baby is expected to use a staggering 5000 nappies from birth to potty training, by choosing cloth nappies, you will only need around 25. And what's even better? If you go on to have more children, you can use them again, and again. Once you're done, you can sell them on.
Reusable nappies shouldn't be complicated or bank breaking – it should present a HUGE saving against the thousands of disposable nappies you'd otherwise throw away. So, we'll always keep our prices low – but the quality is far from cheap.
🌱 hemp as standard
🌱 a choice of fastening – hook & loop or poppers
🌱 generous birth to potty sizes
🌱 super soft
🌱 easy to use
🌱 chemical free
🌱 options for day or night
🌱 leak free and comfortable
🌱 organic fabrics
🌱 plus accessories, matching clothing, wipes and more
🌱 supporting small business
We now offer two style of nappy one which is great for daytime, and a new design released in September 2021 which is great for overnight use and for babies who are heavy wetters.
Everything Lianne knows about cloth nappies was learnt "on the job" real life experiences with her own baby. So if you need any help making a switch, please just send a message.
Photos by Adele Morris Photography
Website www.greencheeks.co.uk
https://www.facebook.com/Greencheeksclothnappies/
https://www.instagram.com/greencheeksclothnappies/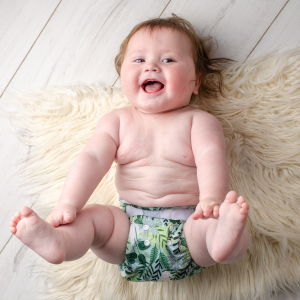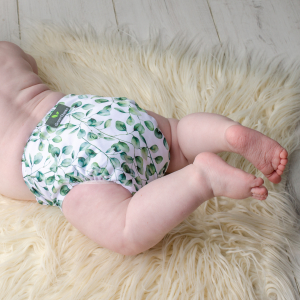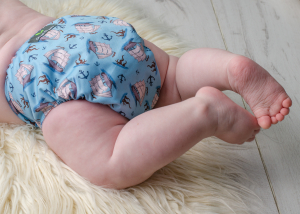 I'm Dora. A one-woman team running KidVentiv, which specialises in providing a wide range of cloth nappies.
I pack the orders, answer queries, maintain the website, talk to suppliers and advise new parents the benefits of cloth nappies. I have put all of myself into building my little business from scratch. All of this while ensuring my beautiful little boy receives plenty of love and attention while also maintaining a 9 till 5 job too.
To rewind a little, my husband and I started trying for a baby in 2017, however this was dealt with a massive blow when I was diagnosed with Cervical Intraepithelial Neoplasia (CIN). We of course had to postpone our plans, focusing first on my recovery. I was utterly depressed, losing any hope of having a baby one day.
The diagnosis was a real wake-up call to me. This is when my mindset completely changed and I began for the first time to really focus on my health, body and our environment. I finally started paying attention to what we ate and scrutinising the ingredients and chemicals being used in the products we use on a daily basis. To cut a long story short, after my surgery and recovery we were eventually blessed with a baby boy. It really did feel like a wondrous miracle and I knew we needed to provide all the very best we could for him. While researching with this in mind, I came across cloth nappies. The more I delved into the benefits, the more I absolutely loved the idea!
There are so many options available to choose from and then learning that changing nappies can actually be fun, not just part of the process… Who knew! Modern cloth nappies are beautifully designed, healthier than disposables and help save our planet all at the same time. Even if you don't wish to use cloth full-time, every little change counts.
I realised that cloth nappies may seem overwhelming at first for new mothers and that's why I decided to create my own website to share cloth nappy advice and offer a wide range of systems. I strive always to deliver the best customer experience, tailored to your personal needs. I use eco-friendly packaging and carefully select suppliers who share the same mindset as me.
If you have questions or not sure where to start, feel free to message me.
Find out more below!
Website: www.kidventiv.co.uk
Facebook: https://www.facebook.com/Kidventiv
Instagram: https://www.instagram.com/kidventiv/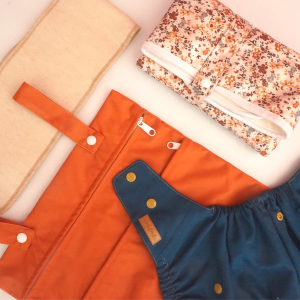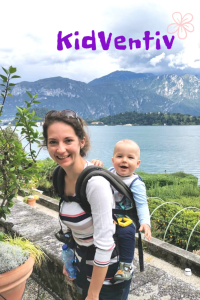 NappyNoos is a small business based in Wiltshire, England. It was created by myself Emma.
I have been using reusable nappies on my daughter since she was discharged from the Neonatal Intensive Care Unit (NICU). She was born at only 34 weeks gestation due to reduced movements.
I first heard about reusable nappies from my sister in law. She used them on my nephew and when I fell pregnant I asked her about them and how they work. At first I thought reusable nappies were a strange choice. However, I was concerned about using disposables due to the impact they have on the environment and the chemicals they contain. My sister in law explained how they worked and showed me a few of hers and then I was hooked!
Reusable nappies are very easy to use. Not only are they great for your baby but they are also great for the planet. That is how I came up with the tag line 'happy bottoms, happy planet' as it is so true.
When my daughter was in the NICU the bin in our room was full to the brim of nappies every day and I couldn't believe the amount of waste. As soon as we brought her home she began wearing reusable nappies. Reusable nappies are free from chemicals, kind to her skin, comfortable, cute and environmentally friendly.
I have fallen in love with reusable nappies and I would love for them to become the norm. I decided that I wanted to provide reusable nappies to other people and that is how NappyNoos was born.
I have thought a lot about the design to make my nappies eco friendly, reliable, absorbent and of course cute! A lot of reusable nappy prints are tailored towards prints and patterns that parents like. I have designed NappyNoos to appeal to babies and toddlers. Adorable animals and bright colours appeal to babies. I have had feedback that older siblings, who like to help their parents look after their baby brother or sister, love our cute nappy prints.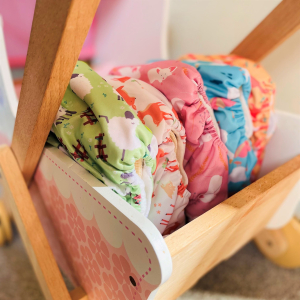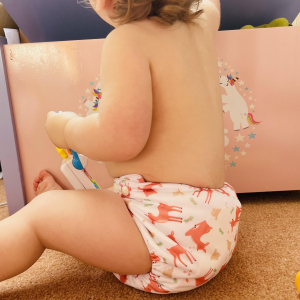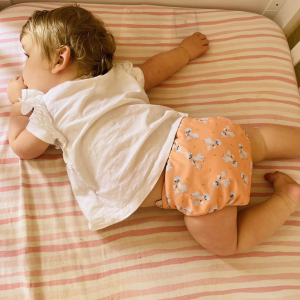 Reusable nappy company Baba+Boo is on a mission to help parents live simpler, more sustainable lives by offering a more environmentally-friendly alternative to single-use plastic nappies.
Every year millions of nappies find their way into landfill or strewn on our beaches, choking our sealife and harming our ecosystems. That's why Baba+Boo launched its simple, reusable nappies, in order to help reduce the reliance on unsustainable options.
Nappies are just another part of our throwaway culture, with an average of three billion nappies being thrown away every year in the UK (Wrap). Many people aren't aware that single-use nappies are a big contributor to plastic pollution, with many taking up to 500 years to decompose.
Baba+Boo is on a mission to get parents thinking differently about reusable nappies by reframing the conversations and showing just how easy, cost-effective and stylish they are. Eve Bell founded Baba+Boo when she was on maternity leave with two children under two, she comments:
"For me, Baba+Boo was a passion project which has spiralled into something which I truly love. I still get goosebumps when I read reviews and testimonials from our customers on how our products have helped their busy lives."
We are driven by two purposes: reduce waste and increase kindness. Our nappies are simple to use, kind to babies and the planet. We have a lovely community of like minded parents who love to help each other by sharing advice about nappies and parenting.
For more information:
Find us here: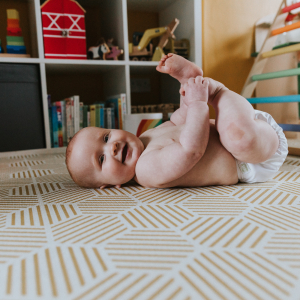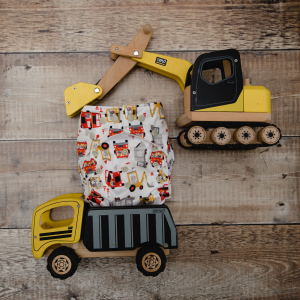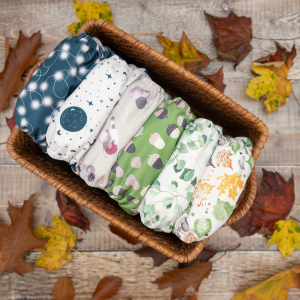 The Nappy Den simple reusable nappy solutions for modern busy families. TND run by Mum of 2 is a friendly simple approach to cloth nappies.  It really is as simple as a few extra washing machine loads a week to set you on your cloth nappy journey.  Saving thousands of disposables from sitting in landfill for hundreds of years.
The Nappy Den offers high quality products at the very best prices.  Many top brands, plus the Nappy Den is a proud manufacture of my own label bamboo nappies.  If you need help getting started, or are put off by all the brands and types on offer, just message  me on social media and I'll help you get started.  You can start with just one nappy to try if you want, it doesn't have to be all or nothing to make an impact on your waste and help preserve our planet.  Reusable nappies are chemical free, delicate and soft on baby's bum.  Suitable from birth right through to potty training , with the benefit of having the possibility of being used on multiple children.   Make the change today, it's simple, eco friendly and will save you money and reduce your waste.
Save money, save waste, save the planet.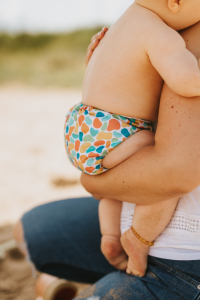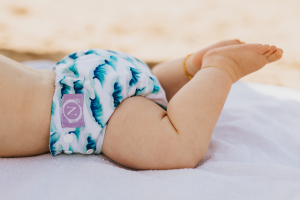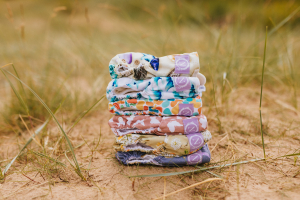 Bambino Mio are reusable nappy experts that have been providing parents with award-winning environmentally friendly baby products for over 20 years and have become the world's biggest reusable nappy brand, having won over 100 awards and selling in over 50 countries worldwide.
They believe in nappies that feel better: better for bums, parents' pockets and our planet too. Designed to be loved for life, the brand makes high-performing, chemical-free nappies to help reduce your single-use plastic waste.
Bambino Mio offers three unique nappy systems:
miosolo classic all-in-one nappy – Designed to grow from baby to toddler with adjustable poppers and hook and loop fastening tabs, the miosolo ensures a snug fit for little ones of all shapes and sizes. The miosolo's unique pull-out tab improves washing performance and speeds up drying time. Also designed perfectly for an additional booster pad to maximise performance. The concealed absorbent core and stay-dry inner layer keeps moisture away from baby's delicate skin and the super soft fabric provides the most comfortable nappy for baby's bottom.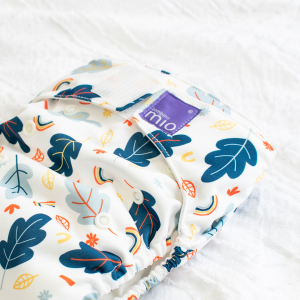 mioduo two-piece nappy – this nappy includes a onesize foldable insert and a water-resistant outer cover (available in two sizes) suitable to use from baby to toddler. The foldable insert is made from 100% cotton, providing a soft and natural option for babies and the water-resistant nappy cover features a double gusset offering leak-proof protection. This reusable nappy option is the most economical choice.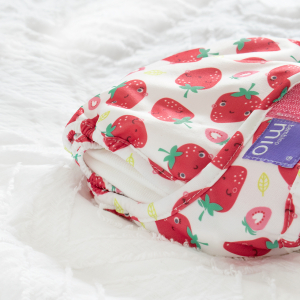 miosolo supreme all-in-one nappy – this nappy has been created for super absorbency and crafted with the most premium bamboo fabric. Designed for advanced double leak-proof protection with a unique dual absorbent core to give extra built-in absorbency for when little ones need it most.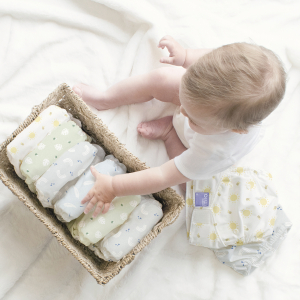 All of Bambino Mio's nappies are OEKO-TEX® Standard 100 certified, which guarantees the safety of the materials used so parents can trust that baby is 100% safe from any nasties. All Bambino Mio nappies come in a range of stylish and eco-chic designs.
Bambino Mio is committed to:
⦁ PROTECT OUR PLANET – Sustainability is at the root of Bambino Mio's products, manufacturing responsibly and making products designed to last.
⦁ CAMPAIGN FOR CHANGE – At the forefront of changing the conversation, they collaborate with business, government and NGOs to advocate for reusable nappies as part of the transition to a circular economy.
⦁ GIVE BACK – Your purchase of Bambino Mio helps to support vital work and projects at home and around the world.
For more information, visit:
www.bambinomio.co.uk
www.instagram.com/bambinomio
www.facebook.com/bambinomio
Hi, I'm Louise- mum of one to a little boy called Mason.
I am the Digital Marketing and Admin Assistant for MyBump2Baby.
I enjoy working to provide excellent service to MyBump2Baby's growing families.
Nice to meet you!
You can email me at [email protected]
https://www.mybump2baby.com/wp-content/uploads/2021/10/The-Best-Reusable-Cloth-Nappies-2021-2022.png
630
1200
Louise McCamily
https://www.mybump2baby.com/wp-content/uploads/2016/10/Logo-MyBump2Baby_transparent-bg-1-1.png
Louise McCamily
2021-10-11 11:19:16
2021-10-18 14:50:23
9 of the BEST Reusable Cloth Nappy Brands that you NEED to know about in 2021 2022