When you have a new-born life can be hectic especially with first babies your life can be turned upside down in some of the most beautiful ways, but there are the harder times when your baby is crying uncontrollably and try as you might nothing you do seems to settle them. It can be really hard to know if you're doing the right thing.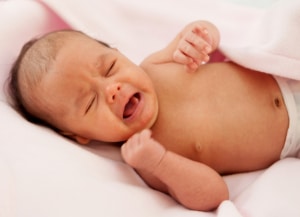 When you're pregnant you have pre-natal classes that you can attend that help focus you on your labour and birth but no one and no class can ever really prepare you for life with a fully dependant new-born. We have found that most first time parents (and even second and third time parents unless it has been an issue) had never heard of most infant complaints such as Colic unless they had been told after weeks of suffering from a health professional. In reality Colic is one of the most common infant complaints and there have been 1,000's of products created to help alleviate the symptoms.
As you all know MyBump2Baby are dedicated to finding and reviewing the best early years products on the market and we will strive to give our most honest review. We were delighted to have been sent Dr Brown's® Options+™ Anti-Colic Bottles, and as such we have asked three independent MyBump2Baby followers to test the product for us.
Firstly what do Dr Brown's® have to say?
Dr Brown's® has over 20 years' experience helping parents combat windy colic and   has recently launched a new enhanced design bottle – Dr Brown's® Options+™ Anti-Colic Bottles.
Not all vented bottles are created equal. Dr Brown's Options+® unique internal vent system continues to create 100% vacuum-free feeding, which is clinically proven to help reduce windy colic. This is what makes Dr Brown's® the number one choice of UK Health Professionals for the relief of colicky symptoms.
Dr Brown's® Options+™ grows with baby, allowing easy removal of the vent system when baby no longer experiences feeding problems or parents want the convenience of a teat-vented bottle.
What is Colic and how are Dr Brown's® Options+™ Anti-Colic Bottles meant to help?
Colic is a build-up of gas bubbles in a baby's stomach commonly referred to as wind. Now these gas bubbles can be painful and incredibly difficult to pass and the trouble with bottle feeding is that conventional bottles can cause air bubbles and negative pressure to build throughout feeding causing a baby to take in more air during each feed.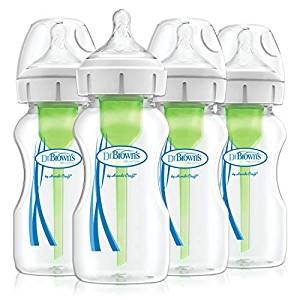 Created by a doctor (hence the name) in 1996, Dr Brown's® were the first baby feeding bottles to feature an internal vent system.  The vents were designed to eliminate the vacuum and reduce negative pressure and air bubbles being formed. The new Options+™ Anti-Colic Bottles feature a new breast like teat shape enabling a better latch and perfect for parents wanting to swap from breast to bottle and back again. We were sent the Deluxe Starter Kit to review which consists of:
1x 270ml WIDE-NECK Baby Bottle
2x 150ml WIDE-NECK Baby Bottles
3x Level 1 Silicone Teats
2x Level 2 Silicone Teats
2x Level 3 Silicone Teats
2x Cleaning brushes.
So what did our independent reviewers think, has the Dr Brown's® Options+™ Anti-Colic Bottles helped with your baby's colic?
Sarah- 32- From Liverpool-  First time mum –
"Although I don't think that it completely cured my Son's colic, I do think with the Dr Brown's Bottle has helped to increase the amount my son will take at each feed which is incredible in comparison to other bottles, he seems less agitated during the feed which I can only deduce is due to less built up gas."
James-39- From Chester – 2nd time parents of twins –
"Having a 3 year old little girl and new-born twins has been challenging especially with them both suffering with colic. We have found the night times to be the hardest, my wife had tried her very best to breast feed and so what we wanted most was a bottle that would mimic the breast. With the twins having colic we had found it incredibly hard to find a bottle that could do this and help with wind. I can only praise the Dr Bown's bottles. We introduced the bottles and it was clear, almost immediately, how much of a difference the vent made to the feed. Usually, after a feed, the twins would take a good hour to settle down to sleep. They would squirm and cry out, it was hard to watch and frustrating to manage, especially during the night when you're already exhausted. We found that the vent in the bottle stops the milk from forming too much air and so their tummy isn't filling with gas making for more contented and settled babies. My wife also found that the teats were the most soft and natural like feel she had found and found that our smaller fussier twin latched on better. 10/10"
Isla-26- From Lancashire- First time Mum-
"They stopped my daughters griping wind attacks completely. However I found at first they were a little tricky to clean but after some time and learning how to use the brush correctly I got there and now I'm that used to it I don't even bat an eyelid and all the parts. What I really liked was the different flow level teats; with using Gaviscon as well the higher teat levels meant that the flow was always consistent. They did help enormously with my daughter's wind problem and I really noticed the difference when I tried (out of interest) to switch back to my previous brand of bottle. I will definitely continue using the Dr Brown's brand"
Are the Dr Brown's® Options+™ Anti-Colic Bottles Value for Money?
Although slightly more expensive than you're conventional bottle brands we find with all the added benefits and as the bottle is designed to grow with your baby, it holds a total of 9oz with lots of room above the maximum quantity that YES it is. A lot of other bottles would overspill if you were to put a full 9oz into it and you end up buying more. So when looked at from a benefit point of view spending a little more once can help save money in the long run. Plus prevention is better than cure!
Due to the clinically proven health benefits and high quality of the product coupled with the feedback from our followers we have awarded Dr Brown's® Options+™ Anti-Colic Bottles – the recommended on MyBump2Baby badge.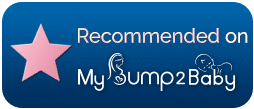 https://www.mybump2baby.com/wp-content/uploads/2019/08/Dr-Brown's®-Options™-Anti-Colic-Bottles-Review.png
278
415
Carla Lett
https://www.mybump2baby.com/wp-content/uploads/2016/10/Logo-MyBump2Baby_transparent-bg-1-1.png
Carla Lett
2019-08-23 15:33:22
2021-01-02 09:07:40
Dr Brown's® Options+™ Anti-Colic Bottles Review