4 weeks pregnant symptoms: What to expect

Have you just found out that you're pregnant? Or maybe you suspect that you are? Either way, we're here to help you with 4 weeks pregnant symptoms: what to expect.
Alternatively, if you are 5 weeks pregnant, you can read our article Signs of Having Twins at 5 Weeks.
This article includes:
Pregnancy test 4 weeks
4 weeks pregnant symptoms: what to expect
Twin pregnancy symptoms at 4 weeks
Your baby at 4 weeks pregnant
Where is the baby located at 4 weeks pregnant?
Ultrasound at 4 weeks pregnant
4 weeks pregnant symptoms cramping
4 weeks pregnant weird symptoms
4 weeks pregnant symptoms come and go
Healthy pregnancy
Pregnancy test 4 weeks
You should always use home pregnancy tests to confirm that you are pregnant. Using a test is the only way that you can be sure of your pregnancy. A positive pregnancy test depends on your hCG levels at 4 weeks pregnant.
hCG, or human chorionic gonadotropin, is a pregnancy hormone that rises rapidly during early pregnancy. This hormone plays an essential role in preparing the uterine lining for the embryo. It is also responsible for telling the body to stop menstruating. Your hCG levels will begin to rise when conception occurs. If necessary, hCG levels can also be tested through a blood test during a prenatal appointment.
The first sign of pregnancy for many women is experiencing telltale symptoms. However, some women may be 4 weeks pregnant with no symptoms. Having no symptoms is nothing to worry about. Some women go through their whole pregnancy with no symptoms at all.
You are also currently very early in the pregnancy journey. Most women don't find out they are pregnant until around week 6.
4 weeks pregnant symptoms: What to expect
Missed period
A missed period is often the first sign of pregnancy for many women. Women who have regular periods or track their periods may find this easier to spot. Your period cycle plays an important role in pregnancy; it is used to determine your estimated due date.
To calculate your due date, a midwife will use the first day of your last period. This, along with growth scans, will indicate when your baby will likely be born. You should receive this information at your first prenatal visit.
Some women choose to use a due date calculator; however, this is just an estimate. The due date provided by your midwife will be more accurate. They will monitor this against fetal development and your pregnancy week.
Food cravings
Have you experienced any food cravings yet? Many women start to experience food cravings in early pregnancy. This symptom can continue into the second trimester and usually disappears as you reach the third trimester.
There are many food types that you may crave during pregnancy. We recommend trying to eat a balanced diet when you can.
You may also notice changes to your sense of smell during pregnancy. A lot of women find that their sense of smell is heightened.
Sore breasts or swollen breasts
A large percentage of pregnant women experience breast tenderness during early pregnancy. This is because the breasts undergo many changes to prepare for milk production after birth. These changes include the growth of the milk ducts. In addition to breast pains, the breasts will grow in size as your pregnancy progresses.
If you are experiencing less breast pain, our article decreased breast tenderness in early pregnancy may explain why.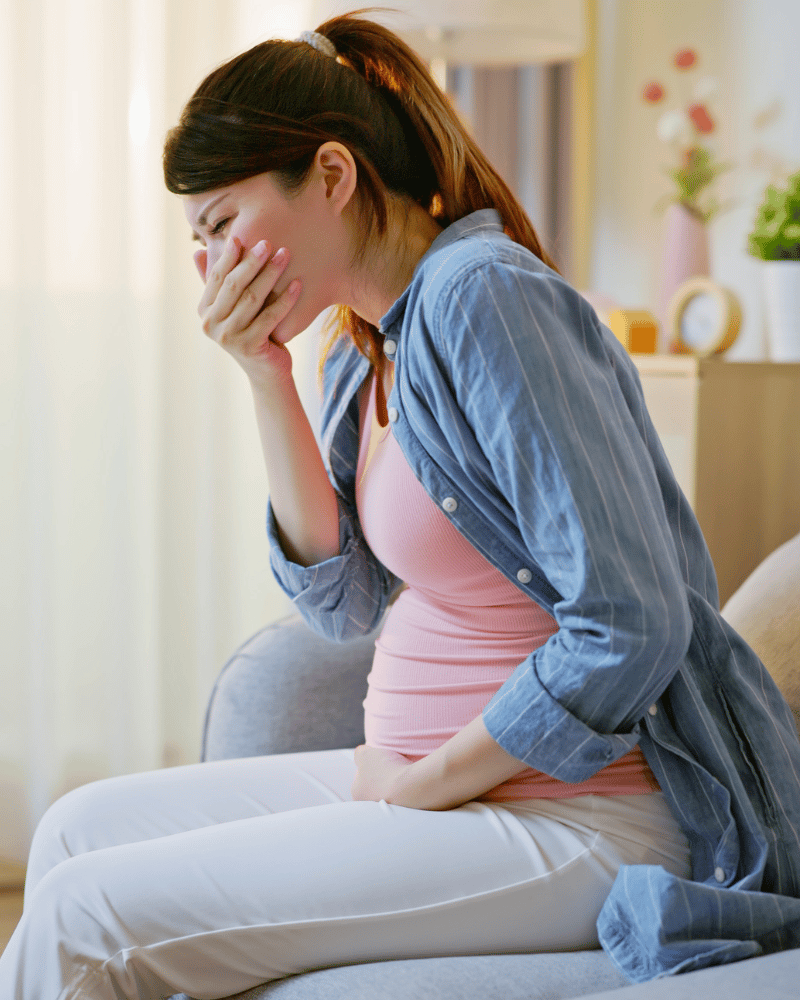 Nausea
If it hasn't already started, you might wonder, 'when does morning sickness start?' The truth is that morning sickness could begin anytime, as with all pregnancy symptoms. Some women may not experience sickness at all.
Try and get enough rest; sometimes, sickness is made worse if you're feeling tired. You should also avoid foods and smells that make you feel unwell.
Tiredness
Feeling more tired than usual during the first trimester of pregnancy is normal. After all, your body is going through a lot of changes. So it's important to take it slow and rest when you can. Eating a balanced diet and getting enough gentle exercise can also help you to feel less tired.
Additionally, you may experience mood swings; make sure you take time out to relax and do things you enjoy.
Cramping
It is not unusual to experience some mild cramping at 4 weeks pregnant. This cramping can be caused by egg implantation. While this may cause discomfort, it is a good sign that the embryo is getting settled.
You should seek medical advice if your cramping becomes severe or is accompanied by other intense pains. These could be signs of miscarriage or ectopic pregnancy. It is always best to check, even if you're not sure.
Spotting
Some women experience light bleeding or spotting at 4 weeks pregnant. This is common and can be associated with implantation, known as implantation bleeding. Implantation bleeding typically only lasts for up to a week.
Spotting during pregnancy can often be light pink or brown in colour. This is usually nothing to worry about. Let your midwife know if you're 4 weeks pregnant and bleeding like a period.
Bloating
The abdomen is required to change a lot throughout pregnancy. These changes start very early in the first trimester. The abdomen begins stretching, which can cause you to feel bloated.
You may also experience changes to your toilet habits. These can include needing to urinate more than usual or feeling constipated. In addition, some women may experience pregnancy flutters at 4 weeks, which are often associated with gas.
Discharge
Women experience discharge all the time, but you may find that it increases in early pregnancy. The increase helps to reduce the risk of infections reaching the womb.
A healthy discharge will be clear or white in colour and should have a sticky consistency. Seek advice quickly if you notice a foul smell or change in colour. These could be signs of an infection or pregnancy complication.
Around 15 in 100 women experience lower back pain and brown discharge at 4 weeks pregnant. While it may be alarming at the time, it doesn't mean that there is a problem.
Back pain
Back pain at 4 weeks pregnant is common due to muscles and ligaments changing around the area in early pregnancy. In addition, you may notice that you have some lower back pain at 4 weeks pregnant. These pains are caused by the hormone relaxin.
Some women also find that they have pelvic pain during early pregnancy. There are many reasons why this can happen, including round ligament pain or pelvic girdle pain. Both of these should be mentioned to a healthcare provider. They may be able to give you some exercises and stretches to relieve the pain.
You may also experience pregnancy flutters at 4 weeks.
Differences in your appearance
Early pregnancy can cause a few changes to your appearance. The most common is the pregnancy glow, which is caused by increased levels of pregnancy hormones oestrogen, progesterone and hCG. Another sign is noticing that your hair is thicker and shinier.
Another common sign of early pregnancy is darker patches of skin on the face. This is often referred to as the 'mask of pregnancy'.
Twin pregnancy symptoms at 4 weeks
There's no way of knowing whether you're having twins at this early stage of pregnancy. However, twin pregnancy symptoms at 4 weeks are often much more intense than with just one baby.
At 4 weeks pregnant, other people won't be able to tell that you're expecting. However, with two babies, you will begin to grow at an earlier stage. A professional baby scan is the only way to confirm a twin pregnancy.
Your baby at 4 weeks pregnant
At 4 weeks pregnant, your baby is about the size of a poppy seed. On an ultrasound scan, you might find that you can see a small white dot. This dot is your baby's gestational sac.
The little embryo will now start to develop and is made up of three layers.
Inner layer: This layer forms the lungs, gut and stomach.
Middle layer: This forms the heart, bones, circulatory system and muscles.
Outer layer: This layer forms your baby's nervous system, brain, skin, nails and tooth enamel.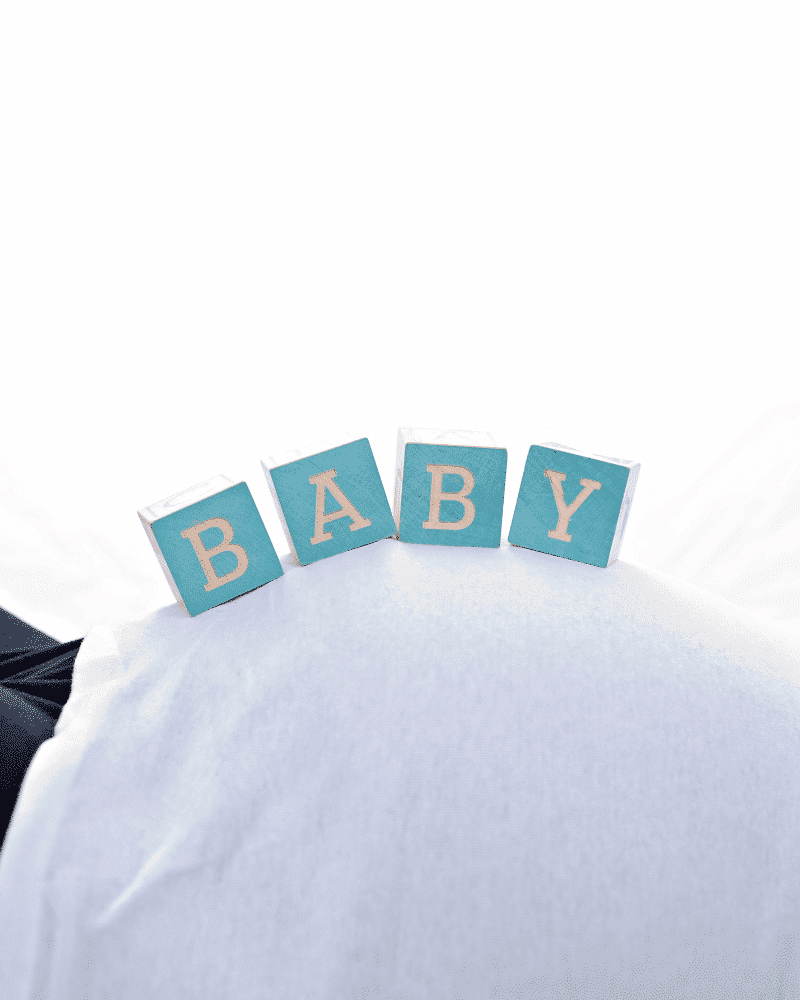 Where is the baby located at 4 weeks pregnant?
We're sure you have lots of questions regarding your pregnancy news. For example, you might wonder, 'where is the baby located at 4 weeks pregnant?' At this stage, the fertilised egg will have travelled through the fallopian tube and entered the womb.
When the embryo enters the womb, it will attempt to implant itself into the uterine wall. This is where it'll grow for the next 8 months.
The embryo currently receives nutrients from the yolk sac, which is part of the gestational sac. The gestational sac is filled with amniotic fluid, which helps to protect your baby. Later in the pregnancy, the baby will receive its nutrients from the placenta.
Ultrasound at 4 weeks pregnant
For most women, the first time you see your baby will be around the 12-week mark. This will be via an ultrasound scan. However, women with a higher risk of pregnancy complications may be invited earlier.
A transvaginal ultrasound will be used if you're invited for an ultrasound at 4 weeks pregnant. A transvaginal ultrasound involves a lubricated wand being inserted into the vagina. An early ultrasound can help to identify potential miscarriage and ectopic pregnancy and assess your endometrial thickness at 4 weeks pregnant.
In emergency circumstances, you may have an x-ray at 4 weeks pregnant. These will usually be avoided during pregnancy unless there is a serious emergency. If you are invited for an x-ray, you should tell them you are pregnant. They may be able to postpone the x-ray until after the birth.
If you're 4 weeks pregnant and had an x-ray, try not to worry. The best thing to do is speak to your midwife and doctor. They will be able to get more information regarding your x-ray and the amount of radiation involved. In addition, they may perform testing to ensure that you and your baby are safe.
4 weeks pregnant symptoms cramping
As we mentioned earlier, many women experience cramping during the implantation process. Another cause of cramping can be built-up gas, which can cause pregnancy flutters at 4 weeks.
At just 4 weeks pregnant, it is unlikely that these fluttery feelings are associated with your baby's movements. Most expecting mothers feel their first fetal movement between weeks 16 and 20.
If you begin to experience severe cramping, seek professional medical advice. They can conduct tests to ensure that you and your baby are safe.
4 weeks pregnant weird symptoms
Some 4 weeks pregnant symptoms are not often mentioned or may not be very common. One symptom at 4 weeks is a strange taste in the mouth, often referred to as metallic. This can be caused by hormonal changes.
It is recommended that you maintain oral hygiene during this time. Some suggest that you consume acidic foods, which may help to shift the strange, metallic taste.
Some women may experience a low hard cervix at 4 weeks pregnant. The cervix is a muscle that allows sperm in and keeps water out – to prevent infections. During early pregnancy, the cervix usually becomes softer and rises higher in the body. This occurs so that the mucus plug can be formed, which protects the baby.
4 weeks pregnant symptoms come and go
There are a lot of pregnancy symptoms for you to look out for. You may feel nervous when a pregnancy symptom disappears, but it's not uncommon for some to come and go. For example, symptoms such as food cravings will change naturally.
Other symptoms, such as the increased need for the toilet, are due to pressure on the abdomen. Therefore, they may alter as your baby moves around. Your baby is only the size of a poppy seed and currently has lots of room to move.
If you're 4 weeks pregnant and your breasts stopped hurting, then there may be no need to worry. Breast tenderness can often be a symptom that eases off as pregnancy progresses. However, if this does happen, you should note it down to mention it to your midwife.
If you notice one pregnancy symptom disappear, it's usually nothing to worry about. However, you should seek medical advice if you notice all of your pregnancy symptoms disappear suddenly. A medical professional can perform relevant tests to make sure everything is fine.
Healthy pregnancy
Of course, you want to do everything you can for a healthy pregnancy. Many women take prenatal vitamins, such as folic acid, before they become pregnant. Folic acid can help to prevent birth defects such as neural tube defects. Some women stop taking folic acid at 12 weeks as the risk has passed.
Vitamin D is another prenatal vitamin that can help to support your immune system. Before taking any prenatal vitamins, you should consult your doctor to ensure they are safe for your pregnancy.
Congratulations on your positive pregnancy test; you have so much to look forward to! It's so interesting to keep track of your baby's development changes as each pregnancy week progresses. We hope our 4 weeks pregnant symptoms: what to expect article has been helpful. Enjoy your pregnancy!
Hey there, I'm Abigail! 
I recently graduated with a degree in Marketing. I'm currently a freelance blogger and Marketing Assistant. I love learning new things and hope that you find my blogs useful and informative.
See you in the next article!
https://www.mybump2baby.com/wp-content/uploads/2022/10/4-weeks-pregnant-symptoms-what-to-expect.png
600
1000
Abigail Sproston
https://www.mybump2baby.com/wp-content/uploads/2016/10/Logo-MyBump2Baby_transparent-bg-1-1.png
Abigail Sproston
2022-10-13 11:15:46
2023-07-17 11:33:11
4 weeks pregnant symptoms: What to expect