When to Have Sex After LH Surge – Ovulation Tracking & TTC
If you are trying to conceive, you most likely know all about ovulation and have heard about different hormones throughout your menstrual cycle.
Whilst having lots of sex can help you to conceive, it is also good to know WHEN to have sex to conceive.
In this article:
Fertile Window? What and When is it?
Your fertile window is exactly as it sounds: it is the time during your menstrual cycle in which you are fertile and able to become pregnant.
A woman's fertile window, on average, lasts for six days. However, technically, you are only really fertile for 24 hours. How does that work?
Well, the 24 hours following ovulation is your critical time frame, in which the sperm is able to fertilise the mature egg cell after it has been released. However, normal sperm can live for up to five days in your fallopian tubes, so when the egg is released, if you had sex in the five days leading up to ovulation, you may become pregnant. In short, your fertile window includes the day directly after ovulation and the five days leading up to it.
Ovulation typically occurs around 14 days before you are due your period, so your fertile window will begin around that time.
This means that, if you have sex either early-on in your menstrual cycle, or late during your menstrual cycle, it is unlikely that you will become pregnant.
When Are You Most Likely to Conceive?
You are most likely to conceive during your fertile window.
The length of your fertile window varies from woman-to-woman and considers factors such as the egg cell's life span (which can be between 12 and 24 hours) and the life span of your partner's sperm.
The probability of conception peaks after timed intercourse peaks on the 2 days prior to ovulation and on the ovulation day.
When Should we have Sex if we are Trying to Conceive (TTC)?
Regular intercourse is recommended throughout your fertile window (5-6 days) to increase your chances of conception.
How Do I Know When I Am Going to Ovulate?
We know that your fertile window is when you are most likely to conceive and that it includes the days leading up to ovulation and the day of ovulation itself, but how do you know when you are going to ovulate?
One of the most common ways to predict ovulation is through the use of ovulation predictor kits, but how do we use them and how do they work? To answer those questions, we first need to understand what the luteinizing hormone (LH) is.
What is the Luteinizing Hormone (LH)?
The Luteinizing hormone is the hormone responsible for triggering the release of the egg during ovulation, and the beginning of your critical fertilisation period (the 24 hours after the egg is released).
During your menstrual cycle, there are four main phases:
Menstruation. The menstruation phase is where the thickened lining of the uterus sheds away and the menstrual passes through the vagina. This menstrual fluid includes blood, mucus and cells from the uterine lining.
The Follicular Phase. The follicular phase begins once menstruation ends. It is triggered by the follicle stimulation hormone (FSH), which your brain sends out to tell your body that it needs to start producing follicles for your eggs to grow in. Slowly, as the follicles and eggs begin to develop, the estrogen levels rise, causing the uterine lining to thicken. Eventually, there will be only one follicle remaining- the dominant follicle. The rest of the follicles die as they are weaker. Once the egg and follicle have finished developing, the ovulation phase begins.
Ovulation. When the egg and follicle have finished developing, and the estrogen hits its peak, the brain releases a surge of luteinising hormones (LH surge). This LH surge causes the follicle to rupture and release the egg, triggering ovulation.
The Luteal Phase. The luteal phase is where the ruptured follicle remains on the surface of the ovary, and transforms into a corpus luteum. The corpus luteum releases progesterone (and a little oestrogen) to maintain the thickened uterine lining in preparation for a fertilised egg. If no egg is fertilised, the corpus luteum shrinks away and menstruation begins again.
When to Have Sex After An LH Surge
Timing intercourse after an LH surge correctly can be tricky, as there are several things to consider. It is recommended that you have sex after your first LH surge.
But how long after an LH surge do you ovulate? You can read our article to find out.
It is also recommended, however, that you have sex for the days leading up to your expected ovulation date, and for a couple of days after your LH peak.
But how can you test for an LH surge? This is where ovulation predictor kits come in handy.
Ovulation Predictor Kits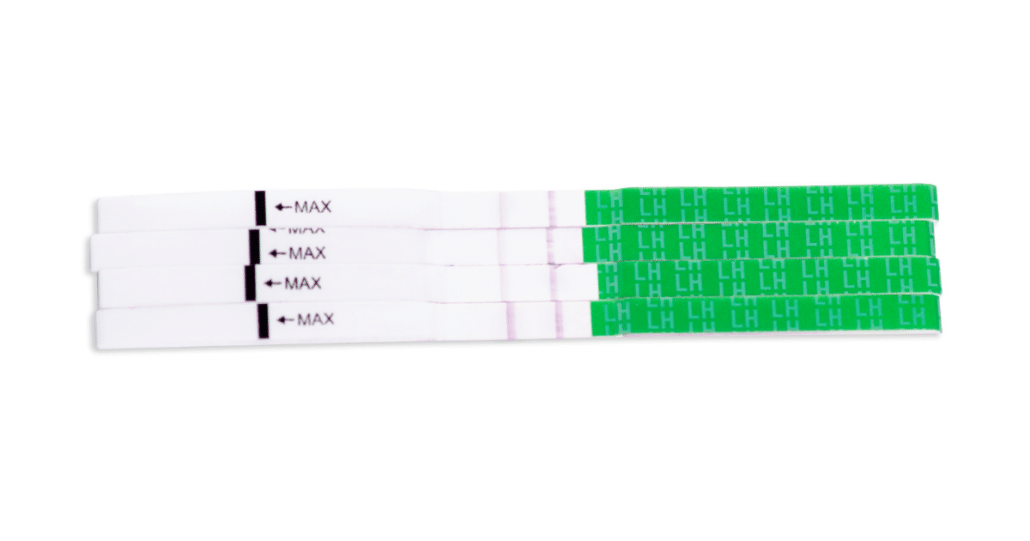 Ovulation predictor kits are a great way to predict ovulation and your peak fertility days- and are a great asset to use when timing intercourse.
But how do they work?
Ovulation test strips work by detecting the luteinizing hormone surge (LH surge) that occurs just before ovulation. To use ovulation tests correctly, if you have a regular cycle, you should begin testing daily a few days prior to your expected ovulation date (which is usually around mid-cycle, or 14 days before your menstrual period) until you receive a positive test result.
The positive ovulation test result signifies an LH surge. It is recommended that you time intercourse for your first positive LH test reading, as it likely means that ovulation will soon follow. However, this isn't always the case.
LH surges can occur anywhere between 16 and 48 hours prior to ovulation- and not only that, but it is possible to have multiple LH surges throughout the month.
Most women experience a single LH surge- or single peak- throughout the month, however, although it is considered uncommon, it is possible for women to experience multiple LH surges- or biphasic peaks- throughout the month. Biphasic peaks are commonly observed in women with disorders like PCOS (polycystic ovary syndrome), or due to hormone fluctuations.
If you usually experience multiple LH surges, or biphasic peaks, throughout your cycle, you should keep testing until you receive a final positive ovulation test result, followed by a negative, as it is after the final peak and drop that usually, ovulation occurs.
If you experience irregular cycle lengths, it can be much harder to time intercourse when you are trying to conceive. You should test every day to detect your LH surge, which can be expensive.
How else can I test for an LH surge?
Blood tests. If your doctor is assisting you in your fertility journey, he may ask you to take regular blood tests to help to find your LH surge to help you to time intercourse. Doctors will usually test your blood around one week before you are due to ovulate.
More Methods of Tracking Ovulation
There are other methods which many women swear by to help them predict ovulation, which do not involve testing for an LH surge.
Ovulation Symptoms
For some women, ovulation can often come with ovulation symptoms. Many women look out for ovulation symptoms to determine when they may be ovulating. These symptoms include:
Basal Body Temperature Tracking
Basal body temperature (BBT) tracking is a natural family planning method. It involves measuring your resting temperature at the same time every day and then charting it. A slight increase in your basal body temperature indicates ovulation.
When basal body temperature tracking is completed for a few months, you will be able to use the data to predict when you are likely to next ovulate.
Cervical Mucus Method
The cervical mucus method is another natural family planning method. The cervical mucus method involves looking at your cervical mucus and paying attention to when you have fertile cervical mucus, as this can indicate ovulation.
Fertile cervical mucus is thin, clear and slippery and has the consistency of raw egg whites. This discharge is called egg white discharge.
Calendar Method
The calendar method helps you to predict your ovulation window by using information about your previous menstrual cycles. To use the calendar method, you just need to chart the lengths of your previous menstrual cycles to find the average cycle length. You can then use this information to predict when you will ovulate.
Fertility Monitors
Fertility monitors are devices that allow you to track your fertility hormone levels (including LH) and basal body temperature to help you to calculate your fertile window and predict ovulation. It can track your basal body temperature and fertility hormone levels using your saliva, cervical fluid or urine.
Should We Have Sex As Much As Possible If We Are TTC?
Regular sex throughout your menstrual cycle is a good way to increase your chances of conception- especially around the time you are expecting to ovulate.
But of course, sex shouldn't feel like a chore. If you feel like you are forcing yourself to have sex in the hope of conceiving, perhaps you should wait until you are happy and comfortable to have sex, as stress can actually reduce your chances of conceiving.
Hi, I'm Louise- mum of one to a little boy called Mason.
I am the Digital Marketing and Admin Assistant for MyBump2Baby.
I enjoy working to provide excellent service to MyBump2Baby's growing families.
Nice to meet you!
https://www.mybump2baby.com/wp-content/uploads/2022/03/When-to-Have-Sex-After-LH-Surge.png
630
1200
Louise McCamily
https://www.mybump2baby.com/wp-content/uploads/2016/10/Logo-MyBump2Baby_transparent-bg-1-1.png
Louise McCamily
2022-03-21 15:36:24
2022-09-02 16:10:23
When to Have Sex After LH Surge - Ovulation Tracking & TTC